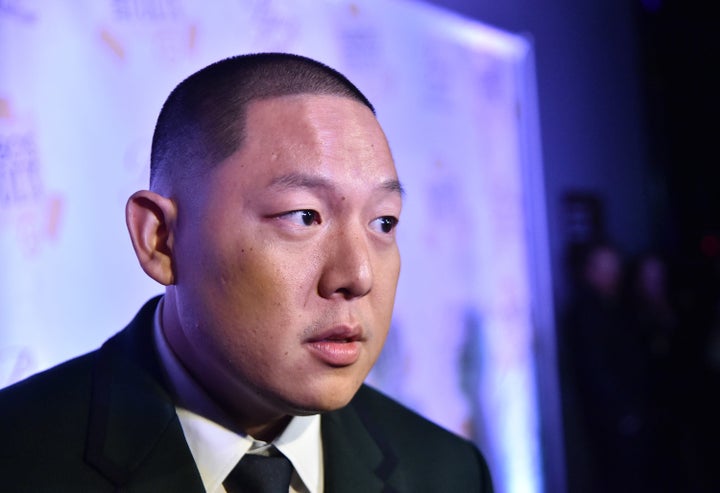 Eddie Huang kept it raw and real while discussing the stigma around male body insecurity in a new interview with GQ.
The Fresh Off the Boat author and restaurateur revealed his own struggle with body-image issues as he spoke to the outlet last week about his new gig as an underwear model for MeUndies.
Huang was particularly open about how difficult it was for him, as an Asian-American male, to discuss the topic.
"For me, there were three things I was negative about: my height, my weight and how my face looked. Down South, kids were very racist; they would always make Ching Chong Eddie Huang jokes, call me 'chinky eye,' all that stuff," he said. "A lot of times, as a man, you don't feel empowered or enabled, or you're not given the opportunity to speak about negative body image or how insecure you are about the way you look."
Huang also explained how Pandamonium, the underwear design he worked on with MeUndies, is really about promoting body positivity. While women's body image issues are often discussed in the media, he said, the same thing isn't quite true for men.
The author recalled how the insecurities surrounding his weight first set in when trying out for football in the fifth grade. But his body image issues didn't stop at his waist size. Huang also revealed he felt particularly self-conscious about his appearance due to the way the people often see Asian men ― undesirable and not masculine enough. 
"I remember I was reading Maxim in high school, and they were like, the average penis size is six inches, I went to my room and measured, and I was dead on six inches. I was like, I'm average!" he said. "I think Asian men, we wonder about this, like, is our shit okay, because everyone says it's going to be dog food."
"For me, there were three things I was negative about: my height, my weight, and how my face looked."
Though male body image issues aren't too often discussed, many men often deal with body insecurities. One study published last year found that men are almost as likely as women to experience extreme dissatisfaction with their appearance and weight. Earlier this year, Time magazine reported that mainstream media has only exacerbated the issue. 
"If you think about the changes over the last 30 to 45 years in how men are depicted in Hollywood, cartoons, magazines and action toys, you'll see that men's bodies [today] appear much more muscular," Dr. Harrison Pope, director of the Biological Psychiatry Laboratory at Massachusetts' McLean Hospital, told the outlet.
However, as Huang pointed out, people are hesitant to address self-image problems in men. The National Eating Disorders Association even notes that studies on males with eating disorders are "elusive." Many have written off eating disorders as a "women's problem," sometimes leaving men to go undiagnosed. And those men who speak out about the issue can be subjected to criticism.
"The stereotypical person with anorexia nervosa is a rich, white, adolescent girl; which is far from reality," the association wrote, adding, "Men can face a double stigma, for having a disorder characterized as feminine or gay and for seeking psychological help." 
It doesn't help that Hollywood makes these insecurities all the more difficult for Asians, a group that rarely sees themselves represented on-screen, having made up just 3.9 percent of speaking roles in 2015's top movies. 
As comedian Aziz Ansari explained last year, even when Asian actors get parts, they're rarely cast as desirable love interests.
"A lot of times when people write for Indian actors or Asian actors or anybody somewhat different, it is insulting because they have a certain view of, 'Oh, this is how that person can help our plot. Oh, this Indian guy, let's put him in the cab or in the market. Let's not make him the guy who is this woman's love interest,' he said, "'Let's get the white guy for that, of course.'"
That portrayal perpetuates the stereotype that Asian men just aren't attractive, leading to the kinds of issues with which Huang and others have struggled.
Check out Huang's full GQ interview here.
Calling all HuffPost superfans!
Sign up for membership to become a founding member and help shape HuffPost's next chapter
BEFORE YOU GO