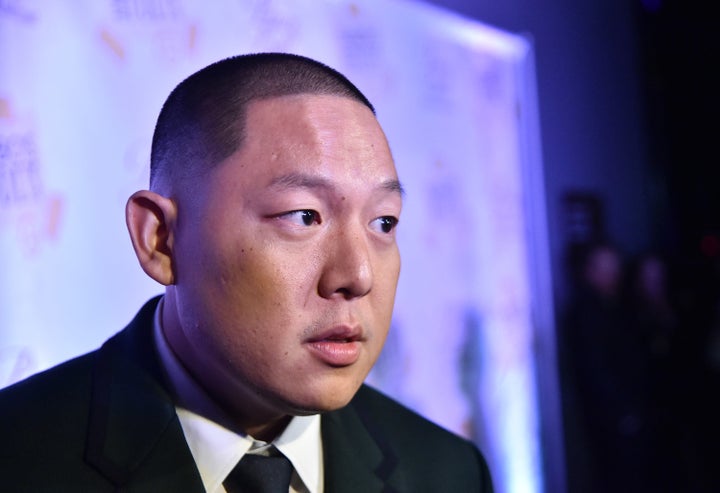 As victims of sexual assault in Hollywood continue to speak out, Eddie Huang recounted his own experience that left a haunting impression on him.
The restaurateur wrote a piece in The Cut, published on Wednesday, detailing traumatic events that took place during a Baptist church ski trip he went on when he was 14 years old.
Huang wrote that a chaperone, whom he described as "a tall, dark-for-a-white-man, Daniel Day-Lewis in 'Last of the Mohicans' clone," went into the room he was sharing with a friend and proceeded to shower there. After the man finished showering, he walked out with his genitals exposed and stayed around the foot of Huang's bed as the then-14-year-old and his friend panicked.
"You're never ready for it and you never think it would happen to you, but it was happening and it kept going. He took out a Bible and started to read scripture with his dick hard," Huang wrote. "My chest started to tighten and I couldn't breathe, fearful for what would happen next. The panic turned to outrage and ultimately humiliation."
Huang said that this continued for more than 15 minutes. While he'd thought about contacting the police during and after the incident, he and his friend were worried about being labeled the "abused gay kids" targeted by the chaperone. The pair didn't want to be defined by the experience, he said. What's more, the Fresh Off the Boat author also recalled thinking that no one would believe them if they did speak up.
"My friend was a troublemaker and I was his weird Chinese friend; no one was going to take our word over this chaperone's," Huang wrote.
Years have gone by since the incident, but Huang said he'd only ever told four people about it. Even while supporting others through similar situations, including one friend who'd been raped, he refused to reveal what happened to him.
It wasn't until actor Anthony Rapp came forward with sexual assault allegations against Kevin Spacey that Huang felt compelled to share his story. Rapp was also 14 at the time he was assaulted.
"I was disgusted by Kevin Spacey, outraged by the fact that he's been enabled to play very sexually deviant characters for decades, but I was inspired by Anthony Rapp," Huang said. "He shared something with us all that I never could and it made me feel OKAY."
Indeed Huang's willingness to speak out is admirable, as he represents a large chunk of the male population who've dealt with similar situations. An estimated 14 percent of reported rapes involve men or boys, according to the National Alliance To End Sexual Violence.
These acts can be particularly difficult for men to discuss in part due to society's standards for men and masculinity, the organization points out.
But as Huang wrote, being a victim of sexual assault isn't something to be ashamed of, nor does it define a human being.
"I'm not just a kid some pedophile read Psalms to. And if someone sexually assaulted you, it isn't who you are either. We have a fucking choice," he wrote. "We can't always control what people do to us, but we do have the power to define it. When I look back, nothing was actually taken. I was hijacked, but I fought my way back and arrived as the man I'm supposed to be."
To read Eddie Huang's piece on his experience with sexual assault, head on over to The Cut.
Popular in the Community