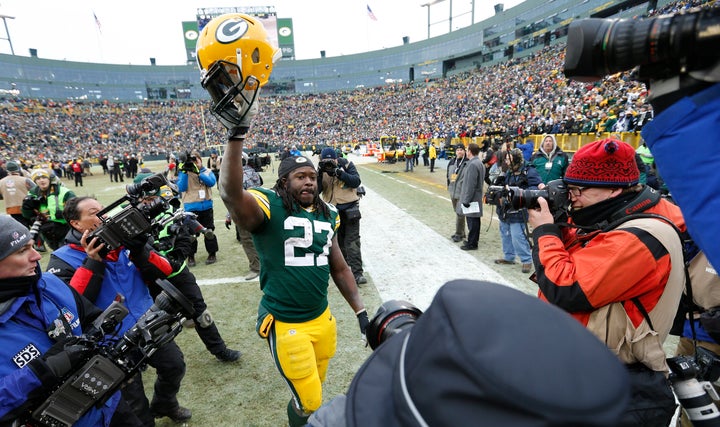 Since the Green Bay Packers selected Eddie Lacy 61st overall in the 2013 NFL Draft, all the running back has done is earn second-team All-Pro honors while amassing over 2,300 yards rushing and 24 total touchdowns. No big deal.
The 25-year-old caught up with The Huffington Post to exclusively discuss his "Gatorade Beat the Heat" lumberjack experience, plus why he doesn't watch football and why the NFC Championship loss to Seattle remains firmly off his radar.
This interview has been edited and condensed for clarity.
What was harder for you than what you anticipated in the lumberjack experience you participated in recently?
Climbing the pole -- or should I say trying to climb the pole. To watch them do it, they get up and down in about 14, 15 seconds. And then it was my turn, and I try it and it's taking me about 30 minutes to get 20 feet. It was definitely difficult. It takes a lot of upper body and lower body strength, and it's tough. Those guys have been doing it for a long time so they make it look easy, but for the first time it was definitely difficult for me.
Lumberjacking is definitely total body work. Speed, power, agility, balance -- it's everything at the same time simultaneously. Football is maybe something for your lower body or your upper body, like if you're a quarterback you need balance and you're just dropping back and throwing the ball. If you're running the ball, it's more lower body to take the hits and bounce off of the hits. It's not everything at the exact same time like it is when you're lumberjacking.
What did you do this offseason and what are you doing now to get to another level for you as a running back?
Well I was down in Atlanta training, doing a lot of lower body work, because as a running back your legs are your job -- it's what you do. So I took a lot of time doing leg workouts, resistance bands.
They're already strong, though, so are you trying to get faster? Or are you trying to bounce off more tackles? Because it seems like you're doing both of those already.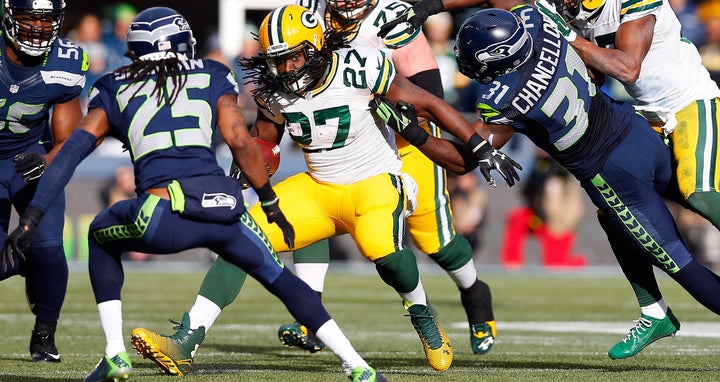 It's really about maintaining. You can always get better, but you don't want to stay the same. Even if you're doing just a little bit, you're going to progress. That's what it's always about: I'm trying to maintain and progress.
With that in mind, do you remember that game in Green Bay against Detroit, where it seemed like you dragged about 100 guys? Are you seeing those guys? How much of that is just natural ability or vision? It's just a crazy run.
It's definitely vision. It's being on the same page with your offensive linemen, your fullback and tight ends that are blocking for you. Then after that, after you get past the initial steps, it's pretty much just all you. Me, personally, I just see colors. So once I was able to get past the linebackers and it was just a safety out there, and then he tried to tackle me and a lot of other guys came. It's just showing toughness and it gets your team into the game.
For a big guy, you do run pretty well, but is it safe to say you'd rather run over somebody than run past them?
That's kind of a gray area. It definitely depends, and certain things help spark at certain moments of the game. Say, for instance, we're in a tied game and we have the ball. I'm trying to like get the tempo going and get the crowd into the game, and you run over a defender that gets your whole team hyped. And it takes a lot out of the other team, too. It depends on the scenario.
Great running backs, especially big backs, you hear them talk about guys like you or Marshawn Lynch or Frank Gore, guys who are wearing down defenses late. How much do you savor that?
Definitely. When you get later in games and you've been running the ball hard in that first or second quarter, it takes a lot out of those defenders. I mean, after a certain point in time they're not going to want to tackle you anymore. I mean, they will because it's their job, but you can tell they really don't want to do it. So for backs like Marshawn and me and other big backs, once it gets to like the late third, fourth quarter, you can tell this is the time for you to keep going and keep pushing. It's pretty much a mindset thing.
When you say guys maybe don't want to tackle you that much, how can you tell?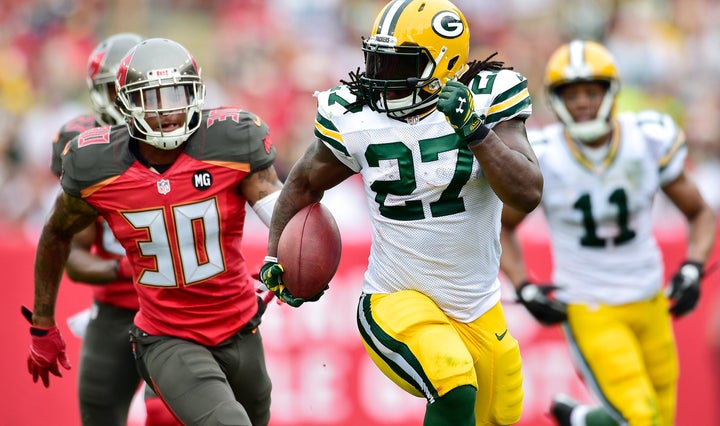 I was thinking about it in college because my college coach would talk about it a lot but I never understood until I watched Mark [Ingram] and Trent [Richardson] run, but at the beginning of the game, you know, guys will come out and they'll try to get the big hits, or they'll hit you and celebrate after. It pretty much goes that way for the first or second quarter, but by the time the game slows down and you lose all that energy, you can tell they're not the same person at the end of the game that they are in the first quarter.
And that's when you're ready to go.
Correct, yeah. I'm ready to go all the time, but definitely in the fourth quarter when I can tell there's a difference in those players.
From a motivational standpoint, when you go back to last season and you guys being so close, what motivates you from that Seattle game?
Well for me, I have pretty much natural motivation. Some players use that Seattle game for motivation for the following season, but for me I just go out every game no matter what or regardless of what happened the year before and just continuing to try to do better. I don't like to use certain things for motivation because at some point in time it goes away.
When you look at other running backs, is it different now that you're in the NFL and you've established yourself as an elite player? Are you necessarily modeling your game after anybody else? Or when you were a kid were you doing that?
I actually never watched football or anything growing up. I still don't watch it today. You know, I watch like a game here or there, but as far as like modeling or following a certain player, I've never done that. I just play.
When you think about your time with Coach Nick Saban and your Alabama coaches, I've heard people say certain things about Alabama, like "when guys come out they're just so much more ready than anyone else to play in the NFL." Is that fair? Did that happen for you?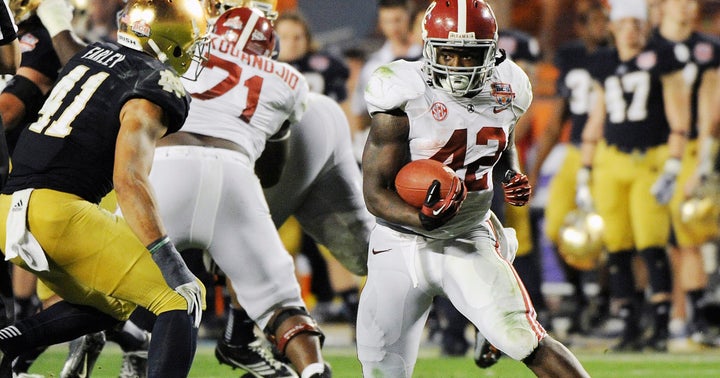 Yeah that definitely happened, because going into college that's pretty much where I learned the game of football. In high school I was just playing with natural ability, and the coaches were like, "He's good, let's just run the ball every time." There's not really too much technique talk or detail, just get the ball and try to get a touchdown. Once I got to college, they taught me those techniques and taught me the details and how stepping a certain way can manipulate a linebacker. You know, just learning the game of football. It's hard work down there, too. They make you work down there and they teach you football as well as life after football, so you pretty much get the complete package there. That's why when most guys come out they're pretty much NFL-ready.
We know running backs -- because of the hits you take -- it's not a position where guys have really long careers, what can you do to make sure you have as long a career as possible? What are you doing on and off the field?
Training in the weight room. You know, the weight room coaches preach it all the time. You make your career longer by working out. But it's football, so you never know when that one hit is going to come and everything goes down the drain.
But you don't think about that right? You don't think about injuries? You can't.
No, you can't. If you play like you're going to get hurt, you're going to get hurt.
Related
Popular in the Community