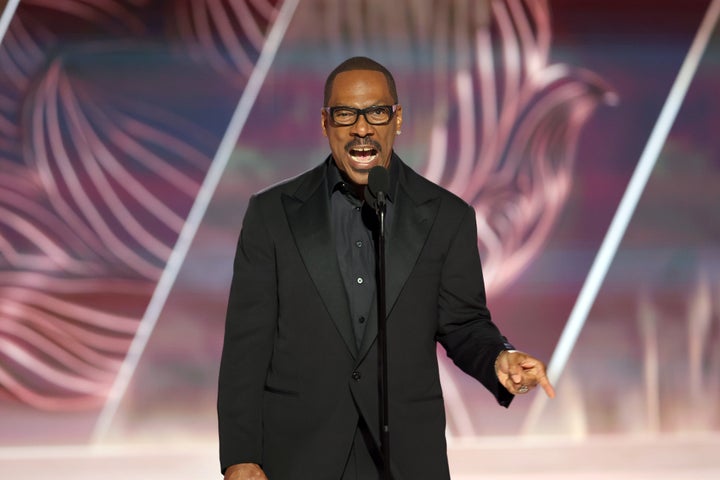 Eddie Murphy accepted the Cecil B. DeMille Award, the prestigious lifetime achievement award, at the Golden Globes on Tuesday night. But not before giving a bit of advice to all the "new up-and-coming dreamers and artists" in the audience.
"I want to let you know that there's a definitive blueprint that you can follow to achieve success, prosperity, longevity and peace of mind," the actor and comedian said. "It's very simple. Just do these three things. Pay your taxes, mind your business and keep Will Smith's wife's name out your [censored] mouth."
In case you've been living under a rock, Smith notoriously slapped last year's Oscars host Chris Rock after an off-color joke about his wife, Jada Pinkett-Smith. Then, from his seat, Smith yelled at Rock to "keep my wife's name out your fucking mouth." The moment was talked about to death and resulted in Smith being banned from the Oscar ceremony for 10 years.
Murphy's moment was not the only reference to the slap in the Golden Globes ceremony. Globes host Jerrod Carmichael seemingly sneaked in a quick line near the end of the award show.
"During the commercial break, we gave Will Smith the Rock Hudson award for best portrayal of masculinity on television," Carmichael said. The joke didn't really land, since, well, all of us are so, so tired of any references to "the moment."
Can we please let the slap die? (Obviously, conversation will continue throughout the 2023 award season, and the Netflix special "Chris Rock: Selective Outrage" will air in March.)
Murphy joins a celebrated list of entertainers who have been awarded the lifetime achievement award at the Golden Globes, including Oprah Winfrey, Tom Hanks and Meryl Streep.
Fellow comedian Tracy Morgan, who, like Murphy, starred on "Saturday Night Live," and actor Jamie Lee Curtis, who starred opposite Murphy in 1983′s "Trading Places," presented the award to Murphy.
Too bad Murphy chose to use his lifetime achievement award speech — for an epic career of delivering comedic excellence — to drag bad jokes about the slap into 2023.
Dear future Oscars host: leave that punchline in the drafts.
Popular in the Community