The contentious meeting over a plan to build a pipeline that would dump water into the Nolichucky River had been interrupted several times by audience members asking the board to speak louder. The members were not using microphones and some sat with their backs to the audience, the Greeneville Sun reported.
At other points, the meeting was interrupted by applause, laughter and shouts.
"If we have any more outbursts from the audience, you will be removed from the building," Green County Mayor Alan Broyles warned.
That's when Overholt, who can be seen on the video standing and leaning forward in an attempt to listen, made his request for the board to speak up.
Police quickly moved in, and a photo posted on Facebook showed Overholt being marched out of the room:
A video posted to Facebook showed Overholt being handcuffed and patted down.
Overholt was told he was being arrested for disrupting a public meeting.
Overholt claims that what you didn't see on the tape was even more outrageous. Instead of arranging a car to bring him to the jail a short distance away, the arresting officer made him walk, he said. And when Overholt complained of back and hip pain and said he needed to sit or lean on something, he was charged with resisting arrest, according to a statement from Overholt cited by the Greeneville Sun.
"My right arm was numb. I did not know my elbow was bleeding. Another officer to my rear made the comment, "Maybe he needs some concrete time," Overholt was quoted as saying.
Overholt was arraigned on Monday, and his next court appearance will be Sept. 22.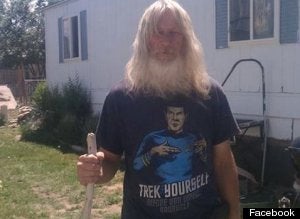 The Most Outrageous Stories Of Police Misconduct In 2013
Popular in the Community