The debut of Eddie Redmayne's career-redefining performance as Stephen Hawking in "The Theory of Everything" was maybe the most talked about moment of this year's Toronto International Film Festival. Redmayne's sartorial choice for the film's premiere -- a teal-green, double-breasted suit from Burberry -- ran a close second.
"I'm color blind -- red-green color blind," Redmayne told HuffPost Entertainment. "I got this suit, and I went to put it on and my girlfriend was like, "Really? It's really green."
Redmayne's suit was equally impressive in how it matched co-star Felicity Jones' peach dress. "I promise that wasn't intentional," Redmayne joked.
Fortunately for Redmayne and Jones, it's likely the pair will have plenty of future opportunities to coordinate outfits during the six-month stretch of awards season. The two stars -- Redmayne is 32, Jones, 30 -- give formidable performances in James Marsh's new film, which focuses on Hawking's relationship with his first wife, Jane. Redmayne undergoes a massive, near unrecognizable physical transformation to play Hawking as the brilliant theoretical physicist deteriorates following his 1963 diagnosis of motor neurone disease, or ALS; Jones matches Redmayne beat for beat as his determined, smart, fierce, complicated and kind wife. The chemistry between them crackles, even when Redmayne is only able to move the smallest muscles in his face.
"His mom and Jane described the same very expressive eyebrows. So it was a lot of time in front of a mirror, basically, with Stephen on my iPad," Redmayne said. "Stephen, when you meet him, he has no interest in the disease. He didn't want to see a doctor ever again [after his diagnosis]. So I wanted to do all the physical stuff in prep, so when it came to filming, it was just Felicity and I playing around. Because, I hope, it's not a story about a disease, it's actually an unconventional love story."
Indeed, "The Theory of Everything" is unconventional as far as biopics go. A big reason why is because Marsh, an Oscar winner for the documentary "Man on Wire," brings a visual flair to the story. Then there's the relationship Hawking shares with Jane, which takes precedent in the film over his accomplishments in the scientific world. (Their marriage, too, is not neat and tidy like traditional Hollywood romances.)
HuffPost Entertainment spoke to Redmayne about "The Theory of Everything" in a booth at the Azure restaurant inside Toronto's InterContinental Hotel one day after the film's premiere. An edited transcript of the conversation is below.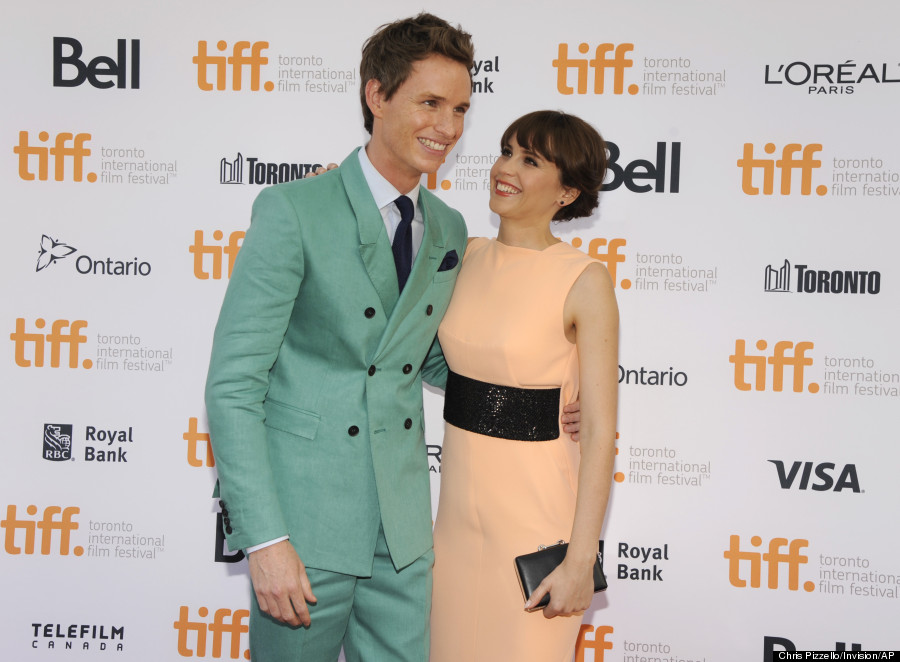 Eddie Redmayne and Felicity Jones at the premiere of "The Theory of Everything"
How daunting was the amount of preparation you had to do for this role? When I got the part, James asked, "How are you going to go about this?" Inside, I had no idea, but I put on this faux-professional face. I went back to this old-school way of working, which was to surround myself with a team. My instinct was that everything would affect everything. Physicality was going to have an effect on costume, on makeup, on voice. So it was James and I, with Jan Sewell, our makeup designer, Steven Noble, our costume designer, and a dancer called Alex Reynolds, who worked on "World War Z" and did all the zombie movements. I spent six months going to ALS and motor neurone clinics, and meeting with people affected by the disease, and also their families.
It was also using photos of Stephen, because there's no footage of him when he was younger and healthy. I would take them to the specialist and ask what they thought the decline would have been based on the picture. The thing with motor neurone is you have upper neurons and lower neurons. If your upper ones go, there is a stiffness and rigidity, and if the lower ones go, there's a wilting. ALS is a mixture of the two, and how it manifests itself is completely unique to each person. I was taking these photos of the early stages, and she would go, "Oh, his foot is dropped there, so his foot was the first thing to go. Then his hand is gone." I also found things on YouTube. There's a video of Stephen doing zero gravity. That's one of the only times you can see his body, and see what is rigid and what is wilted. It was riveting to try and dissect all of that, and then work with Alex to put that into my body.
What did you learn from having Stephen and his family as a resource as well? Some of the most interesting stuff was with the kids: Lucy, who I met a few times, and Tim, the youngest son. Tim would tell me stuff like that he used to get on his dad's wheelchair and wheel it around like a go-cart. Or that they would put words in his voice machine. That allowed me to go back to James and say that we're missing a trick here. The kids don't see the illness as an illness in a way that we as adults do. For them it was the total norm. That was really key: allowing us the freedom to improvise in that way.
Stephen and Jane have such a loving relationship, and their sex life is referenced in the film beyond the existence of the children. Not to make this too prurient, but was there ever a discussion about showing the difficulties or challenges of physical intimacy between them? That was sort of a discussion. I was really sensitive to it, but I was also sensitive to the fact that the schedule meant we couldn't. I lost a stone and a half [21 pounds] before filming, but because we weren't shooting chronologically -- we were jumping every day between different time periods -- it meant I couldn't take off three weeks to lose more weight. So I was also worried that if you were exposing him naked, later, it would expose an untruth. Do you see what I mean? That was my concern. James was interested in that, and we tried to indicate some of it. Because some of the photos of them when they were at Cambridge at that time, they were so fucking sexy. They're really trendy looking. I thought that was so cool.
What was it like when you first met Stephen? It was a mixture of being desperate to meet him and being obviously terrified. I could only meet him five days before we started working, because of the technicality of the performance. So I was just worried that meeting so close to filming would make me realize I got it completely wrong. But other than suffering from verbal diarrhea and embarrassing myself for the first half-hour, he just emanated this humor and warmth. Even though he can only move a few muscles in his face, it's one of the most expressive faces. That for me, and finding the optimism, is what I took away.
Would you say this is the most rewarding role of your career? I definitely think it's the most challenging role. I think in life, whatever you do, you only get better at what you do by raising the stakes. I'm grateful James trusted me with it, but I definitely didn't trust myself. I tried to persuade him it was worth casting me, but I didn't know that. His faith, and producer Eric Fellner's faith, was wonderful. Normally I'm quite good at jumping out of things and going straight into the next thing, but I haven't been able to work since. It has taken me a while.
A performance like this in a movie like this comes with the expectation of awards buzz. Is that something you're thinking about yet? The stakes felt so high from day one on this, because ultimately Stephen and Jane are going to watch this film. The fact that they liked it, they were the ultimate critics. That for me meant the world. Anything else that comes with that is wonderful. But that Stephen and Jane loved it is the greatest thing.
"The Theory of Everything" is out in theaters on Nov. 7
This interview has been edited and condensed.
Before You Go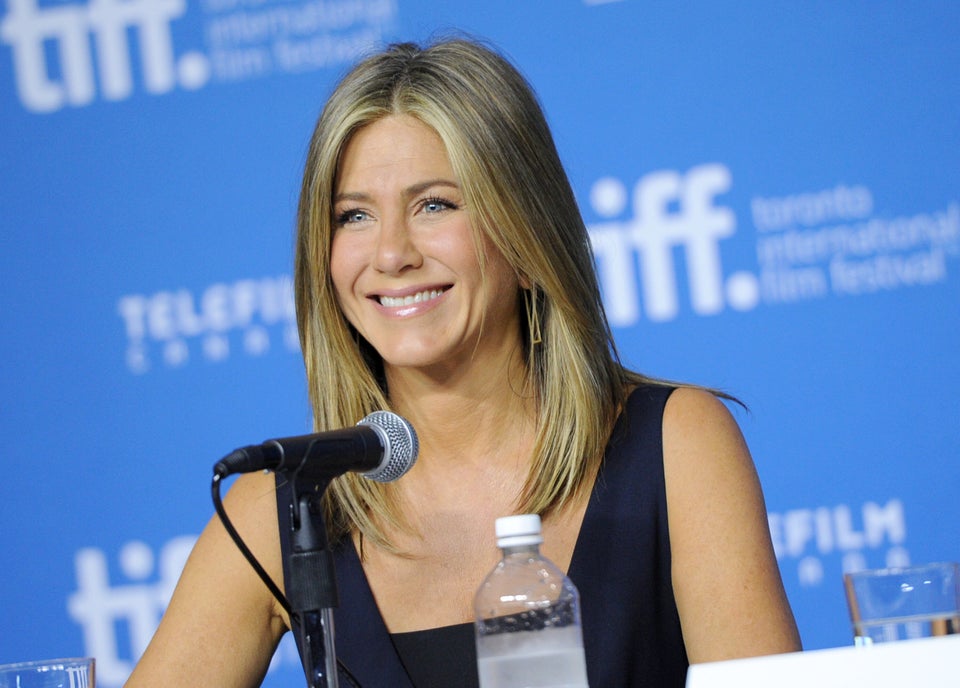 TIFF 2014
Popular in the Community