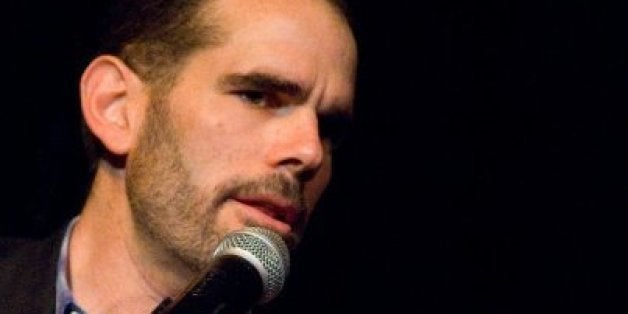 Eddie Sarfaty is a comic, author, teacher and TV producer in the making. His 2009 book of autobiographical essays, Mental: Funny in the Head, was a critical success. Sarfaty, known for his acerbic wit and cultural insights, will perform in Eddie Sarfaty's F&%king Show! Saturday, Nov. 2, at New York's Metropolitan Room beginning at 7 p.m. Here he talks about his journey to becoming a comic, who makes him laugh and how he handles remarks about his hot good looks.
Tracey J. Smith: How did you get started in comedy?
Eddie Sarfaty: I thought I wanted to be an actor when I was a kid, but when I was a theater major in college, I discovered that I didn't like acting as much as I thought I did. I liked being in a show and being creative, but I didn't really love the nuts and bolts of everything. While studying at the National Theater Institute, I was telling a story, and this woman in my class said, "You should be a stand-up comic." That's the first time I thought of it, but it took me years before I ever got the nerve to do it.
Smith: How did you get the nerve to finally do it?
Sarfaty: I took a class at The New School that was taught by a comic. He took everyone to the Comic Strip on a night when he was hosting and stuck each of us up there for three minutes between the booked acts. I was so glad to have done it, but I didn't do it again for a year. Then, about 2001, I said, "I have to see if I can make this work." I didn't want to regret, when I was 70, that I didn't try.
Smith: I read online that you were part of a comedy trio for some time.
Sarfaty: There's a group called Funny Gay Males, headed by three guys, Bob Smith, Danny McWilliams and Jaffe Cohen, who, in the early '90s, were the only out comics in New York. This was during the height of the AIDS crisis, and club owners were like, "I think you're funny, but I don't know if my audience would go for that." They put together a show called Funny Gay Males, which was supposed to run for just a couple of weekends at the Duplex, but they ended up doing it for three years. In 2001 I got a call to work in Provincetown, Mass., for the summer and ended up working with them for a time.
Smith: How did you find your voice as a comic?
Sarfaty: It just sort of happened. The fact that I'm gay, Jewish and grew up in New York influences it. I think it's smart, good-natured sarcasm. There's some silliness to it. I'd like to think that it's got emotional resonance. I don't really approach it from a certain point of view; anything that's funny will go in my act. People may say, "Oh, there's that gay Jewish guy," but I'm more worried about being myself.
Smith: How did your book deal come about?
Sarfaty: It was one of those in-the-right-place-at-the-right-time stories. I was at a party and introduced myself to a guy standing next to me at the bar. He said, "Oh, I know you. You're that comic. My partner and I have seen you perform in Provincetown several times. You're really funny." And I said, "Thanks. I'm so glad you enjoyed my show. What do you do?" He said, "I'm the editor-in-chief at Kensington Publishing." I had just gotten my first story published and told him that I was thinking of writing some others, and he told me to send them to him. A week or two later he called me and said he wanted to publish them.
Smith: Would you do another book?
Sarfaty: Right now I'm working on a novel, but it's not comic at all. It's actually kind of dark and twisted. It's not science fiction or fantasy, but the characters are odd, interesting people. That's really been fun. Not sure if it's the best move for my comedy career, but we'll see.
Smith: How do you market yourself?
Sarfaty: I partner with a lot of different nonprofit groups, everything from AIDS organizations to youth at-risk groups, social and professional organizations. Stand-up is easy to produce, and you can make it work in a restaurant, bar, church, lecture hall, wherever. I can say to anyone who's having any kind of event, "Hey, why don't you have comedy?"
Smith: What makes a good comic?
Sarfaty: I think all good comics have had some kind of profound experience of being an outsider. If you look at who's interesting, funny and smart, they're all either black, Jewish, gay, a woman, fat or funny-looking There are not a whole lot of straight, white, Anglo-Saxon, Protestant men who are just hilarious! I love people whose voices are original, like Joan Rivers, Chris Rock, Bill Maher, Jon Stewart and Susie Essman. I learned a lot by watching old Henny Youngman, Burns and Allen, and Stiller and Meara footage. I admire people like Joan Rivers and Phyllis Diller, who were the first women out there, when no one wanted them. Judy Gold makes me howl, and I've learned a lot from watching her.
Smith: What is the most challenging part of being a comic?
Sarfaty: Well, there's the erratic hours and income, the desperate need for approval, the solitary torture of trying to write jokes. There have times when it's been great, and times when it's been not-so-great. Now I'm engaged to someone who is totally supportive. He's been wonderful and given me the ability to focus more on it. The biggest thing for me has been the struggle to believe in myself. It took me a long time to get the courage to do this, and I still have doubts, but that helps me too, because I can make fun of myself and not crumble under my insecurities.
Smith: How do you respond to remarks about your good looks?
Sarfaty: It's sort of weird talking about that, because you never think you look as good as other people do. I was a chubby kid, and I've always struggled with my weight. I usually laugh off those remarks, or "throw them away," as my partner calls it.
Smith: How do you handle hecklers?
Sarfaty: If someone is interrupting your show, you ignore them the first and second time. If they keep doing it, then you go after them, because by that time the audience is pissed-off at them too. Sometimes I'll just look at people and say, "You do realize this is not a conversation?"
Smith: And how do you address a joke that bombs?
Sarfaty: You laugh it off. You know, if you're doing a joke about mousetraps and it doesn't go over well, you say, "Well, not a mousetrap crowd." If a joke bombs, it's fine, because the audience is OK with you being human. There's a certain amount of appreciation about how hard it is up there.
Smith: What is your ideal career in comedy?
Sarfaty: I don't have a specific end-goal. I started doing comedy. I wrote a book. My friend Bob and I just finished a screenplay and pitched this reality show idea. I'm teaching. All these things are going on, and I like the variety of it. Would I like to be the new host of The Tonight Show? Sure, that'd be swell. But I don't want to get full of anxiety because certain things aren't happening. I want to go to work today and enjoy what I'm doing.
Smith: Do you feel successful?
Sarfaty: I do feel successful. It's really amazing to me that people take time and pay money to watch me complain for one or two hours.
Smith: What do you want your legacy to be as a comic?
Sarfaty: The thing that interests me most is the emotional connection. I love when people say, "I was in a really bad mood, and my friends brought me to see you, and we had such a good time," or getting an email that says, "Your book made me laugh." For people to think that I'm good at what I do, and that I connected with or touched them, is important to me. Am I going to touch millions? Maybe.
For more information on Eddie Sarfaty's F&%king Show! click here.
Calling all HuffPost superfans!
Sign up for membership to become a founding member and help shape HuffPost's next chapter