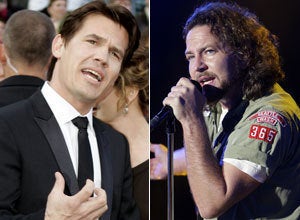 "W" star Josh Brolin graces the cover of the November Interview magazine. Inside he has a length Q&A with singer Eddie Vedder. The conversation is interesting, worth reading and too long to excerpt here. But, the phone interview starts off with talk of the Master Cleanse, which is transcribed below. They both have tried it and swap tales of diet woe.
EDDIE VEDDER: I just finished touring, and I'm on a detox thing. It's a heavy detox, so nothing in my belly except water, salt and cayenne pepper.
JOSH BROLIN: You're drinking the lemon water and the cayenne and all that?
EV: Yeah, I'm doing the master cleanse, which also means I'm not smoking. I haven't smoked for four days. This is probably the first phone conversation I've had in 10 years where I haven't had a smoke. It's like trying to talk without using adverbs.
...
[talk turns to politics and the upcoming election]
EV: Yeah, that's why I'm detoxing this week. It's just to set myself up for next month.
JB: Why are you detoxing?
EV: Well it was a long couple of years, and being on the road a lot... I'm ready to just clean up my act. I don't know how it's all going to come out - this is, like, four days in. In fact, I don't want to talk about it. But it does feel weird. I'm feeling different.
JB: Are you feeling high yet? I've done what you're doing a few times. After the initial period of feeling like you have the flu come these five or six days of speediness. Obviously, that hasn't hit you yet.
EV: No. I'm more kind of walking around in a daze, wondering if this is all really happening.
And at the end, during a conversation of how Brolin had to lick Patricia Arquette's hairy armpit for a scene in "Flirting with Disaster." (She'd grown it out for her character)
JB:I had to lick her armpit with the hair
EV: This is really great for me, man. This is going to keep me from eating for days.
JB: It's the disgusting truth of my profession. Anyway, we saw the footage, and it was disgusting that [the director] David said, 'We can't have the hair. Patricia has to shave the hair'."
Calling all HuffPost superfans!
Sign up for membership to become a founding member and help shape HuffPost's next chapter