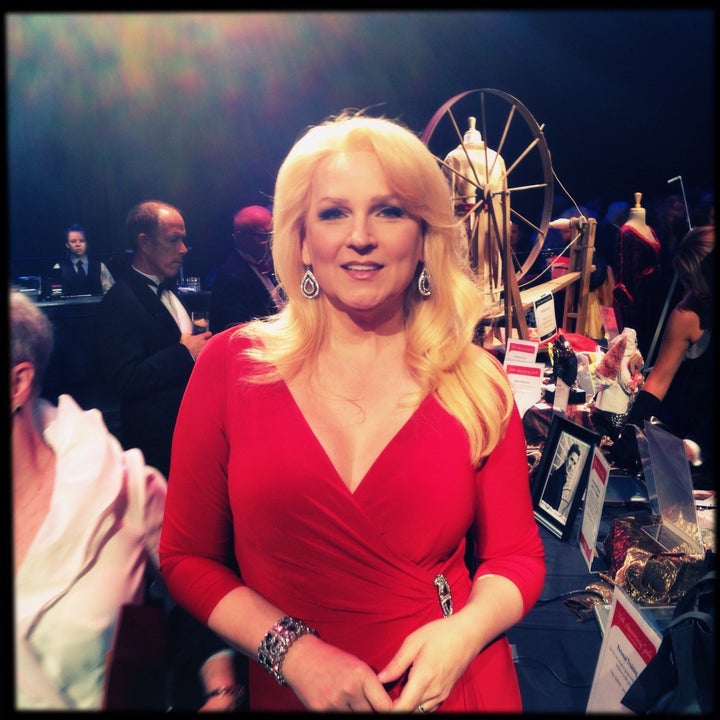 "'The Book of Mormon' just launched its national tour in Colorado, so I was able to get a sit-down with [creators] Matt Stone and Trey Parker, " said Eden Lane, the host of Colorado Public Television's "In Focus with Eden Lane," a weekly interview program highlighting arts and culture, discussing a recent trip to New York. "And I interviewed the stars, including Gavin Creel, who is the most charming fellow you ever met!"
She was beaming with excitement, hugely passionate about her work and the show, now in its fifth season. Each week Lane speaks with artists, writers, directors, performers and others in theater, dance, music, film and television, drawing them out with her warm and inviting personality. And while her program is focused on her interview subjects, she, too, is sometimes in the spotlight, making history as the only known openly transgender mainstream television broadcaster in U.S., something that Lane says just sort of happened, and was nothing she ever set out to do.
"I've been told that, for mainstream television, I'm the only broadcast journalist that is known to be transgender," she said in an interview on my SiriusXM OutQ radio program. "I transitioned, in the way that your radio listeners will understand, almost a decade ago. I became a married, suburban housewife and mom, and never really intended to step in the spotlight. If I had known that nobody else was identified as transgender as a news journalist on television, I probably wouldn't have done it. I probably would have been too afraid."
Though she had been in television in years past, Lane didn't expect to get back into the business.
"I started working on television in Colorado just by accident," she said. "I was a guest on a panel for 'Colorado Outspoken,' which was an LGBT [television] newsmagazine. I was invited back again, and started being invited to do segments. I had done work in television but not since I had transitioned. So all of that work experience, all of that education, wasn't something I could publicize and own, because it was under a different name and a different identity. And without wanting to publicize that, so that there's that obvious 'before' and 'after' 'comparison, I just had to start from scratch. And I never really intended to. It just sort of happened that way. When the station was looking for extra help in covering the Democratic National Convention [in 2008 in Denver], I stepped up and worked for the station outside of the LGBT program. And then got offered a chance to have a platform to do this kind of programming."
Lane hadn't kept the fact that she is transgender a secret by any means, but, in her role as an interviewer she focused on her subjects and not herself, so she hadn't been overtly public about it either. She was thus a bit surprised when her transgender identity suddenly was highlighted in the media, when she was doing some political reporting for Colorado Public Television, outside of her regular show.
"A couple of years ago, during political coverage, on my political programming, my background became part of the story, became part of a campaign tool against a couple of my subjects, both Democrat and Republican, for sitting down with me," she said. "I had never really thought of myself as a transgender figure. Some journalists found nuggets of the interviews and they had to throw in there that this was an interview with a transgender journalist."
It was for that reason that she decided to give an interview to The Denver Post last week and speak in depth about her experience, her family, her upbringing and her life today. "It was just a way to get it all said, and not address it over and over again," she said.
Lane says she gets letters from gay and transgender teens, and from parents. She finds it rewarding, if sometimes a huge responsibility, being one of the few openly transgender public figures in television. There's also sometimes the pressure from activists to be more outspoken. But Lane feels she has a different, specific role to play.
"Once in a while, I may be asked to identify myself and make a statement in a certain way," she explained. "I think that would undermine the meaning of my work, not just for my work's sake, but for the very reason they're wanting to identify me as a transgender broadcaster. If I were to make political statements, then that that undermines my credibility as a journalist. And if that's the point, that I'm a journalist first, and that people are tuning in to watch my program not because I'm talking exclusively about LGBT issues, but all sorts of things, then for me to step up and try to be a political figure would undermine that work and really rob us all of a chance to have a different kind of example available."
Listen to the full interview here:
Update on October 28 at 2:55pm: It has been brought to our attention that Andrea Sears is also an openly transgender broadcast journalist. In a statement to The Huffington Post she states," I am a transsexual woman and I have been the news editor and anchor at WBAI/Pacifica Radio in New York City for about 17 years. I transitioned on the job almost twelve years ago, which is about as open as you can get, and I have worked continuously since then as a broadcast journalist." We thank Sears for writing in and congratulate her on her achievements. Eden Lane remains -- as far as we know -- the only openly transgender mainstream television journalist.
Calling all HuffPost superfans!
Sign up for membership to become a founding member and help shape HuffPost's next chapter
BEFORE YOU GO
PHOTO GALLERY
20 Transgender Pioneers