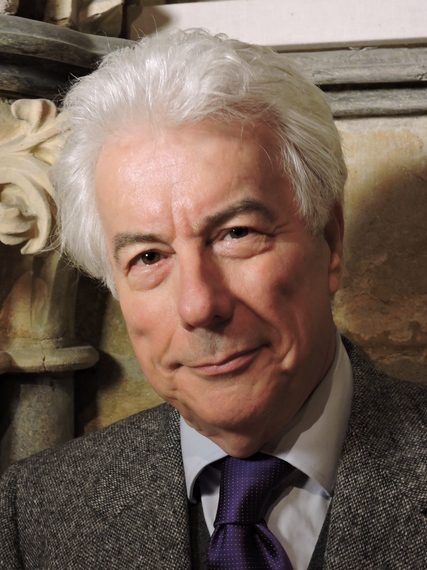 Photo credit: Barbara Follett
Ken Follett's books have sold over 150 million copies worldwide. The Century Trilogy opened with Fall of Giants in 2010, followed by Winter of the World in 2012.
Edge of Eternity, the concluding novel in this trilogy, follows the fortunes of five intertwined families--American, German, Russian, English, and Welsh--negotiating the upheavals of the twentieth century. Each book in the trilogy follows the next generation, and each can be read as a stand-alone novel. Edge of Eternity covers the time period from the 1960s through the 1980s.
Edge of Eternity, as do the other books in the Century Trilogy, has a sprawling historical perspective. Talk a bit about the time frame, from your idea for the story to the completed novel?
I was thinking 'What is the most dramatic and exciting period in our history?' I enjoyed writing historical novels, but didn't want to write another medieval story. I realized the twentieth century is the most dramatic period in our history. We had the First World War which was the most terrible one the human race had ever experienced. Then, came World War II, which was worse. And ultimately, we had the Cold War, which if it turned into a hot war, would probably have wiped out the entire human race. There basically, is the terrible drama of the twentieth century. But it's also our story--mine and yours. We were born in the twentieth century; and its history is the story of what we, our parents, and grandparents experienced. It's very immediate to us. So, I decided to write a historical novel about the twentieth century.
As for time frame, the complete project took me seven years. It's about one million words total for the entire trilogy. I spent the first six months mapping it. Early on in the process, I realized it was not one book, but three. I looked at a book called Age of Extremes by Eric Hobsbawm, which gives a brief history of the twentieth century. It struck me that the period beginning with the First World War and ending with the fall of the Berlin wall was the period to write about. I realized it needed to be three books, each one based on a different war.
I began with a six month study of the century, during which time I mapped out each book in a very rough way. Then, I concentrated on book one, The Fall of Giants, which is about the First World War and the Russian Revolution, It took two-and a half years to write. It took two years for each of the other two books, Winter of the World and Edge of Eternity. In each case, the writing of the book divided roughly into three equal parts: the planning and research which involved a detailed outline of each chapter. That came to sixty or seventy densely typed pages (which was as long as some of my earliest novels). When I was happy with that, I wrote a first draft. The completed draft went to quite a number of people--editors, some family members, and I always hired experts to check my research. After getting notes from these readers, my rewrite was a lengthy process which really improved the story. For Edge of Eternity, it was eight months for each of the three stages.
You grew up in a home where watching movies or television was prohibited. How did that affect you?
Of course, at the time, I was absolutely outraged. At the age of eight, all my friends went to the movies on Saturday mornings. I would have loved going with them. Of course, it did mean that I read more, and in the long run, that probably wasn't a bad thing.
In college, you majored in philosophy. What led you to make that decision?
That was also a consequence of my family. By the time I applied to college, I had grave doubts about my parents' religion. I had arguments with my father about theology. Philosophy is, in part, a study of what is a good argument and what is not; what is evidence and what is fake evidence. So, my interest in philosophy stemmed from the agonizing conflict I had over whether or not I believed in my parents' religion. In the end, I completely rejected it. I'm not a religious person. I'm an atheist. I ended up being the absolute opposite of my parents. It was a process that took some years, and studying philosophy was part of that process.
Nearly every reader alive knows your breakthrough novel was the immensely popular Eye of the Needle in 1978. That was followed by other bestselling espionage thrillers. Yet, with The Pillars of the Earth, you began writing historical fiction. What made you change direction?
It was mainly my interest in the Middle Ages, and in particular, the building of the cathedrals. Most people who stand before a medieval cathedral wonder why it's here. They ask themselves, 'Why did medieval people want one of these so badly that they went to the enormous trouble and expense of building it? What compelled them to do this?' That question is really the driving force of Pillars of the Earth. The novel is my answer to that question, and it helps shed light on the importance of these magnificent cathedrals.
You once said, "I want to tell a story that makes the reader always want to see what will happen next." Will you talk about that?
I think this is what popular fiction is all about. We get involved in the story. We identify with the characters. We love some and hate others. We share their hopes and fears. We have an emotional response to them in the context of the story. This is what we want from popular fiction. If you feel anxious about what will happen to the characters, of if you feel sad or hopeful, or happy for them, then you're into the story and you keep turning the pages. I think the immersion in the story, the feeling that what's happening in the story is more important than what's happening in real life, is what we want from literature. That's the joy of it. You know you're enjoying a book when the plane lands and you think, 'Oh darn, now I've got to stop reading.'
You also said recently, "For me, the words should be like a pane of glass that you look through, not at." This has always been evident in your novels, including Edge of Eternity. Will you talk a bit more about your writing style?
We enjoy the way some writers put words together. For example, P.G. Wodehouse or Philip Roth does so, each in his own way. Part of our enjoyment of their books is their linguistic style. I'm not that kind of writer. The important thing in my books is the story. I want the reader to see the story. When you're reading one of my books, I don't want you thinking about a sentence or marveling at a vivid image. Or, exclaiming, 'What a clever alliteration.' I don't want you thinking about my prose. I want you to focus on the story. To illustrate that, I've said, 'My style is like a window. You look through it and see the story. You don't pay attention to the pane of glass.'
You've written thirty novels over the years. What about writing has surprised you?
That's difficult to answer. Even as a child, that was what I was good at in school--using my imagination and writing my fantasies. It always seemed natural for me. From time to time, when I'm writing a scene, tears come to my eyes. I think to myself, 'Don't be a fool, Follett. You're making this up.' (Laughter).
It's the power of your story. You've sucked yourself in. (more laughter).
I suppose so. My imagination has gotten the better of me.
What do you love most of all about being a writer?
I love the complete immersion it requires. Writing a book people will devour doesn't get easier as the years go by. I have an approach I know works, but each time I begin a novel, wonder if this one will work. I ask myself, 'Will they like this one?' The effort absorbs and uses up everything I've got. It uses all my intelligence and knowledge of the world and people. Absolutely everything goes into the novel. It's the most all-consuming thing imaginable. It's that complete engagement in a challenging task I love so much.
If you could have dinner with any five people, either living or dead, who would they be?
Because of my absorption in the sixties when writing Edge of Eternity, I would be very curious to meet President Kennedy. It would be great, wouldn't it, to have a sixties dinner party? Bobby Kennedy is a terrifically interesting character. Martin Luther King is probably the biggest hero of the twentieth century, so I'd love to have him there. Let's liven up this dinner party by throwing in Nikita Khrushchev. Oh, and maybe Fidel Castro. (Laughter). They'd be arguing about politics, that's for sure. Oh, I nearly left someone out. I'd also invite Marilyn Monroe, an icon of that era.
What would they all be talking about?
Why, they'd be talking about Marilyn Monroe, of course. (More laughter).
If we go back to the earlier books in the trilogy, who would be at the dinner?
From the century's earlier decades, I think I'd have Mrs. Pankhurst, who led the suffragette movement in the UK. She was a very strong and eccentric character. What about Trotsky? I suppose in this fantasy, they could all speak the same language.
Absolutely.
And the British Prime Minister David Lloyd George would be there. He was a terrific flirt and he'd flirt unabashedly with Mrs. Pankhurst. It would also be interesting to have Woodrow Wilson at the party. He was a great American president. I admire the determination with which he promoted the League of Nations. Although it ended up a failure, I think the impulse to have some kind of world order designed to prevent war, is still a good one.
What's coming next from Ken Follett?
I've been working on a new story. I don't have a title, yet. It's based in the fictional town of Kingsbridge, the location of The Pillars of the Earth and World without End.
Congratulations on having written the Century Trilogy, three historical novels encompassing the events of the twentieth century in a compelling, highly readable way.
Mark Rubinstein is the author of Mad Dog House, Mad Dog Justice and Love Gone Mad.
Popular in the Community