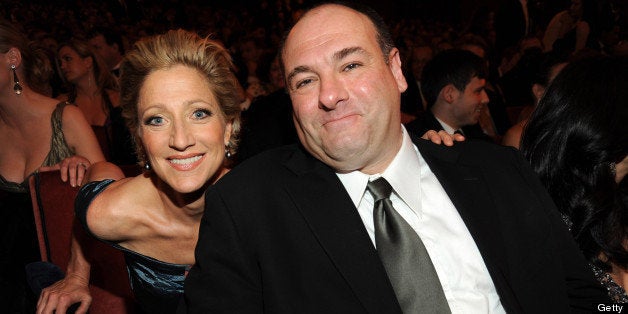 Tony and Carmela Soprano may not have had the world's best marriage, but for Edie Falco, the loss of her former TV husband James Gandolfini means honoring the love that the two iconic characters had for each other, and that she had for her co-star as well.
"I am shocked and devastated by Jim's passing. He was a man of tremendous depth and sensitivity, with a kindness and generosity beyond words," Falco said in a statement released by Showtime. "I consider myself very lucky to have spent 10 years as his close colleague. My heart goes out to his family. As those of us in his pretend one hold on to the memories of our intense and beautiful time together. The love between Tony and Carmela was one of the greatest I've ever known."
Falco, who currently stars in Showtime's "Nurse Jackie," co-starred opposite Gandolfini in more than 80 episodes of HBO's "The Sopranos." Both Gandolfini and Falco won three Emmys for their work on the series.
"I'm still in love with Edie," Gandolfini told Vanity Fair in 2012. "Of course, I love my wife, but I'm in love with Edie. I don't know if I'm in love with Carmela or Edie or both. I'm in love with her."
Gandolfini passed away at the age of 51 in Italy on Wednesday, prompting the cast and crew of "The Sopranos" to share their memories.
"He was a genius," "The Sopranos" creator David Chase said of Gandolfini in a statement. "Anyone who saw him even in the smallest of his performances knows that. He is one of the greatest actors of this or any time. A great deal of that genius resided in those sad eyes. I remember telling him many times, 'You don't get it. You're like Mozart.' There would be silence at the other end of the phone ... And it's bad for the rest of the world. He wasn't easy sometimes. But he was my partner, he was my brother in ways I can't explain and never will be able to explain."
Lorraine Bracco, who played Tony's therapist Dr. Jennifer Melfi noted, ""We lost a giant today. I am utterly heartbroken," while Brad Grey, a producer of "The Sopranos" said, "Jimmy was one of the most talented, authentic and vulnerable actors of our time. He was unorthodox and truly special in so many ways. He had the sex appeal of Steve McQueen or Brando in his prime as well as the comedic genius of Jackie Gleason."
Steven Van Zandt, who played Silvio Dante on "The Sopranos" and is a member of Bruce Springsteen's E Street Band, had this to say via Twitter.
PHOTO GALLERY
The Best Of James Gandolfini On 'The Sopranos'
REAL LIFE. REAL NEWS. REAL VOICES.
Help us tell more of the stories that matter from voices that too often remain unheard.