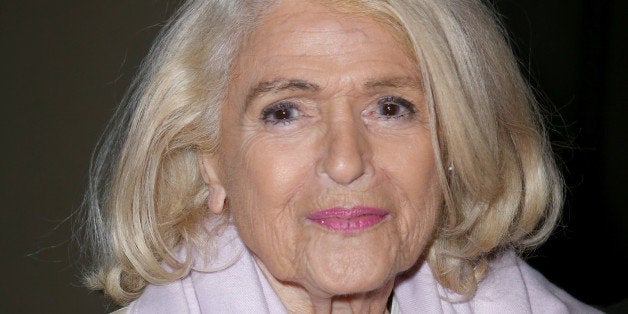 The American people have an opportunity to tell the Supreme Court that they support marriage equality before the court takes up a case this spring that could legalize same-sex marriage across the country.
Edie Windsor, the plaintiff in a 2013 Supreme Court case that forced the federal government to recognize same-sex marriages, was the first person to sign the "People's Brief," an amicus brief that is slated to be submitted to the Supreme Court in March. It chronicles the country's sweeping change in attitudes toward gays and lesbians over the past decade, and is a joint effort between the Human Rights Campaign and Roberta Kaplan, Windsor's lawyer.
The shift, Kaplan argues, is largely due to the simple fact that, until recently, many Americans were not aware that they knew anyone who was gay.
"Without the benefit of knowing and understanding the lives of gay people living openly and with dignity in their communities, many Americans failed to see that gay people and their families have the same aspirations to life, liberty, and the pursuit of happiness as everyone else," Kaplan writes in the brief.
Polling backs up this theory. People who know someone who is gay are nearly twice as likely to support same-sex marriage as those who don't, according to a survey conducted last year by McClatchy and Marist Poll.
"Times can blind," Kaplan told The Huffington Post, quoting Justice Anthony Kennedy's majority opinion in Lawrence v. Texas, the landmark 2003 decision that struck down the sodomy ban in Texas. "In circumstances in which laws are passed based on a misunderstanding of who people are, or a fear of people who are different just because they're different, it is the role of the court to step in and vindicate the principle that our constitution requires that everybody be treated equally."
Today, same-sex couples are allowed to marry in 37 states, Washington, D.C., and some counties in Missouri. Kaplan said she is confident that the Supreme Court will side with the dozens of federal judges who have struck down same-sex marriage bans across the United States. Still, she said, a robust show of support in the coming months can only help the cause.
The "People's Brief" can be read in full here.
Calling all HuffPost superfans!
Sign up for membership to become a founding member and help shape HuffPost's next chapter