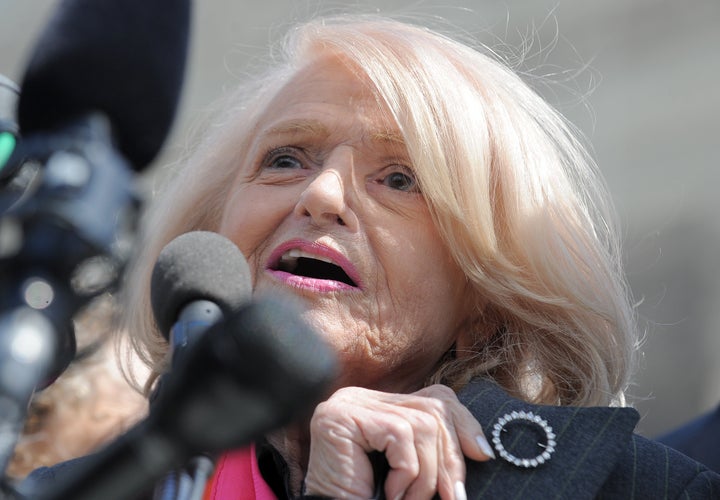 "She's so small." It's what I remember thinking the first time I saw Edie Windsor in person, at the DC Pride Parade this past summer. She was riding atop a float with the biggest smile, waving in greeting to the cheering throngs on 14th Street. She was a hero of the queer civil rights movement, so larger than life and untouchable that I almost couldn't imagine I was seeing her not on TV.
But at the same time, she was so small. She had a glamorous, blond blow-out reminiscent of so many older New York ladies I grew up around. Her accent reminded me of my born-in-Brooklyn, raised-in-the-Bronx grandmother. She was a bubbe, and emanated that huggable warmth. And yet, she was a hero of the queer civil rights movement.
Edie changed this country with her love story. It's worth reading in full, but there are pieces that jump out and etch themselves in memory: how she describes falling in love with her wife, Thea. How often she recalls them dancing. The beautiful normalcy of their young photos together.
We only get so many icons in life. We get even fewer in which we can see ourselves so clearly.
In June of 2013, when Edie's case was decided, I had just moved to Washington, DC. It was two months after I'd graduated college. It would be five more months before my feelings of attraction toward women would float up to the surface of my consciousness, another three after that before I started putting words to what those feelings were. Three years before I could say the word "lesbian" out loud without crying. On that day in 2013, I was just happy ― for my friends and family, for our country. Like any good progressive. I didn't go over to the Court to wave a rainbow flag; I was at work. It was a shallow, saccharin joy — the kind I was used to without realizing it.
It would be two years before "Obergefell v. Hodges" legalized same-sex marriage in every state, when I would stand in Lafayette Park during another Washington June, basking in the rainbow glow of the illuminated White House, feeling down to the marrow of my bones the significance of that decision. "Obergefell" may be the case that made marriage equality a reality in every park in the country, but it was "Windsor" that paved the way. Such an experience was only possible for the nation, and for me, because of Edie.
It matters that she was a woman. It matters that she called herself a lesbian on the steps of the United States Supreme Court. It matters that the country rallied around two women for one of the most consequential moments in American history.
We only get so many icons in life. We get even fewer in which we can see ourselves so clearly, who stand in the beaming sun of a spring day in the nation's capital and claim a word and an existence that has been outlawed, stigmatized, demonized, fetishized. As for so many marginalized people, our words have been stolen and warped, our language has evolved and morphed. In 2017, the word "lesbian" still evokes pain and wrong-headedness for so many: racism and white feminism, misandry or exclusivity. Women today eschew the term, and the patriarchy relentlessly reminds that our lives are a kink.
As with any icon, anyone who plays such a distinct role in history, Edie has come to mean many things for many people. And each is entitled to their own relationship with both her person and her personage.
For me, as I sit here reading obituaries and holding back tears, I'll remember her as the small Jewish woman who found true love. As the forceful activist who took on the federal government and won. As a reminder that icons can be women and Jews and older folks, yes, but icons can be lesbians, too.
I'll remember her as the woman who stood on the steps on the highest court in the land and proclaimed, "I'm an out lesbian who just sued the United States of America."
REAL LIFE. REAL NEWS. REAL VOICES.
Help us tell more of the stories that matter from voices that too often remain unheard.
BEFORE YOU GO