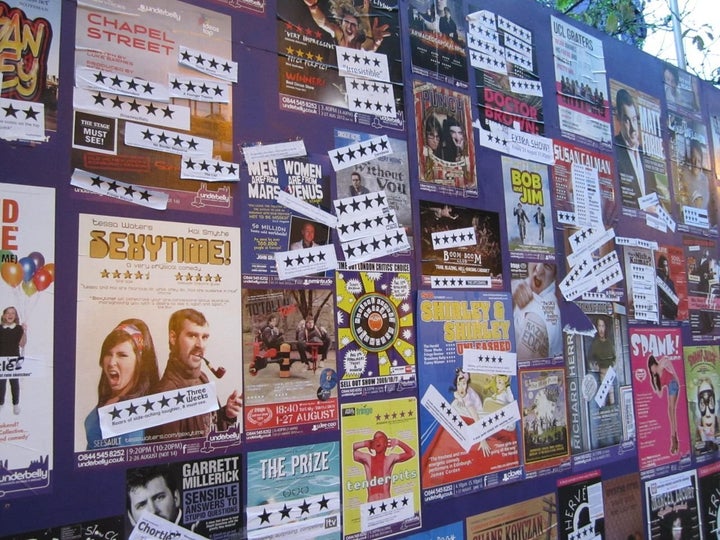 July 30, 2012 -- our first performance of After Orpheus is scheduled at Actors Guild of Lexington, KY, just about an hour's drive from Centre's campus.
A week prior to the first performance, we are all in panic mode. Our script was finished, but there was so much more to do. We work our way through multiple problems with lights, sound and costume with what we had, which wasn't much. Sound and costume were scavenged from Centre's stock. Props were bought from Walmart. Lights we would do on site, which is the professional way of saying we had little idea of what we were going to do. 
All of this technical work was done in the midst of rehearsals. When we weren't on stage, we were working on tech. Most of the work was in the costume department, as we had many costumes still unfinished or non-existent, and less than one week to finish it all. 
When we arrived in Lexington, we all realized one thing: we finally have an audience, and none of us knew what was going to happen next. It was the first time that all of the technical elements were brought together, and it would either be a disaster or a miracle. After a full day of preparations in the Lexington theater, things began to come together. Final rehearsals were complete and costumes and props were in place. Lights and sound were ready to go. Makeup and hair were being done, and before we could turn around, it was showtime. With lights blaring, hands clapping, and eyes staring, the cast stepped onstage together: the first step in the incredible journey that was to follow in the next month. 
With a successful show at Actors Guild of Lexington under our belts, we met at the airport. Our journey to Scotland would be delayed by a five hour layover. We spent this time at the airport gate rehearsing for our street performances, with a new script we had received that morning. 
Seven hours after boarding our second plane, we touched down in Edinburgh. It was 8:00 in the morning in Scotland. The only sleep we had gotten was whatever we had managed on the plane, which for me wasn't much but somehow I found myself wide awake with the sights from a tiny airplane window. It was the first time I had seen land overseas. I frequently had to remind myself that this wasn't a dream, that it was actually happening, that I was in Scotland. 
REAL LIFE. REAL NEWS. REAL VOICES.
Help us tell more of the stories that matter from voices that too often remain unheard.