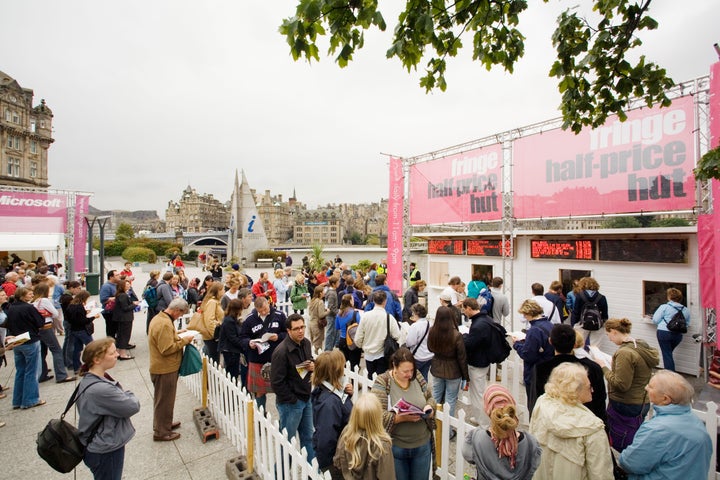 The opportunity to be able to perform in the Edinburgh Festival Fringe was beyond my wildest dreams. It was the first time that I had ever been a part of a touring show, and producing After Orpheus was no small feat. None of the spaces we rehearsed or performed in were ever the same. We begin figuring out where props go backstage when we didn't have our usual specific table and worked with each other when major problems appeared. Performing was challenging; we needed to remember our physical space in order to not run into each other-or the poles that were suddenly in the corners of our stage.
Doing a show in our own theater is one thing; putting it in another theater, in a different country, is entirely different. Especially when that theater is one of hundreds in the Edinburgh Fringe. There are other shows by other companies before and after our own show. We found that putting on makeup and doing hair in the alley behind the theater while we are waiting for the show before us to let out is a necessity. When we have a total of 15 minutes to move our show out of the building, it's not that big of a deal to still be wearing stage makeup when we walk out. Particularly when it is one of the main streets of the Fringe, where normal shoppers are mixed in with mermaids, clowns, and guys juggling chainsaws.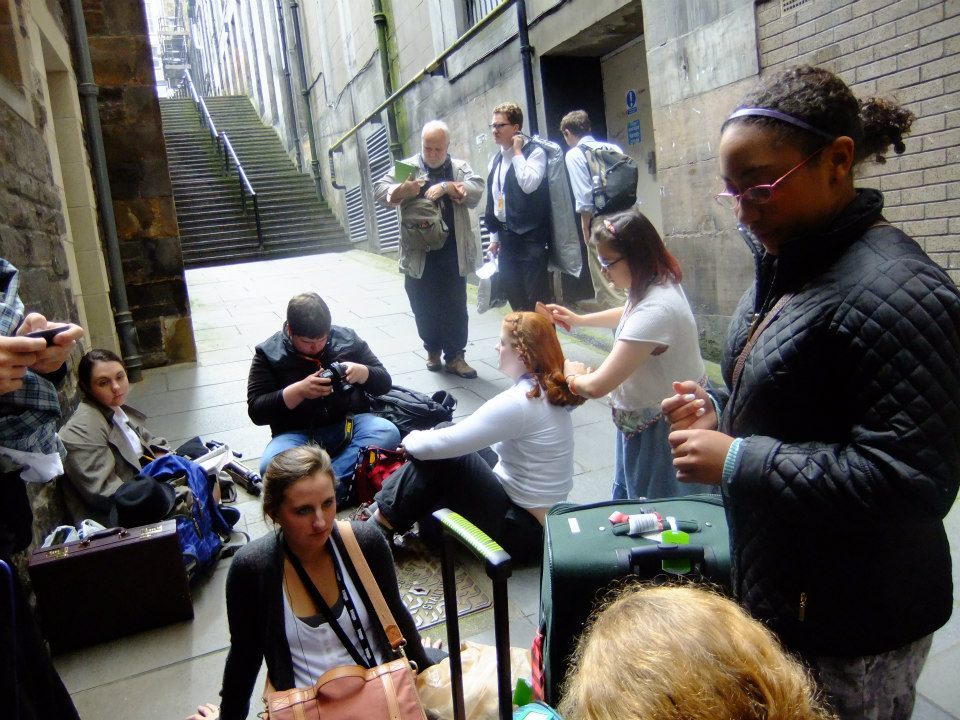 The streets of mythology and the bizarre also became our stage as we entered the alien world of street performance. It was a new experience to have to gain an audience from people walking around. Everything we had learned about projecting our voices went out the window; it doesn't work well outside with a massive crowd roaring in the background. We learned new techniques on the fly; we only had one chance to get it right. Once we thought we had it worked out, it began raining. The rain seemed to wash away anything we had learned; lines, techniques, everything.
Moving from the streets to the stage we find ourselves facing the daunting task of performing for complete strangers, in a different country. There are unlimited possibilities of audience reactions ringing through our heads. Would they laugh at our American jokes? Would they understand the plot? With these lingering thoughts in our heads as the show starts, we focus on one goal as a group; don't let it be a complete failure.
We find our spirits lifting after our first full-length international performance. We have almost a full house, and good reactions from the audience. Many of us even are later approached by Fringe-goers who complemented us on our performance. Four performances later, we are going strong with an official Fringe review of three stars out of five. Nothing could bring us down, not even performing badly in the rain.
REAL LIFE. REAL NEWS. REAL VOICES.
Help us tell more of the stories that matter from voices that too often remain unheard.