As my plane descended towards Scotland, I boasted to the guy next to me that the first thing I'd do in Glasgow was grab a meat pie and a pint of Tennant's 80 shilling ale. After we landed, I settled for a square-cut-sausage sandwich and a cappuccino -- life-threatening enough.
Glasgow is home to one of the unhealthiest populations in the UK. It's also the Curry Capital of the realm thanks to being the shipbuilding hub for the India trade a century ago. Culinary singularity aside, Glasgow's chief virtue, as far as I was concerned, is that it's only an hour by train from Edinburgh, where I was headed to pay homage to my late pal Steven Campbell.
This was my third time in the great northern seat of culture, the original UNESCO City of Literature, home to Stevenson, Muriel Spark, Ian Rankin and Irvine Welsh's his loo-diving trainspotters. Before his Patagonia days traveler extraordinaire Bruce Chatwin studied archeology at the university here, which counts among its rectors the best Scrooge in the movies, hambone extraordinaire Alastair Sim.
I stayed in the Old Town at Hotel du Vin, formerly the 18th century insane asylum. It's now a cozily plush property with 43 rooms, each affiliated with a different wine. Close by stands the Grassmarket with its pubs -- where 19th century bodysnatchers Burke and Hare did their dirty work. The hotel's Bistro features a savvy wine list and sommelier Sebastiano Ingaliso is big on European regional wines (Catalunya's Priorat, Madiran from southwest France). There's also a Whiskey Snug here and a two function rooms jolly with a mural of Burke and Hare in action.
Among the museums and exhibitions spaces Edinburgh boasts, I happened across the delightful Dovecot Studios,founded by two former associates of William Morris. Dovecot presents arty contemporary weaving shows within a snazzily renovated Victorian public-baths building. The modest café here has sunny flair; and there's a petit shop.
I also found my way to the Whisky Experience, an extravaganza celebrating the national tipple seated an aerobic climb up by Edinburgh Castle. Specifically I browsed the Whisky Shop within. I plunked for a not-so peaty single malt from the northeast coast, Clynelish. I'm a peat fan myself, but my girlfriend isn't.
The sales clerk told me he preferred beer. He didn't even have a brogue.
Down on the Royal Mile, the grand stretch of road through the center of town, I discovered the wee, charming Police Museum. Among its dour treasures: a flogging bench with handmade flog, and a grisly purse made of skin from the hand of Burke the bodysnatcher himself.
Keeping Steven Campbell's Spirit Alive
I was in Edinburgh to give the annual lecture for the Steven Campbell Trust, at Edinburgh College of Art. As I say, Steven was an extraordinary artist
and personality, a great friend and a collaborator back in the early 80's New York art scene. After he died in 2007, the Trust was set up by his widow Carol to keep the spirit of his art -- comic and cosmic -- alive and thriving.
There was an added pleasure in seeing my friend the wonderful writer Dan Rhodes, formerly of Edinburgh, arrive from midland England with galleys of his forthcoming novel, This Is Life.
After the lecture we gathered on Grassmarket and our numbers included renaissance man the photographer John Byrne, Ron O'Donnell and Thomas Reilly, a prominent and influential supporter of Glasgow Celtic soccer club.
The next day I taught a fiction masterclass at the College under the Trust's auspices, with a view of Edinburgh Castle filling the windows. Most touching for me was the presence of Steven's son Rory, who, like Steven, was a working guy before turning to art (photography in his case). He's also just started writing, and the brief pieces he read aloud there in his Scottish burr as sunset flared on Castle Rock, had a tinge of Steven's yearning lyricism and raw poetry, if not his wild, haunted whimsy.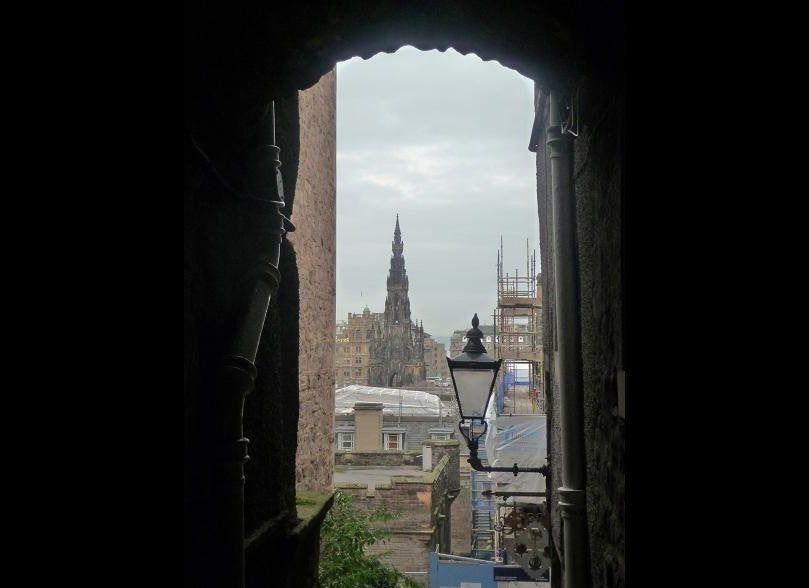 Edinburgh - Journey of the Heart
Popular in the Community