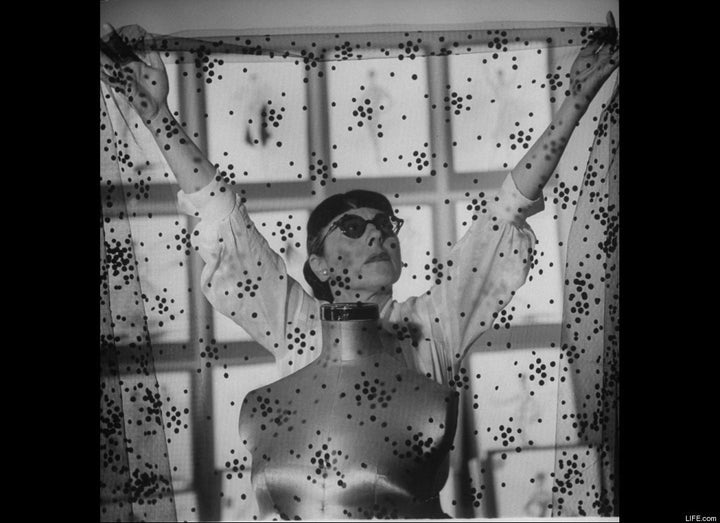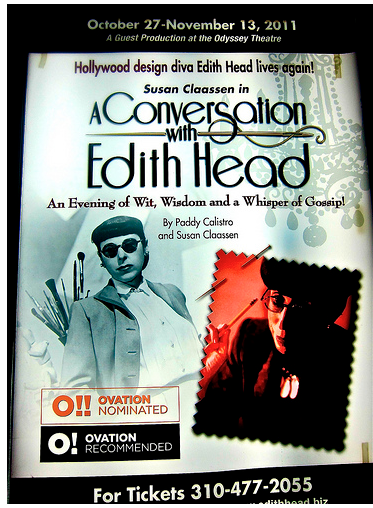 As I write this, I am looking up at my living room wall and viewing four totally unique pictures.
They are signed sketches by legendary movie costume designer Edith Head. Some years ago, when I produced a film about the life of comedian W.C. Fields, played by Rod Steiger, I was fortunate enough to talk Edith into doing the costumes for the period drama... and she delivered an astonishing fashion look for our film.
Thus, when I heard that an actress named Susan Claussen was appearing in a one-woman drama about Edith Head, I immediately booked a ticket to her opening night performance at the Odyssey Theatre (2055 South Sepulveda Blvd., one block north of Olympic, (310) 477-2055), a lovely complex of three 99-seat theatres.)
Opening night was Edith's birthday, so here actress Susan Claussen as Edith poses with the birthday cake.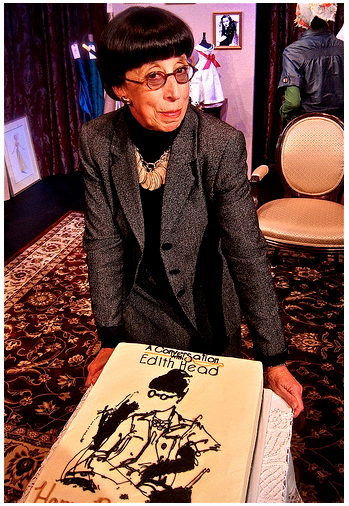 Let me tell you a little about this woman, Edith Head. She began working as a sketch artist for Paramount Pictures costume department and Cecil B. DeMille in the '20s, and soon became head of that department. After 44 years there, when the studio was sold to Charlie Bluhdorn she went to Universal Pictures in '67, where she did my film.
She died at the age of 84 in 1981 of a rare blood disease. I attended the play Friday evening on the anniversary of her birth, so there was a birthday party for Edith after the performance. In her six decades of costume design, Edith worked on over 1,100 films, dressed the greatest stars in Hollywood, received 35 Academy Award nominations and won 8 Oscars.
One of the most stunning films of all time, a personal favorite of mine, was A Place in the Sun, with Elizabeth Taylor and Montgomery Clift, which she did. Remember the look of Audrey Hepburn as the princess in Roman Holiday? That was Edith. My friend, the late director Billy Wilder (whose last film, Buddy, Buddy, I produced), used her in his magnificent Sunset Boulevard, and Alfred Hitchcock valued her services on many pictures.
She dressed Paul Newman and Robert Redford in vintage '30s suits for The Sting, for which she won her last Oscar in '74. She once told me that she had also designed the personal wardrobes of such stars as Olivia de Havilland and Joan Crawford. In the show, Susan-as-Edith answers a question from the audience about what it was like to work with temperamental stars, and replies, "There is nothing like a row of Oscars for putting the fear of God into an actress who thinks she knows everything about dress designing."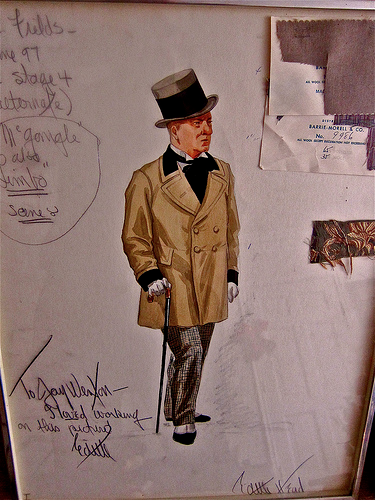 My signed sketch of a costume for "W.C. Fields & Me" done by Edith Head and autographed to me.
I asked Susan, the director of the Invisible Theater in Tucson, A.Z., what made her do this play, and she told me that it began one evening nine years ago when she was watching a TV show called Biography and they did an episode about Edith Head. She said:
I look just like her, especially when I put on her dark glasses and fix my hair in bangs like she did. Her estate was managed by the Motion Picture and TV Fund, and they gave me permission to proceed.

I contacted a woman writer named Paddy Calistro, who had written a posthumous autobiography of Head, Edith Head's Hollywood, based upon 13 hours of taped interviews, and together we created A Conversation With Edith Head. Much of the play's dialogue consists of direct quotes from those tapes.
It first played the prestigious Edinburgh Fringe Festival and then theatres around the world. It is a wickedly delightful, gossipy, funny and poignant play, which will enchant you if you have any interest in the inner secrets of the stars of the Golden Age of Hollywood (which certainly isn't now.)
Edith was featured giving fashion tips on Art Linkletter's CBS television show, and if you ever saw the Pixar animated film, The Incredibles, the character of Edith Mode was based upon her.
I told Claussen after the performance that Edith was obsessed with food, and I vividly remember a dinner party I attended at her Coldwater Canyon home, Casa Ladera, when her husband, Wiard 'Bill' Ihnam, poured a vintage Chateau Margaux with the rack of lamb.
She loved the female form (did she ever!), and was proud of having designed the pert outfits worn by Pan Am stewardesses in the '50s. But she was proudest of having been asked in the late '70s to design the women's uniforms for the U.S. Coast Guard. I even remember collecting a sheet of U.S. postage stamps featuring her likeness.
The last question from the audience was, "What do you regret?" and Susan-as-Edith replies: "That I never designed a dress for Marilyn Monroe or the uniforms for the Chicago Cubs."
The play will be at the Odyssey Theatre until November 13th, so enjoy it now. I know I will be returning this week for another viewing!
To subscribe to Jay Weston's Restaurant Newsletter ($70 for twelve monthly issues), email him at jayweston@sbcglobal.

Calling all HuffPost superfans!
Sign up for membership to become a founding member and help shape HuffPost's next chapter