Edith "Edie" Windsor, the LGBTQ activist and lead plaintiff in a landmark Supreme Court marriage equality case, died Tuesday at age 88, The New York Times reports.
Windsor came to national prominence after she sued the federal government for not recognizing her marriage to her late first wife. Her case, United States v. Windsor, ultimately made it to the Supreme Court in 2013. In a 5-4 decision, the court ruled that Section 3 of the Defense of Marriage Act, which said the legal designation of "spouse" applied only to marriages between a woman and a man, was unconstitutional. The ruling was a major victory for LGBTQ rights and helped pave the way for a later Supreme Court ruling legalizing same-sex marriage nationwide. 
Windsor is survived by her wife, Judith Kasen-Windsor, whom she married in October 2016.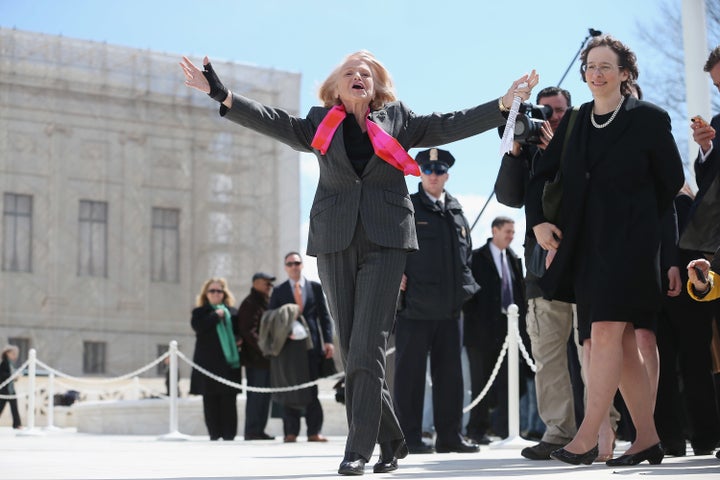 Windsor, born in 1929 in Philadelphia, was the youngest of three children of James and Celia Schlain, who immigrated to the U.S. from Russia. She attended Temple University, where she said she first became aware of the concept of homosexuality. While she said she did have crushes on other women during that time, she married a man, Saul Windsor, shortly after she graduated. The couple divorced after less than a year, after Windsor told her husband she wanted to be with a woman.
"I told him the truth," Windsor told NPR in 2013. "I said, 'Honey, you deserve a lot more. You deserve somebody who thinks you're the best because you are. And I need something else.'"
She then moved to New York City, where she studied applied mathematics at New York University. After getting her master's, she took a job at IBM in 1958, where she kept her sexuality a secret from her colleagues.
"I worked for IBM for 16 years. I lied for 16 years to people I loved. We ate lunch together, we had drinks together, we spent weekends together," she told Metro Weekly earlier this year. "Today, you don't have to do that at IBM. You don't do that anywhere, almost. It's unlikely that LGBT people in the United States would have to do such a thing again."
Upon first arriving in New York, Windsor felt she had to keep her sexuality private from everyone in her life, not just her colleagues. But after seeing same-sex couples out together in the city, she asked a friend to help her find where other lesbians gathered. 
"We danced so much and so intensely that she danced a hole through her stockings," Spyer told The New York Times in 2007 of their first encounter. 
Spyer and Windsor began dating two years after that first meeting. And two years after that, Spyer proposed to Windsor with a diamond brooch instead of a ring. 
While the pair could not get married, they remained dedicated to one another. Spyer was diagnosed with multiple scleroisis in 1977. Around the same time, Windsor decided to leave her job at IBM to travel and work as a gay rights activist. As Spyer's condition deteriorated, Windsor focused on caring for her longtime partner. 
In 2007, the pair traveled to Toronto, Canada, to get legally married. The trip was a difficult one for Spyer, who had become a quadriplegic due to her multiple sclerosis. 
After Spyer died in 2009, the government didn't recognize the couple's marriage as valid and as a result Windsor was required to pay a hefty $363,000 inheritance tax on her late wife's estate. (If the government had recognized their marriage, Windsor would have inherited the estate untaxed.) 
Windsor decided to sue the government the following year, arguing that existing law subjects people in same-sex marriages "to differential treatment compared to other similarly situated couples without justification in violation of the right of equal protection secured by the Fifth Amendment."  
Two lower courts sided with Windsor, ruling that DOMA's Section 3 was unconstitutional. The U.S. Supreme Court agreed in 2013.
"I cried, I cried," Windsor said of when the ruling came down. "Children born today will grow up in a world without DOMA. And those same children who happen to be gay will be free to love and get married ― as Thea and I did ― but with the same federal benefits, protections and dignity as everyone else."
"If I had to survive Thea, what a glorious way to do it and she would be so pleased," she continued. 
In the years since the ruling, Windsor has remained a prominent gay rights activist. It was through that work that she met her second wife, Judith Kasen, a Wells Fargo Advisors vice president and a regular on the LGBTQ benefit circuit. The two were married at City Hall in New York last year.
"I was empty and then this woman walked into my life," Windsor said of their marriage last year. "I didn't think it would happen again and it did. She is it."
This is a developing story and has been updated.
Calling all HuffPost superfans!
Sign up for membership to become a founding member and help shape HuffPost's next chapter
BEFORE YOU GO
PHOTO GALLERY
Notable Deaths In 2017