 Hadiya Pendleton was shot and killed Tuesday in a Chicago park a little more than a week after performing at President Obama's second inauguration as a member of her high school band. As the Chicago Tribune reports, outrage about the senselessness of this killing spread throughout the city and across the nation on Wednesday. A team of reporters assembled this thoughtful, 1,200-word piece about Hadiya that includes a heartbreaking slideshow with 14 full-color photos. It also includes proclamations of love for Hadiya from her family, her friends, her teachers, as well as responses from high ranking public officials such as police Superintendent Garry McCarthy and even President Obama. The media response to, and extensive coverage of, Hadiya's murder is absolutely appropriate. However, it also highlights the reality that only a handful of Chicago's murder victims receive such thoughtful and humanizing coverage in the mainstream press.
Anyone personally touched by the tragic loss of life caused by gun violence in America understands that no death is routine. However, for the Chicago news media and for much of the Chicago public, shootings have become all too familiar. Jen Sabella, former Chicago editor of The Huffington Post laments that, "It became a... routine: Come into the office early Monday and count how many people were murdered over the weekend." Writers churn out articles that anthologize these shootings because digital media demands perpetual content -- and the frequent gun violence in Chicago delivers. Staff reporters charged with delivering breaking news about the shootings and slayings in Chicago have left a trail of stories that contain bodies, but little trace of humanity.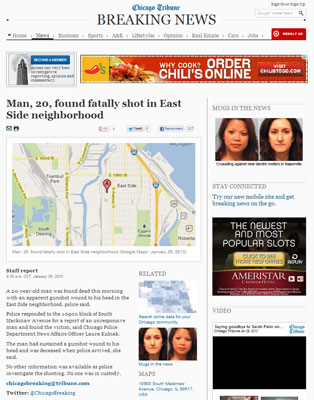 A January 27, 2013, story titled, "Man, 20, found fatally shot in East Side neighborhood" appeared in the Breaking News section of the online Chicago Tribune. The initial, 86-word article is little more than a Google map illustration of the location of the killing and the statement that the man was found dead with "an apparent gunshot wound to his head."
The callousness of the story is compounded by its context.  Above the story a garish advertisement for the restaurant Chili's reads, "Why Cook? Order Chili's Online." To the right, photos of two expressionless women appear under the headline "Mugs in the News." Below that, an advertisement for Ameristar Casinos reads, "The Newest and Most Popular Slots." Closer to the text of the story, a section labeled "RELATED" guides readers to an interactive map of crime data. The aforementioned mug shots appear again above the link "Mugs in the News." An ad for American Airlines and a video about Sarah Palin appear along the right. Social media buttons above the story ask readers to recommend it: it had been shared 217 times.
Such terse accounts of the loss of human life have become a genre.
First, the lead adheres to a formula: "A (insert age) (insert gender -- usually male) was select level of injury (wounded, hospitalized, shot, fatally shot) select preposition (at/while/in) (insert location), select source (police/authorities/officials) said.
Second, the stories rarely include photos of the murdered or wounded individuals. Instead, hastily selected stock illustrations -- often depicting law enforcement themes -- accompany them. In "West Side shooting injures boy, 17," a Tribune illustration of a police car accompanies the story. "2 Men wounded in South Side shooting" depicts law enforcement officers standing at the murder scene. "Man shot on West Side" includes a Tribune illustration of police crime tape that reads "Police Line" in the foreground and an evidence marker with the number 2 sits in the background.
Finally, the articles are bordered by advertisements. One advertisement from Ads by Google reads, "See Your Arrest Records: Learn the truth about your Friends and Family ONLINE." Other advertisements invite readers to "Meet Hot Latina Women," upgrade their business Internet service, swap their annuity, or order cable television.
This genre of rushed reporting and careless presentation invites readers to make hasty generalizations based on preconceptions and prejudices. Without names, faces, and other personalizing details, readers must make generic speculations about those victimized by gun violence. Maps, though informational, help confirm readers' preconceptions that shootings only happen in certain neighborhoods. Mugshots, law enforcement themed illustrations, and advertisements about "arrest records," emphasize the criminal element of the story and not the lost life of a human being.
The lives of beautiful, talented, and loved individuals are reduced to mere ages, locations, and wounds. Their stories appear as vehicles for revenue generation rather than sincere attempts to inform the public, create empathy, and instill social change.
Like some sad, sick lottery in which we all play a part, someone (or all of us) decides which lives matter most. These lives become the exceptional stories -- Trayvon Martin last winter, Heaven Sutton last summer, and this week, Hadiya Pendleton. Perhaps America's loss of Hadiya will inspire empathy for the long neglected communities most deeply afflicted by gun violence the same way that the brutal murder of another Chicago South Sider -- Emmett Till --inspired a storm of social change more than a half-century ago. With empathy, perhaps all deaths will be treated with the reverence they deserve. Empathy leads to understanding. Understanding is needed to address the cultural and economic forces that perpetuate these killings.
Calling all HuffPost superfans!
Sign up for membership to become a founding member and help shape HuffPost's next chapter