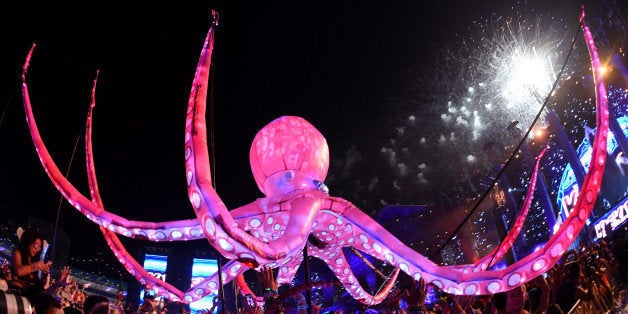 Electronic dance music (EDM) culture is stigmatized by substance abuse and escapism. The festivals around which it is centered -- like Electric Zoo, Ultra or Electric Daisy Carnival (EDC) -- are less so focused on specific DJs than the experience of the festivals themselves. While it's no secret that "experience" is often understood as "getting really high while dancing," there's an undeniable sense of collectivism amid the neon lights (and strangely prevalent wolf hoodies). That lends a sense of community to the scene, which is increasingly characterized by drug-related incidents and deaths.
Directed by Dan Cutforth and Jane Lipsitz, "Under The Electric Sky" seeks to capture that uniting aspect of EDM as it is associated with the Las Vegas edition of EDC specifically. The documentary chronicles six stories, as its subjects find belonging beneath the watchful eyes of the main stage's animatronic owl: there is a Texas college student who suffers from chronic anxiety; a group of guys carrying on the memory of their friend, a year after his death; and -- most poignant (or cloying, depending on where you're sitting) -- a young man named Jose, who is wheelchair-bound on account of a spinal condition.
Jose equates EDC with a form of therapy. He describes the festival itself as a drug in the sense that it allows him to escape his condition. As he is seen dancing in his seat, and later crowd surfing, he notes that people at the festival help him much more than they would at home on the street. "If people could just treat each other the way they treat each other at EDC ... the world would be a much better place," he says.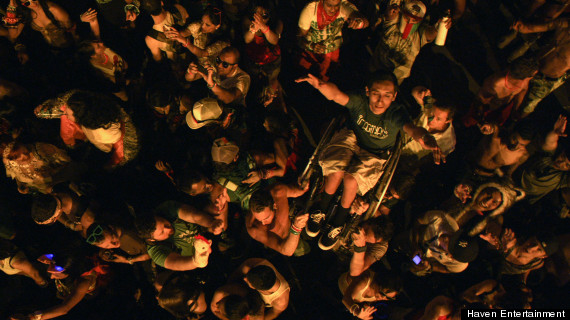 While touching, his sequence admittedly seems a little over-the-top: how can we even attempt to be critical of this scene in face of someone who has managed to transcend his physical disabilities with the help of EDM? But the message of his example does seem to extend across the board. For those who migrate to the Las Vegas edition of EDC each year, there is a sense of the event as a secret world, where everyone can come together and be themselves.
At the same time, there's a question of how the uniformity of these festivals helps form a sense of individuality. It's possible the subjects are inaccurate in identifying their experience as some inner liberation. It seems what they truly find at EDC is a place where maybe they don't figure out how to be themselves in terms of uniqueness, but at least feel comfortable in their own skin. "These are all the kids [who] ate lunch by themselves in high school," one attendee says. "Then they stumbled on this and went 'Whoa, I belong here!'"
It should be noted that there are a wide variety of EDM festivals. The term "EDM" itself is an umbrella term for dance, house and trance music, among other micro-genres. EDC itself takes on different forms as it is held across Las Vegas, New York and Los Angeles. So, as with any subculture, there's a pluralism at play. When we look at it through a broader lens, however, EDM culture holds similarities to many other subcultures.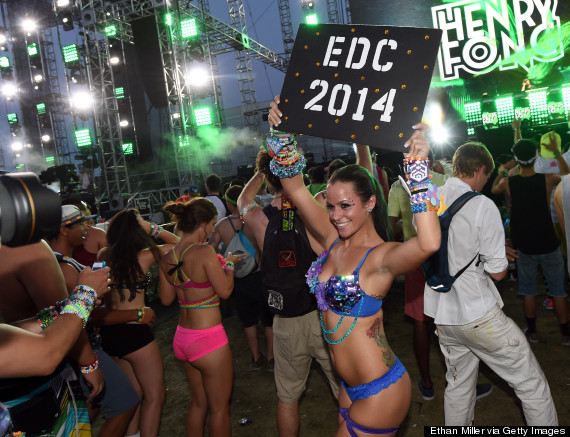 In any documentary cataloging a subculture, you'll hear nearly identical quotes referencing family and a sense of relief in finally "being myself" amongst likeminded individuals. Perhaps "Whoop Dreams," which catalogs a Gathering of the Juggalos is the closest example. Where EDM culture is stigmatized by drug use, the Insane Clown Posse's intense fan base is associated with violence. But in the face of citations of all the negative aspects of the event (which includes instances of suspected gang rape) there is this sentiment of finding a "true family."
In much the same way that members of a subculture can be blind to plagues associated with their lifestyle, "Under The Electric Sky" plays sort of like a clueless ad for the festival (see: crowd shots of only the most beautiful, nearly naked individuals, set to a long loop of Aviici's "Wake Me Up"). It essentially omits the prevalence drug use, spending some time with the group of men who lost their friend to drug use at the 2012 festival, but mostly refusing to even say the word "molly" outside of a song that plays during one DJ's set.
To merely indicate that there is a "zero-tolerance drug policy," but "some individuals go too far" (as members of the First Aid team say at one point) is surely an misunderstanding of the festival. It would seem that Cutforth and Lipsitz's goal is to not diminish the power of community with the reality of drug use, though glossing over it seems ineffective. If you're intent to truly capture this culture, leaving out the prevalence of drug use is a willful omission. (Consider the fact that this year alone two attendees died and 800 others were treated for minor injuries.)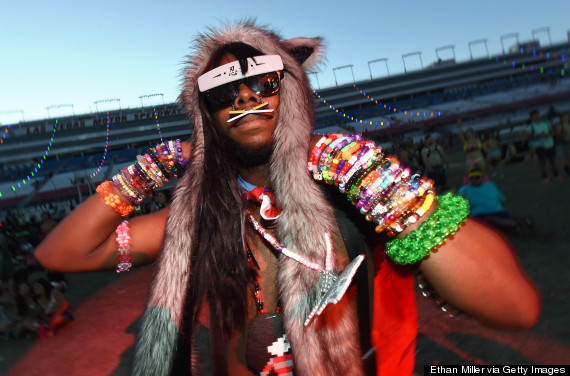 One of the only real times that the problems with substance abuse are addressed is when the film encounters the rave culture from which EDM sprouted. Pasquale Rotella -- featured as both EDC's version of "P.T. Barnum" and producer of "Under The Electric Sky" -- discusses how the underground scene was destroyed by drugs, noting an end to that faction of the movement in 1993 (EDC began in 1997). Cutforth and Lipsitz frame Rotella as someone who has tried to stay close to the music through the prevalence of drug use, as though it is a problem that has long since been solved, as a fact of it's increased presence in the music industry.
"It's not just the music," he said. "The sense of community draws people." Although, the reality is that EDM is more likely shifting into macro acceptance because of the increase in production quality, rather than any move away from substances. The music sounds much better than it did during the '80s rave scene. There are computers!
Some of the attendees interviewed throughout "Under The Electric Sky" emphasized the resulting idea of turning the subculture into pop culture with a certain sense of pride. But so much of the power EDM holds resides in its niche-ness. There's something about falling below the mainstream that allows for the sense of inclusivity of which all of Cutsforth and Lipsitz's subjects seem so aware. A community feel would likely be lost, or, at least, diminished, if it continued to expand into the mainstream.
Ultimately, the film seeks to focus on that potential for in-group unity, which occurs much more organically at an event like EDC than it does under the non-electric sky. From outside of a subculture, it's hard to process its effect as anything but a giant party, and the reality is that there are fatal elements at play. Looking at it the sort of picture painted by "Under The Electric Sky," it's easier to recognize that beneath the undeniable substance-abuse statistics and impractical leg warmers, there is the overwhelming bond of community which brings people to EDC each year. While a sense of hope and belonging far from solves EDM culture's issues, "Under The Electric Sky" would have us believe it's at least one of the festival drugs worth taking.
"Under The Electric Sky" opens Friday, June 27, in select theaters.
CORRECTION: A previous version of this piece misidentified the title of "Wake Me Up."

Before You Go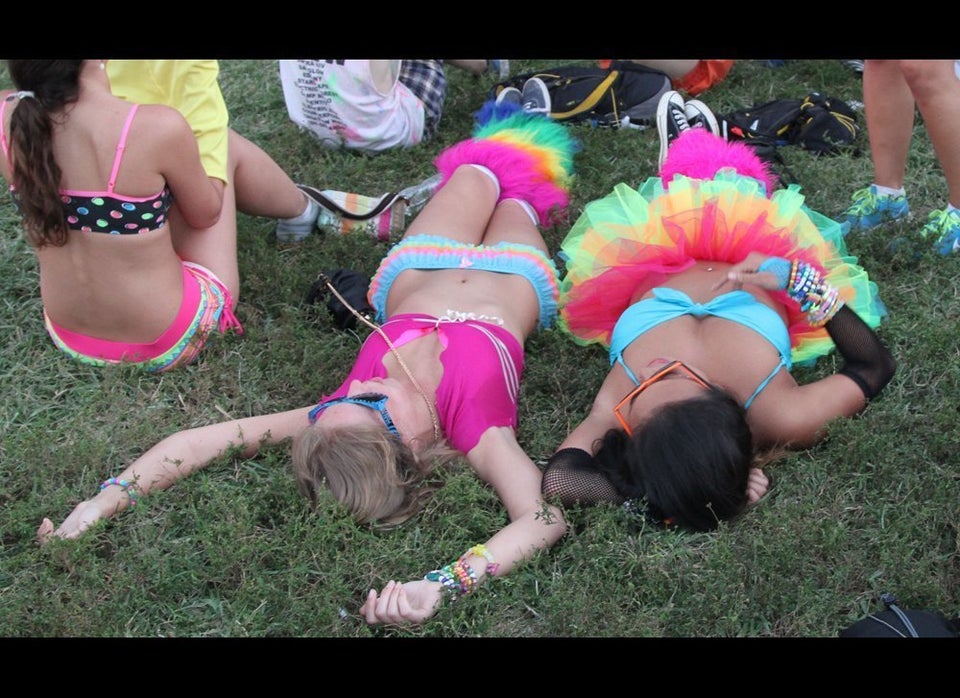 Ultra Music Festival 2013: Weekend 1
Popular in the Community