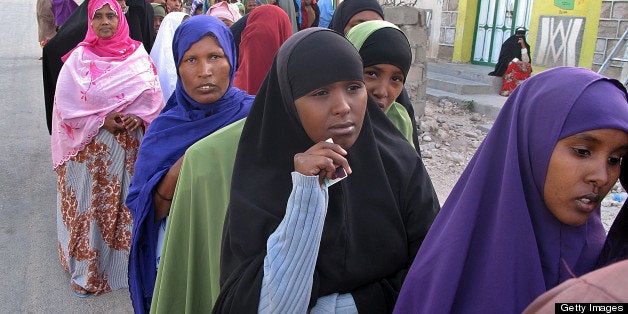 By Tom Kraemer, MPH and volunteer at Edna Adan University Hospital
Preventing Fistula Saves Lives. This is the theme of the United Nations Population Fund's global Campaign to End Fistula. The Population Fund, or UNFPA, is marking the 10th anniversary of this drive by declaring May 23 to be International Day to End Obstetric Fistula. Here at Edna Adan University Hospital, we've been involved in the fight against obstetric fistula for years, so we're honored that the UNFPA has asked Edna to be its partner in celebrating the first ever International Day to End Obstetric Fistula in Somaliland.
Obstetric fistula, while virtually unknown in the US and Europe, is one of the most devastating -- and preventable -- conditions faced by women in developing countries. An obstetric fistula is caused when a woman suffers with obstructed labor for a prolonged period of time, often days, without access to a medical professional who can perform a caesarian section or provide other medical relief. One cause of obstructed labor is an underdeveloped pelvis, which may occur when women give birth at an early age before their bodies are ready for the rigors of labor and childbirth. The other primary cause is incorrect positioning of the child in the womb.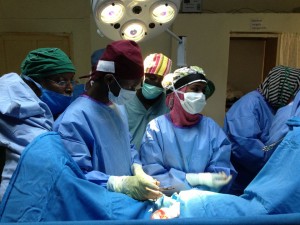 Fistula surgery being performed in Somaliland
When labor is obstructed, for any reason, the baby cannot be delivered without medical intervention. If care is not available, then the baby continues to push inside the womb. The end result is almost invariably a stillborn baby, and the situation can threaten the mother's life as well. Even if the mother survives the trauma, she is likely to develop a fistula, or small hole, between her birth canal and her bladder or rectum. This fistula causes the woman's bodily wastes to leak uncontrollably. She will likely be rejected by her husband because of her inability to bear more children as well as her incontinence; she may be shunned by the entire community.
With proper prenatal care, this tragic injury can be prevented. A qualified midwife can detect the early warning signs of obstructed labor and refer the mother to a hospital or other facility where she can get the help she needs. However, in Somaliland a skilled attendant is present at less than one-third of the births. The Community Midwife program at Edna Adan Hospital, which is supported by UNFPA, seeks to train 1,000 women from all over Somaliland to be qualified healthcare workers in the hopes that they will return to their homes and provide assistance to women who currently have no access to care.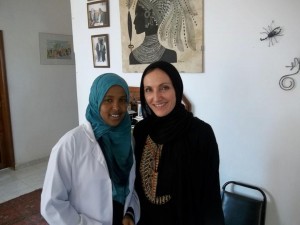 Dr. Lauri Romanzi spent over a month in Somaliland primarily helping fistula patients. Without assistance from specialists such as Dr. Romanzi, fistula patients will have a lifetime of suffering. Dr. Romanzi's visit was sponsored by The Fistula Foundation.
In addition, Edna has been a leader in providing relief to women suffering from obstetric fistula. Fistula repair surgery is a delicate operation requiring a skilled surgeon, a qualified support team and a proper facility. But under the right conditions, these procedures have a remarkably high success rate. Edna Adan Hospital is one of the few facilities in Somaliland where women suffering from fistula can turn for help. With support from Direct Relief and The Fistula Foundation we were able to build operating theaters where fistula surgeries are now performed. The Fistula Foundation also supports regular "fistula camps" at our hospital, where women can receive this life-altering procedure, and where local doctors are taught how to treat fistula patients. With the Edna Adan University Hospital's help, fistula sufferers can lead normal lives -- return to their husbands, rejoin their communities, raise their children and even become mothers again.
Please consider supporting the important work of the hospital through the RaiseForWomen challenge here.
About Friends of Edna's Maternity Hospital
Friends of Edna's Maternity Hospital is a 501(c)(3) nonprofit organization that raises funds for the hospital built by Edan Adan Ismail in order to address the grave health problems that endanger the lives of women and children in Somaliland. Founded in 2000 by a group of Americans and Somalilanders living in the U.S., Friends of Edna makes annual grants to the hospital based on its need and maintains an endowment to ensure that the hospital will continue to fulfill its mission for generations to come. For more information, contact Amy Szabo at amy@friendsofedna.org.
REAL LIFE. REAL NEWS. REAL VOICES.
Help us tell more of the stories that matter from voices that too often remain unheard.