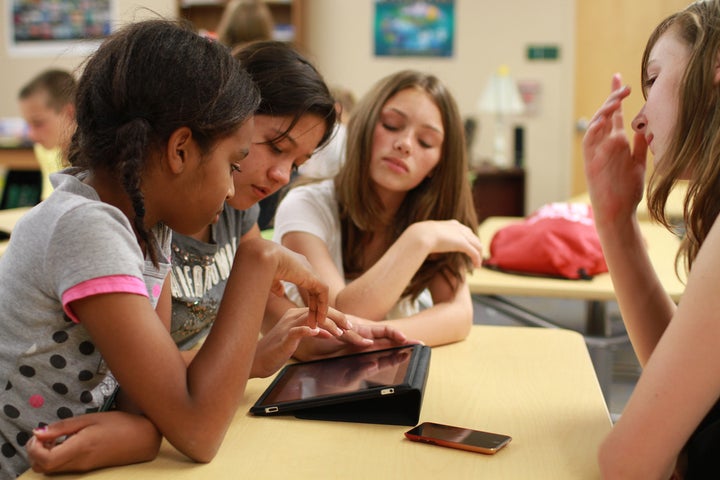 By Amy Barger, Assistant Superintendent Learning & Teaching, Fulton County Schools
Call them millennials, call them digital natives, call them zombies, but the cliche is that today's kids can be identified by their hunched posture, their eyes locked on a screen and their tendency to communicate in emoji. However, this idea that schoolkids are perpetually plugged in isn't exactly true—especially not among kids from poorer families. In the USA, one third of schoolchildren (kindergarten through high school) can't go online at home, and most of these children are from low-income and rural areas. A decade ago, Larry Irving of the National Telecommunications and Information Administration (NTIA) called this digital divide a "racial ravine," and his language still rings true today.
But lack of access isn't the only issue that plagues children and technology—it's also lack of interest on the part of some educators. Many schools continue to be skittish about technology, perhaps due to the cliche digital-zombie-child we've described above. The National Education Association even called technology in the classroom "hype" that fails to deliver on its promises. Reasons for teacher disinterest in technology include everything from practical issues like having difficulty learning a new technology, being ill-equipped to solve technical issues, and having had past experiences with bad technology integration to more ethical issues, such as believing that the online space is vapid, less content-deep, and potentially a place for bad behavior.
And yet at this intersection of lack of access and lack of interest, 70% of teachers are assigning homework requiring students to use the Internet. Clearly, the digital divide needs to be bridged somewhere. With today's new technologies and programs dedicated more than ever to bridging the gap, it's the perfect time to build a bridge across this ravine, and to encourage conscious digital citizenship among students and teachers.
Connectivity initiatives help everyone get online
Communities face many challenges in implementing technology in the classroom—the massive expense and a lack of teacher training are just two examples. But more and more companies are jumping on the edtech bandwagon, providing various grants, discounts, and other initiatives to educators willing to take the plunge into edtech. At the Fulton School District, we received a grant from Verizon that helped us to give each 6-12th student in our district a mobile device with a data plan—a life-changing boon for some of these kids. (The Verizon grant provided for two of the schools in our district, and we used a special local options sales tax to provide for the rest.)
Verizon also hosts a Mobile Learning Academy for teachers on "curriculum integrating mobile devices," and it's free of charge. These two programs have helped many students and teachers engage in STEM content: according to Verizon's reports from their 2015 STEM initiatives, 25% of students asked more questions about STEM careers, and 37% of students left the VILS program better at problem-solving. As for teachers, 54% of educators in the program provided students with more project-based opportunities and 66% of educators collaborated with peers to use mobile technologies in the classroom.
A key argument of technology device makers and sellers is that learners can engage in learning constantly if they have their device. Of course, for those without wifi, data plans, or internet access, this is hardly true. Comcast (in conjunction with partners like Khan Academy, Cable Impacts Foundation, and Goodwill) created Internet Essentials to address this issue, allowing people to bring the Internet into their homes for $9.95/month. Whether you're an elementary school student, a young adult commuting to college, or a senior citizen who wants to participate in cyberspace, Internet Essentials promises to help curb the costs of your wifi. Programs like this acknowledge that technology is (increasingly) a necessity, not a luxury, in today's world.
Upload the questions, download the answers
Of course, internet access for every child in America is as yet a far-off goal, but there are certain key steps that schools can take to make sure even kids without at-home internet don't get left behind. Take-home devices let students upload what they need to at school, work on those projects at home, and then download and print their completed homework when they're back at school the next day. In a similar vein, e-books have the potential to save districts money and space compared to physical textbooks, and students can bring them home on that same take-home device—working on their tech literacy as they read their homework. But educators need to make sure they publicize the e-books' existence, because since they're not physically sitting on a shelf in the library, some districts have noticed that students simply don't realize that they are there.
Not every district will be able to provide take-home devices for kids, but even something as simple as an internet connection in the school building itself can make a huge difference. At Fulton, we added virtual labs in several of our high schools so the school didn't need to invest in a whole new wired-in computer lab—with a virtual lab, all relevant applications and files can be accessed via any computer or mobile device connected to the school network. If our students had a gap in their schedule, they used the virtual labs to make up a class or take even a class the school didn't offer. This implementation of edtech was a strong contributing factor in increasing the graduation rate at these schools—in 2012, 70% of students graduated, while in 2016, 86% of students graduated. No in-home Internet access required.
In rural districts, creative solutions save the day
Rural districts suffer when it comes to technology: most of the 9,000 to 10,000 schools whose internet doesn't meet the FCC standard for bandwidth are located in rural areas. This is troubling, but certain districts have turned to creative solutions to begin bridging this gap.
Districts in Kentucky, California, and Alabama have started providing wifi on their busses, so that students can complete homework en route to and from school. Sometimes those busses are parked in residential neighborhoods so that students can use them as mobile hotspots after normal bus-riding hours. Speaking of hotspots, some districts are turning their schools themselves into 24-hour hotspots, so that students can head there after hours if they need to look something up or upload an assignment.
More broadly, rural schools are able to approach edtech with the backing of the government. Two years ago, the FCC increased required rural broadband speeds in conjunction with their Connect America Fund (CAF) initiative (though schools are struggling to catch up with the requirements). And the funding cap on the FCC's E-Rate program, which helps schools and libraries obtain affordable broadband internet, was increased by 1.5 billion dollars in 2014. The program in general has been praised for its success in expanding internet access to schools across the nation.
At the end of the day, edtech is a means to an end
In the end, technology is only as good as the learning it supports. One of the major pros of edtech is that it can support schools in their quest for ever-more-personalized learning, which in turn leads to a host of massive benefits, like more engaged students and increased knowledge retention. At Fulton, we've partnered with Education Elements to help us design a process to implement personalized learning across our district, much of which involves a nimble use of edtech. We created a competency-based approach to summer school: at the beginning of the summer, every student took a digital assessment that demonstrated both what they needed to learn and what they already knew. The resulting curricula targeted only what each student didn't know, pairing in-person instruction with online blended learning.
This has increased the number of students that graduate from our summer school: three years ago, 12 graduated, two years ago, 36 graduated, and last year, 61 graduated. In cases like these, not only has edtech avoided the dreaded digital divide, but it has managed to bridge it.
With contribution from Lisa Hiton of the Hippo Thinks research network.
Photo courtesy of NASA Goddard Space Flight Center via Flickr.
Related
Popular in the Community