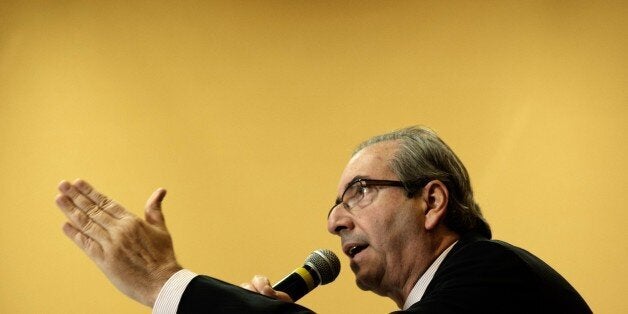 São Paulo, Brazil -- The speaker of Brazil's lower house of the National Congress has turned into one of the most important, powerful and feared people in Brazilian politics.
That was not entirely due to his political maneuvers, which caused many government defeats in Congress this year.
Eduardo Cunha (PMDB-RJ) got stronger in an environment of complete ineptitude and lame executive power, with retreats, retreats from retreats, ministers bumping into each other and a political dislocation typical of President Dilma Rousseff and her (former) "squire," Aloizio Mercadante.
Cunha kept gaining space and the acclaim of his followers. Since he stood up against the government, he also won the hearts and minds of those who are against the Workers' Party and those who criticize Dilma.
He manipulated the rules by proposing a second vote on a bill proposing a reduction of the legal age for criminal responsibility from 18 to 16 in order to take credit for defending the demand of 87 percent of Brazilians.
None of his maneuvers or even his disputable measures as speaker of the lower house would justify him leaving office, however. Brazilian politics have always been conducted according to this exchange of interests, this "good cop, bad cop" approach. Sometimes the bad cop prevails.
Featuring a conservative profile, Cunha stimulated the most backward aspect of the lower house with a controversial agenda, quickly becoming an enemy of human rights activists.
As an evangelical, he discreetly supported the Family Statute, a project led by the country's conservatives to define family as a union exclusively held between man and woman.
Currently there are five of his bills being analyzed in the lower house of Congress and that represent a setback for basic human rights.
Among them, the absurd PL 5069/2013, that makes it nearly impossible for rape victims to receive medical care and gain access to the morning-after pill.
These proposals clash with HuffPost Brasil's editorial view because they are essentially discriminatory against women and gay people.
Nevertheless, these projects are no justification for removing Cunha from the House leadership. Like Bolsonaro and similar congressmen, Cunha was legitimately elected to represent the demands of his voters and reflect their points of view in the National Congress.
What makes HuffPost Brasil suggest that this year's most talked about deputy leave his office is the fact that he lied to Congress when inquired by other deputies, as well as his alleged involvement in the "Operation Carwash" (Brazil's anti-corruption task-force).
Last week a lobbyist, mentioned as the operator for PMDB at Petrobras (the state-owned oil company involved in the corruption scandal), said he deposited bribe-related money in Cunha's account in Switzerland. According to João Henriques, the total deposited amount was $7.5 million.
A few days later, the Federal Public Prosecutor's Office (MPF) confirmed: Swiss officials found around $5 million in secret accounts belonging to Cunha. Swiss prosecutors are investigating if Cunha set up a money laundering scheme.
In March, Cunha denied having any resources abroad or at tax havens: "I do not have any accounts anywhere except the one declared in my income tax."
He made this statement during a session conducted by the Petrobras CPI (Parliamentary Commission of Inquiry), which investigates irregularities at the state-owned oil company.
It is an even worse lie if we consider that it hides many other lies -- the alleged money laundering scheme that is now under investigation in Switzerland and Brazil.
We cannot forget that the Public Prosecutor's Office (MPF) denounced Cunha for passive corruption and money laundering. He was accused of receiving US$ 5 million from a former Toyo Setal executive to intermediate a drillship contract with the state company.
Cunha's name is deeply involved in allegations of corruption at Petrobras. And he is the speaker of the lower house that is trying to investigate this imbroglio.
Quite simply: It is a conflict of interest. If he remains in office, considering the power that the position grants him, he may move the political and institutional pieces to dissimulate his involvement with any allegation of corruption.
The Prosecutor General of Brazil, Rodrigo Janot, had already warned that Cunha is unable to distinguish between private and public interests.
He showed that by using his position to try to invalidate, at the House's IT system, evidence gathered against him by the investigations of the Federal Police.
It is an untenable situation, an insult to the institutions -- Federal Police, MPF, House of Representatives -- and one that jeopardizes the fight against corruption.
Resign the House's presidency.
Your term as speaker will be well remembered, but your time is over.
We must find out, without (your) interference, where did the millions hidden in Switzerland, and who knows where else, come from.
This post first appeared on HuffPost Brasil and was translated into English.
Related
Popular in the Community