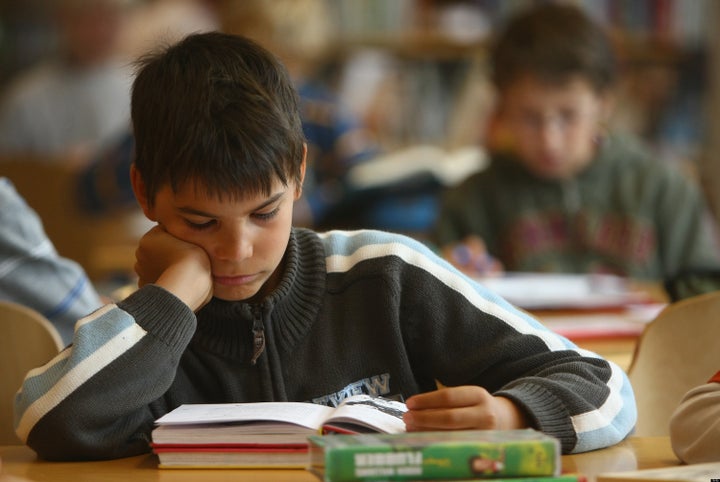 At a presentation at Brooklyn Society for Ethical Culture (BSEC.org), "Transforming New York City Schools: Can We Live King's Vision?" Senator Eric Adams, a champion for wresting control of the New York City schools from Mayor Bloomberg, spoke of the need to "define what is education." He particularly faulted Mayor Bloomberg for his negative attitude toward parents as "troublemakers." It's clear to Adams that for children to succeed their parents must play an important role in their education.

Drawing on the life of Dr. Martin Luther King Jr., Adams spoke of the courage of school children who faced the wrath of segregationists in Birmingham, Alabama when King was demonstrating against segregation. These young people "would not stay in a condition that is not freedom." He compared their situation to the condition of children in the New York City school system who can't get an education "if all they do is check off squares," referring to the standardized tests that are in large part determining whether or not a school is succeeding or should be closed. As an example of Dr. King's spirit being still alive today, Adams referred to the demonstration that is scheduled in front of Mayor Bloomberg's residence next Thursday from 4-6:30 p.m. to protest his decision to close 22 schools and allow their takeover by charter schools.
In his presentation, the Senator questioned the validity of the state-run tests used to justify these closings. He believes both in "accountability and alternatives" to these tests which are being used as the principle way to determine the success or failure of a school in educating its students.
In order to improve the condition of the public schools, Adams advocated the establishment of a commission to define "education" so that there would be clearer objectives to measure success besides test scores. He also called for transparency in terms of what kind of learning is happening in all publicly funded schools, including charter schools in the metropolitan area. He suggested that good learning would be enhanced if schools were used as community centers after school hours to become a resource for people in the neighborhood interested in improving their knowledge of English and other educational and community outreach programs.
The Senator conceded that the cap would probably be lifted by the legislature in the establishment of new charter schools. He pointed out, however, that the public was being misled into thinking that it was necessary for the legislature to lift the cap in order for the State to qualify for the $700 million grant offered by the federal government for improvement of New York schools. "The cap counts for only 5 points out of the total of 500 points being awarded for states to qualify for these grants," he said.
Adams believes that there are charter schools that are beneficial to education but
also hoped that there would be better cooperation and collaboration between charter schools and public schools housed in the same building. They should be conducted in a "mutually beneficial environment."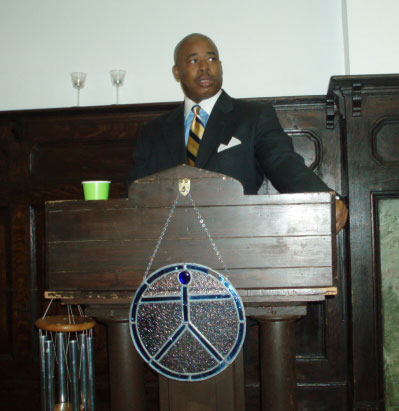 Senator Eric Adams

Present at Senator Adams' talk was Carmen Applewhite, a special education teacher running for the presidency of the UFT. She is also NYS Chancellor of the International Association of Educators for World Peace.
She pointed out that the only difference between Charter Schools and traditional public schools are the school governance systems. "Charter schools are governed by a Board of Directors and traditional public schools fall under the governance of mayor control. There is also no transparency in their funding and the amount of profit they are making."
She also criticized charter schools, "for not conducting the lottery system the way that they should because children with special needs or children that do not meet state standards are not being vigorously recruited." Applewhite's priority as a UFT candidate is to "utilize the contract to protect the rights of teachers and students."

My own suspicions about the advantages of charter schools can best be revealed by the following article in the New York Times (December 6, 2009) "Scholarly Investments":
Hedge fund managers may be better known for eight-figure incomes with which they scoop up the choicest Manhattan penthouses and Greenwich, Conn., waterfront estates. But they also dominate the boards of many of the city's charters schools and support organizations.

. . . The Tiger Foundation, started by the hedge fund billionaire Julian Robertson, provides a large chunk of financing for several dozen charters across the city. Mr. Robertson's son, Spencer, founded his own school last year, PAVE Academy in the Brooklyn, while his daughter-in-law, Sarah Robertson, is chairwoman of the Girls Preparatory Charter School on the Lower East Side.

. . .Charter schools' reliance on metrics and tests to measure progress is another attraction for hedge funders. John Petry, a partner in Gotham Capitol . . .said he reads spreadsheets of education statistics as much as those for new investments he's chasing. 'I can't understand how anyone could look at the raw numbers and not see what's at stake.'
I wonder what makes hedge fund managers think they are qualified as educators, unless they believe that "test data" for measuring children's learning is as reliable an indicator of success as are bottom line numbers on sales and profits reports. Good practices in teaching and ways of motivating students to learn are not "products" that can be measured by spread sheets.

I hope I'm not under the impression that charter schools are really private schools that use public funding to lure hedge fund entrepreneurs. Of course, all parents should be given the chance to "choose" the best school for their children and all children should get the best education available. But good educational environments are at a premium and often the students who need them most don't get them but those considerations don't show up in the calculations of "scholarly investors."
Until it's made clear just what the real agenda is for charter schools, I remain skeptical that they are going to do much more than accelerate the trend to a two-tier educational system: one for those who know how to "connect" in getting their children into charter, or "specialized" and "special talent schools," and another for those whose children will only get enough education to serve their "betters." If this is going to be the future of education in this country, I fear the word "democracy" will eventually become nothing more than a faded memory.
Support HuffPost
The Stakes Have Never Been Higher
Related
Popular in the Community