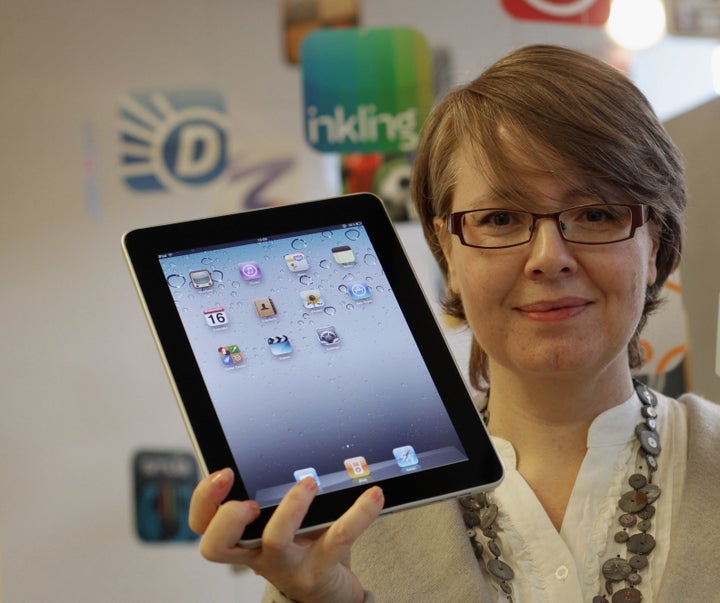 As a former high school English teacher, I used to have a pretty constricted view when attending continuing education workshops. Like most teachers, I thought: How can this help my school and students? Now, as a HuffPost Education editor reporting at the recent Digital Media and Learning Conference in Los Angeles, I got to think big in terms of the newest education ideas and who they affect. And there was lots to take note of.
The conference was a mix of educators, reformers and software developers who spent three days bouncing around theories, policies and practices on the best ways to use technology in the classroom. Diligent teachers tuned in by taking notes on their iPads and updated grades on their smartphones -- all while discussing how best to use these platforms in their curriculum.
There were also students who attended, and I asked a couple if their high school classrooms used education apps -- digital Shakespeare or a NASA app, for example.
"Oh no, our school is much more academic than that," they said to me.
This telling comment heralded a later discussion involving education software developers, teachers and parents on a panel and in the audience. It was in this forum that one question got everyone talking wildly: How does a teacher make sense of which education apps are best-suited for the classroom when everything just looks like Angry Birds?
To be sure, education content is more appealing when packaged into a flashy app, so software companies are undoubtedly helping teachers to hook kids into learning. But once they're hooked, then what? We're overrun with talk of media literacy for students, but who provides it for teachers? It seems these app creators have a developing responsibility to show educators how to maximize technology's educational value. It's then that teachers can solidly sell kids, administrators and parents on its place in the classroom.
It's no surprise that parents aren't keen on their kids spending more time in front of a computer, even for educational purposes, explained Gwenn O'Keeffe, a child pediatrician on the panel who specializes in online safety for students.
"Screens are screens, and parents are fearful of them," she said.
The panel and audience discussed whether software is being created and tossed out there with no way for parents or teachers to know how best to derive value from it.
Not to say teachers can't figure it out. Most have an innate sense of the rule that also governs the Internet: Content is king. Teachers quickly learn that anything gimmicky wears off and quality content has to exist underneath.
When I taught, our teaching team wrote a grant to get a SMART interactive whiteboard when they were the hot new thing a few years ago. But after the thrill of immediate reinforcement for correctly choosing the adjective instead of the adverb to describe a noun wore off, the students continued to do well on their grammar tests. Beneath that big screen of blinking lights, there was curriculum aligned to standards. The same must hold true for education apps.
O'Keeffe said that to ensure teachers can capitalize on the education value of education software, developers should have an advisory board of teachers who know the subject matter consulting formally on the project. And I would agree.
As an example, there's a new Android and iPhone app called Project Noah, which is a field guide that allows students to become citizen scientists by sharing pictures and info on plants and animals. The app functionality is impressive, as is their mission: Project creator Yasser Ansari says his goal is "No Child Left Inside." He told me, "We want to make this app the most powerful 'window' to the world."
While that all sounds good in theory, the app lacks a teachers' guide or accompanying lesson plans. However, Ansari does tell the School Library Journal he'd be willing to meet with teachers on how they can integrate Project Noah into their classrooms.
Similarily, an app called Toontastic lets elementary students do interactive storytelling on an iPad by writing a storyline and adding animation and characters. It includes a study guide with questions such as "How many scenes are in your story?" and "What's the conflict?"
It seems like most teachers could arrive at those basic lesson plan prompts on their own accord, but they might first be wondering something like, "What makes a good digital story in the first place?" That seems like a fitting place that an app developer could provide foundational media literacy guidance.
As someone who used mostly homespun curriculum created in cahoots with another team teacher, I'm not saying teachers need explicit hand-holding with media literacy and making meaning out of could-be curriculum. I know there are countless anecdotes of science teachers who create units with practical hands-on applications from "Myth Busters" or units on literary devices using rap songs -- all the sum of their own ingenuity and savviness.
But when it comes to the newest technology like education apps, teachers aren't usually super eager to use it for many reasons, mostly because it takes extra time to research and set up -- with the potential for technical failures. Of course, apps are pretty foolproof for the most part, but a "screen is a screen" to many teachers as well -- and for good reason that you can't understand unless you've had a technical failure on a Friday afternoon with impatient students praying you don't know how to work the A/V. As such, if app developers provided some media literacy for teachers on all these new apps, it would make technology integration in the classroom just that much easier.
Related
Popular in the Community