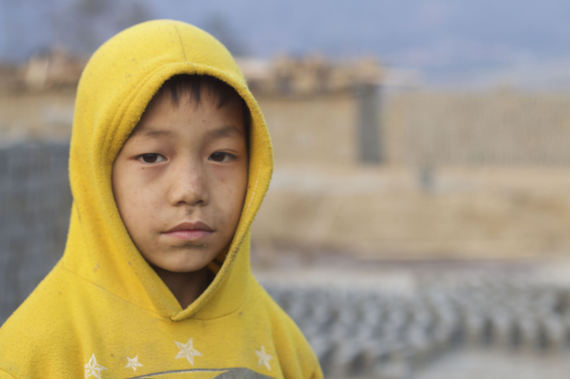 Photo: Child laborer in Nepal. Theirworld
Inspire political commitment so that education is viewed by both governments and funders as a top priority during crises
Plan and respond collaboratively, with a particular emphasis on enabling humanitarian and development actors to work together on shared objectives
Generate and disburse additional funding to close the $8.5 billion funding gap needed to reach 75 million out-of-school children and youth
Strengthen capacity to respond to crises, nationally and globally, including the ability to coordinate emergency support
Improve accountability by developing and sharing knowledge, including collection of more robust data in order to make better-informed investment decisions, and knowledge of what works
For the diverse group of advocates who have been calling for action and for education in emergencies more broadly, the primary motivation is to decrease the extreme vulnerability to exploitation of out-of-school children. Children and youth without access to a safe place to play and learn especially in the toughest environments are at exponentially greater risk of being exploited by extremists, traffickers and criminals. Violence, rape, child marriage and prostitution, and recruitment into fighting and other life-threatening, often criminal, activities rise in disasters as families are separated and communities and social systems break down.
At the launch event, donor representatives from the United Kingdom, the United States, Norway, the European Union and the Netherlands stepped up and pledged $87.5 million* or just over half of the $150 million needed to fully fund year one. The United Kingdom led the way with the highest pledge -- £30 million over the next two years and should be applauded for their continued leadership in making Education Cannot Wait a reality.
Non-state pledges for the first year included a $2.5 million contribution from Dubai Cares to support initial set-up of the Education Cannot Wait secretariat bringing the total to more than $90 million. The Global Business Coalition for Education also committed to start work to 'mobilize $100 million in financial and relevant in-kind contributions.'
With an annual funding gap of $8.5 billion to reach all children everywhere, these initial pledges are just the tip of the iceberg in terms of what's needed and the real work starts now. Those who spoke at Monday's launch event were eloquent and united on the need to protect and provide education to children and adolescents living in conflict and crisis-affected countries as an urgent and life-saving intervention.
Unicef Director Tony Lake spoke of the "moral and strategic failure" of continuing to deny children in emergencies their right to education. Lebanese Education Minister Elias Bou Saab reminded the crowd that "above all there is no future without education." And perhaps most moving were the words of a young woman from Syria who called for "action, not sympathy; for funding, not speeches."
The Education Cannot Wait Fund is a milestone in showing that the international community is not simply making promises but is becoming increasingly serious about thinking proactively about the needs for the most vulnerable children, youth and communities impacted by tragedy and loss.
The Education Cannot Wait launch was a first chance for donors to step up, but it's not the only opportunity. The next key pledging moment will come in September when world leaders gather for the United Nations General Assembly and the International Commission on Financing Education Opportunities releases its final report.

*Donor country commitments made at Monday's launch event:
US = $20 million
UK = £30 million over two years
EU = €5 million
Norway = $10 million
Netherlands = €7 million

Popular in the Community