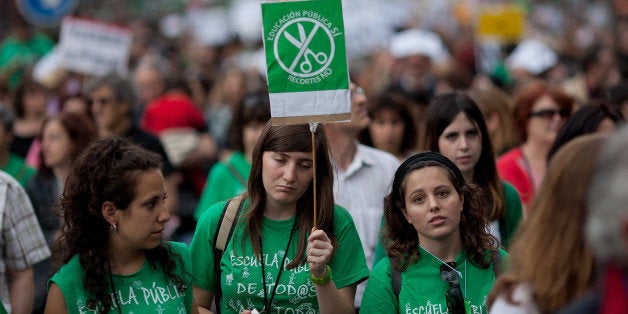 MADRID -- Broad public outrage over the soaring costs of attending college and a proposed new law that would impose new tests on students culminated in a series of boisterous protests across Spain this week.
The demonstrations drew of thousands of teachers, parents and students into the streets here on Thursday. Many wore green to identify themselves as part of the so-called Green Tide, a movement against continued cuts to public education in a country that remains mired in economic misery.
The now 2-year-old movement has trained its sights on the country's education minister, José Ignacio Wert, who has administered sharp cuts while championing the controversial reform proposal. The law has been pushed through the legislature by the ruling Partido Popular over the strident objections of labor unions and opposition parties. In addition to imposing a new student testing regimen, it would elevate the importance of religion in education and increase the numbers of students in public school classes.
The law has been approved by the lower chamber of the Spanish legislature and is awaiting ratification by the Senate.
Much of the public fury over the state of Spanish education reflects the increasing difficulty families confront in sending children to college in a nation in which more than 1 in 4 working-age people is officially unemployed.
In just one school year (2012-2013), college tuition fees rose 66 percent, scholarship beneficiaries declined by 62 percent and public schools lost 24,957 teachers. The number of scholarship beneficiaries has fallen by 24,520 over the past year, while financial aid for the purchase of school supplies has dropped by more than 59 percent, according to official data.
At the same time, students who already have scholarships face stricter grade requirements to retain them under changes the government has imposed.
Teachers have played a central role in opposing education cuts, given that diminishing support has hit them directly: Public employees' salaries have been frozen since 2011. The protesters this week have called for the education minister's resignation while demanding that the reform law be scrapped. A prominent union of students branded the law worthy of the dictatorship of Francisco Franco, who ruled Spain with an iron first for four decades.
According to the student union, cuts in financial assistance coupled with hikes in college tuition fees are making it nearly impossible for low-income families to afford quality education. Parents associations have expressed similar concerns, arguing that the law reflects not financial constraints but rather ideological motives. They complain that budget reductions have hurt economically afflicted families by denying their children access to quality education.
Teachers portray the reform law as a means of further diminishing their ranks via layoffs. The government counters that this is in fact the real motive behind the protests -- job protection for teachers, and never mind Spain's finances or the interests of its young people.
Popular in the Community