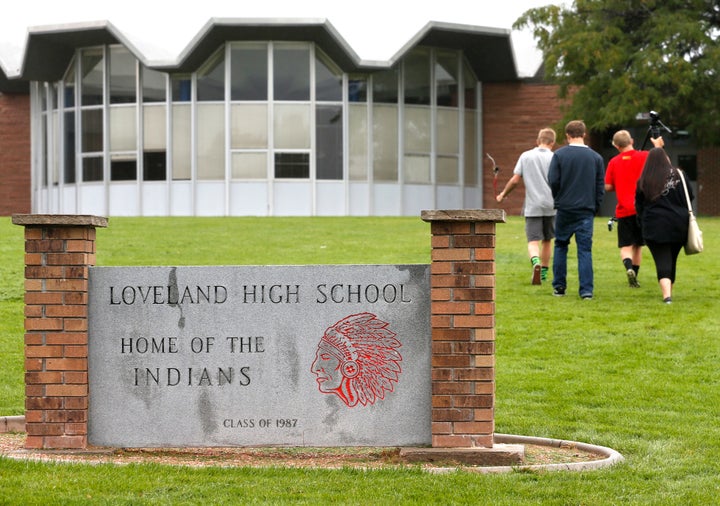 School districts that use Native American nicknames and imagery should analyze whether they are causing harm to their students and consider changing the mascots, native students told the U.S. Department of Education during community meetings last year.
Students' and educators' concerns about such mascots were summarized in a report the Education Department released Thursday. The report resulted from a first-of-its-kind listening tour that took place last year, during which department officials visited Native American communities in seven states to hear about the greatest issues affecting education.
"States and local school districts should consider the historical significance and context of Native school mascots and imagery in determining whether they have a negative effect on students, including Native American students," the report recommends.
"[The Education Department's Office for Civil Rights], states, and school districts should work with schools to develop and implement actions to change potentially harmful imagery and symbolism," it continues.
The recommendation is part of the School Environment Listening Sessions Report, a product of the Office for Civil Rights and the White House Initiative on American Indian and Alaska Native Education. The Obama administration launched the initiative, which is housed in the Education Department, in 2011 as part of a broader effort to improve Native American education.
WHIAIANE Executive Director William Mendoza announced the report's recommendations Thursday morning at the National Indian Education Association's annual convention in Portland, Oregon.
During the listening sessions, which the department said attracted more than 1,000 attendees, WHIAIANE officials heard extensive testimony from students that "illustrated how stereotypical imagery and symbolism harm all students, especially [American Indian and Alaska Native] students, by interfering with self-identity, perpetuating negative stereotypes, encouraging bullying and teasing, and creating unhealthy learning environments," the report says.
"We had deep conversations on the appropriateness of living, breathing human beings being depicted as mascots," Mendoza told The Huffington Post on Thursday.
More than 2,400 American schools still use Native American mascots, according to the report. The listening tour, Mendoza said, was meant to give Native American students a voice in how they are depicted.
"In high school, my mascot was the 'Redskins' and I had to watch my classmates make posters saying we are going to 'skin' our sports opponents. The other teams would make posters that said they are going to send us home on a 'trail of tears,'" one Native American college student told WHIAIANE officials at a listening session in Oklahoma City.
"It's still a slap in the face every time," she added. "I thought I had moved on, but it still hurts every time."
The initiative also considered official statements from tribes and organizations that oppose the use of Native American imagery in sports, and notes the long-held positions of the American Psychological Association and American Sociological Association, which passed resolutions calling for the retirement of native mascots in 2005 and 2007, respectively.
The mascots don't just affect Native American students, Mendoza said. They also have an "understated impact" on how non-natives view Native Americans, and give them a "false experience in connecting" to those communities and cultures.
WHIAIANE said the recommendations "will guide its future work and goals."
Native American tribes, organizations and activists have combatted the use of their imagery in schools for decades, and the movement has regained steam in recent years thanks to the high-profile controversy around the name of the Washington, D.C., NFL team.
Some states and school districts have already begun taking their own actions. California Gov. Jerry Brown (D) this week signed a law that bans schools from using "Redskins" as a mascot and will force four high schools in the state to find new names for their athletic teams.
Colorado Gov. John Hickenlooper (D) last week formed an executive committee to review the use of Native American mascots in his state, and Oregon is in the process of enacting a law passed in 2012 that would force schools to change Native American mascots if they do not have tribal approval. In April, Pennsylvania's state civil rights agency ruled that a high school's "Redskins" mascot was "racially derogatory," though it did not force the school to drop it.
At least eight schools have changed their mascots in recent years because they used Native American imagery, though Daniel Snyder, the owner of Washington's NFL franchise, has said he will "NEVER" change his team's name.
Secretary of Education Arne Duncan, who plans to step down at the end of the year, has used social media to praise individual schools that have moved away from the names. This week, Duncan thanked Brown for signing the California law.
Support HuffPost
The Stakes Have Never Been Higher
Related
Popular in the Community