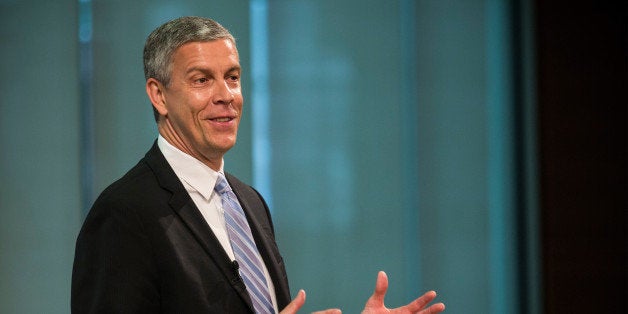 A federal judge on Tuesday dismissed lawsuits against the U.S. Department of Education brought by four of its contracted student loan debt collectors after the department decided not to award them additional business.
Judge Francis Allegra of the U.S. Court of Federal Claims tossed the lawsuits in a sealed order, court filings show. Most of the documents in the case are either secret or heavily redacted. The Huffington Post was unable to obtain a copy of the court order on Tuesday.
Coast Professional, Enterprise Recovery Systems, National Recoveries, and Pioneer Credit Recovery sued in March after the Education Department said it wouldn't send them any more accounts under their current contracts. The Education Department said Feb. 27 that the four firms and West Asset Management had misled distressed borrowers "at unacceptably high rates."
The Education Department contract is one of the more lucrative in the debt collection industry. Some 7 million Americans collectively owe more than $100 billion on their defaulted federal student loans. The department pays debt collectors to recoup soured debt from borrowers who are at least a year behind on their payments.
The debt collection program has been a magnet for criticism. Borrower advocates have alleged for years that the department's debt collectors routinely violate the law by misleading troubled borrowers. The department's in-house auditor, the Government Accountability Office and the Consumer Financial Protection Bureau all have separately slammed the department in recent years for either its lackluster oversight or alleged wrongdoing by its contracted debt collectors.
The four firms that sued -- one of which, Pioneer, is owned by Navient Corp., the student loan giant formerly known as Sallie Mae -- argued in court filings that they broke no laws and followed Education Department guidance.
Some of them also accused the department of selective enforcement. According to court filings, the department privately told all of its nearly two dozen debt collectors that it had determined they had broken federal consumer protection laws after officials discovered that the debt collectors had misled borrowers about the benefits to their credit reports and certain collection fees if they tried to get out of default.
All four debt collectors who sued the Education Department further alleged that the department itself violated the law when it determined it wouldn't send them any future business. They claimed that the government effectively rewarded its other debt collectors with new contracts without offering interested firms the opportunity to bid.
"We are very disappointed in the court's decision. We believe these were new contracts that the Department of Education awarded in an unfair and arbitrary process that did not allow all bidders to compete on a level playing field," said Brian Davis, chief executive of Coast Professional.
Sean Neary, an outside spokesman who represents Enterprise Recovery, said the firm intends to appeal Allegra's ruling. "We remain hopeful that we can find a path forward working through the legal process to help reaffirm our position that the Department of Education erred in its review process, resulting in an unfair decision."
Patricia Christel, a Navient spokeswoman, didn't respond to a request for comment.
Calling all HuffPost superfans!
Sign up for membership to become a founding member and help shape HuffPost's next chapter
BEFORE YOU GO
PHOTO GALLERY
Celebrities Who Attended Community College