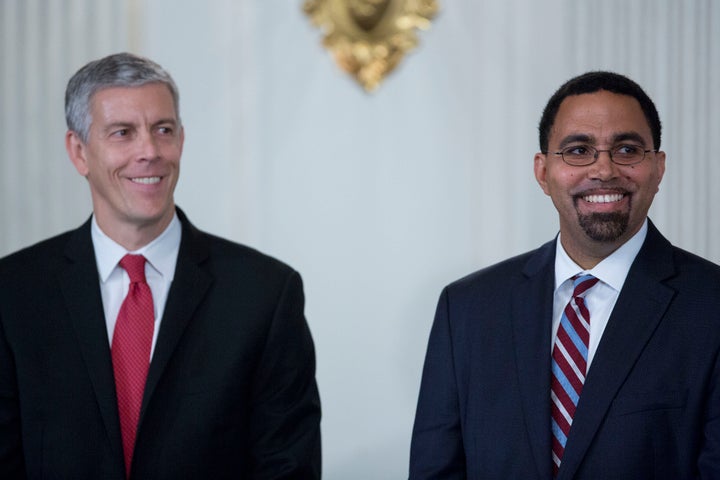 Large student loan debt collectors that the U.S. Department of Education in February vowed to fire after accusing them of misleading troubled borrowers at "unacceptably high rates" have since collected nearly $50 million from the department, federal records show.
The holdup may hamper distressed borrowers who want to make good on their debts, said consumer advocates, who added that borrowers may continue to be misled by the department's contracted debt collectors.
About 6.9 million borrowers were in default on $111.4 billion in federal student loans as of June 30, according to the Education Department. The department said it couldn't say how many borrowers' accounts were still with the three debt collectors accused of deceiving borrowers. The debt collectors have previously disputed the department's allegations against them.
The continued flow of payments to the companies and the department's delay in shielding distressed borrowers from them reflects an Education Department that is too cozy with loan contractors and not sufficiently focused on protecting borrowers or taxpayers, consumer advocates said.
In testimony before Congress last year, the official overseeing the department's Federal Student Aid office, James Runcie, laughed off a question asking whether his unit was in compliance with the Fair Debt Collection Practices Act, a federal law meant to protect borrowers from unscrupulous debt collectors. "I assume so," Runcie said, cracking up.
The Education Department has come under increasing scrutiny over the past few years as total student debt has skyrocketed to nearly $1.3 trillion while borrowers' tales of woe have become legion, prompting the White House to demand better oversight. The Consumer Financial Protection Bureau is exploring new rules governing how student loan companies interact with borrowers.
"This is standard behavior from the Education Department," said Chris Hicks, an organizer who leads the Debt-Free Future campaign for Washington-based nonprofit Jobs With Justice. "They don't seem concerned about whether their debt collectors follow the law, and even when they find alleged wrongdoing they're not putting borrowers first. They're putting debt collectors first."
The CFPB said in March said that a number of the Education Department's debt collectors had misled borrowers in distress, falsely threatened some with lawsuits, and erroneously heaped on additional requirements for people who wanted to make good on their debts.
Internal auditors at the Education Department and investigators with the Government Accountability Office -- Congress's in-house watchdog -- have faulted the department for inadequate oversight of its debt collectors.
In response to the concerns, the Obama administration this year launched a pilot program in which federal employees at the Treasury Department would attempt to collect on defaulted federal student loans, rather than private contractors.
At the time of its February announcement, the Education Department sought to highlight that it had taken decisive action against debt collectors it believed were harming borrowers. Education Undersecretary Ted Mitchell said in a news release that "every company that works for the department must keep consumers' best interests at the heart of their business practices."
The department has since paid New York-based Pioneer, owned by student loan giant Navient Corp. (formerly known as Sallie Mae), $12.3 million, federal records show. West Asset, a Georgia-based collector owned by Alorica Inc., has received about $2.7 million.
The Federal Trade Commission alleged in 2011 that West Asset had violated federal consumer protection laws with abusive debt-collection practices. The company paid $2.8 million to settle the lawsuit without admitting wrongdoing. The settlement barred the company from violating the Fair Debt Collection Practices Act.
Neither Patricia Christel of Navient, nor Camille Clowney of Alorica, responded to messages seeking comment.
The Education Department has paid Enterprise $34.3 million since the February announcement, federal records show. The relatively big payment may be the result of the firm getting more borrowers to make payments on defaulted debt.
Sean Neary, an outside spokesman for Enterprise, declined to comment.
Last week, Denise Horn, an Education Department spokeswoman, defended the payments in a written response to questions. The debt collectors are only being paid for accounts that were in repayment prior to the February announcement, she said.
Furthermore, "this was the best-possible situation for borrowers, so as not to negatively impact any sort of transition or interruption of servicing, especially for borrowers in the middle of the loan rehabilitation process," Horn said, referring to a perk in the federal student loan program that allows borrowers to cure loan defaults by making nine on-time payments in a 10-month period.
Horn added that non-paying accounts at the three debt collectors would be transferred to the department's other collection agencies within the next 30 days. She declined further comment and refused to make Runcie or Mitchell available for interviews.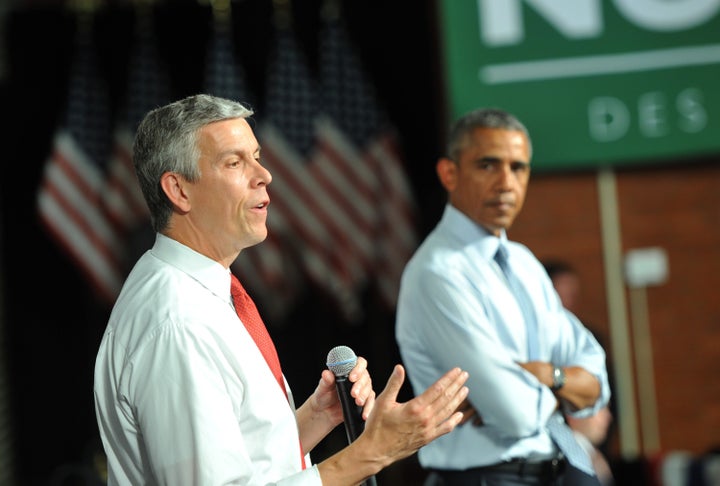 The Education Department earlier this year had 17 large debt collectors under contract to contact defaulted borrowers and persuade them to repay. The contracts, originally signed in 2009, were allowed to expire for all but five.
On Feb. 24, the Education Department sent an identical email to all of its debt collectors informing them that a department review had found they had misled distressed borrowers, court records show.
Mitchell later told consumer advocates in a March 11 meeting at the department's Washington headquarters that he wasn't confident that the department's debt collectors were complying with federal consumer protection laws.
But of the department's 17 large debt collectors, only Enterprise, Pioneer and West Asset were publicly shamed for allegedly misleading borrowers.
Pioneer was the department's top-ranked debt collector for the 2013 fiscal year, according to a presentation that year to the student loan industry by the department's former top defaulted loan official, Dwight Vigna. Pioneer ranked 5th in 2014, according to a separate Vigna presentation. Enterprise ranked 8th in 2013 and 6th in 2014.
Enterprise and Pioneer subsequently sued the department for awarding new business to the five large debt collectors whose 2009 contracts were extended. A federal judge dismissed the lawsuits in April, but the debt collectors appealed. That case continues.
Vigna has since joined Ceannate Corp., which continues to collect on defaulted debt for the Education Department.
Asked whether the Education Department was confident that its remaining debt collectors are in full compliance with the fair debt collection law, Horn simply said that the department had provided "enhanced" guidance to its debt collectors, and increased its monitoring of them.
"I don't think borrowers can be confident that their rights are being protected here," said Persis Yu, a National Consumer Law Center attorney who specializes in student loan issues.
Popular in the Community