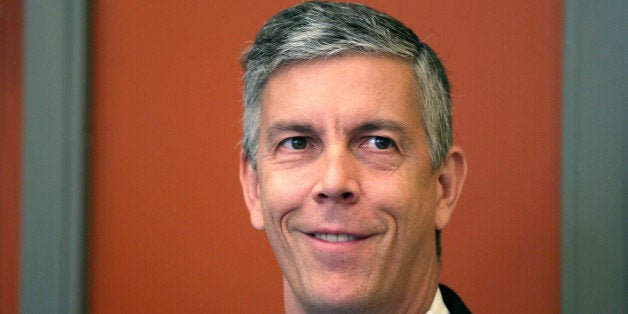 The U.S. Department of Education has not yet recouped some $22 million in allegedly improper payments to Sallie Mae, despite a four-year-old recommendation from the department's internal watchdog that it recover the money.
The Education Department's inspector general had determined in 2009 that the agency overpaid Sallie Mae by about $22.4 million under a government program that guaranteed lenders a minimum return on federal loans. The program, originally intended to help smaller lenders stay in business, was subsequently abused by some companies to extract extra profits after Congress restricted which loans were eligible.
The Education Department told the inspector general that it would resolve the issue by June 30 this year, according to the internal watchdog's most recent semiannual report to Congress. Sallie Mae has disputed the inspector general's findings.
"We are engaged with the Department of Education on this matter and hope to resolve it by early next year," Martha Holler, spokeswoman for Sallie Mae, said in an emailed statement.
Stephen Spector, an Education Department spokesman, said the department reached a determination on Sept. 25, but granted Sallie Mae additional time to review it. Spector said he didn't know what the department had concluded nor the basis on which Sallie Mae was granted an extension.
The delay in recovering the funds is "ridiculous," said Stephen Burd, a senior policy analyst focusing on education at the New America Foundation. "It's an abrogation of duty," he added.
Education Secretary Arne Duncan meanwhile faces criticism for not using his department's vast authority to hold financial companies accountable for allegedly harming borrowers with student debt.
The department's stance contrasts with the Consumer Financial Protection Bureau's approach to cleaning up abuses in the student loan market. The CFPB has issued multiple warnings about troubling loan servicing conduct, prompting Wall Street analysts to scrutinize companies for potential changes in business practices and the accompanying decline in revenue or share price that might result from CFPB probes.
While the CFPB has focused on private student loans, which make up about 15 percent of the $1.2 trillion student debt market, officials have suggested that similar practices may be infecting federal student loans.
At a time when other federal agencies are attempting to appear tough on financial wrongdoers -- particularly the biggest banks -- after criticism that they were soft in the wake of the financial crisis, Duncan's department stands out for its lax approach.
In September, Sen. Elizabeth Warren (D-Mass.) wrote Duncan to chastise his department for being "quite tolerant of Sallie Mae's failings," which she described as a "pattern of breaking the rules and ignoring its contractual obligations." The Education and Treasury departments "appear to have given little more than a slap on the wrist" to the company, Warren said in her letter.
Sallie Mae's latest regulatory woes follow both a 2007 settlement with New York's attorney general, in which it agreed to make changes to address conflicts of interest after the attorney general alleged that the company improperly marketed federal student loans, and accusations in 2008 and earlier this year by the Treasury and Education departments' inspectors general that the company violated its federal contracts by failing to document certain decisions, inform borrowers of their rights and report verbal complaints.
Warren questioned why the Education Department had yet to take any public steps to punish Sallie Mae by imposing fines or revoking federal contracts.
The department has not responded to Warren's Sept. 19 letter.
REAL LIFE. REAL NEWS. REAL VOICES.
Help us tell more of the stories that matter from voices that too often remain unheard.
BEFORE YOU GO
PHOTO GALLERY
How Strong Are U.S. Teacher Unions? Fordham's State-By-State Comparison