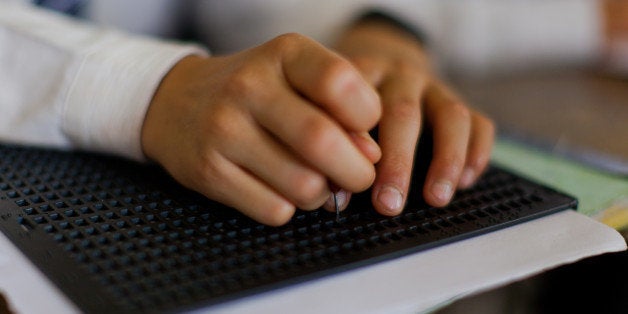 A recent news story about Haben Girma, the first deaf-blind person to graduate from Harvard Law School, is inspiring and extraordinary.
Haben attended public schools in the U.S. and received her undergraduate degree from Lewis and Clark College before attending Harvard. Fortunately Haben's parents emigrated to the U.S. from Eritrea while she was young. If they had remained in Eritrea she would have had little chance of receiving an education.
A 2013 UNICEF report indicates that globally, girls with disabilities are the least likely to be able to attend school and the most marginalized of children. Only 10 percent of all children with disabilities worldwide are in school at all and only five percent complete elementary school.
In many countries government policies encourage education for all children regardless of gender, socio-economic status, or disability. But, in practice, access to education is severely restricted particularly for children with disabilities.
Even when children with disabilities receive an education they are unlikely to receive an inclusive education, attending and learning in the same classrooms side-by-side with their typically learning, hearing, and sighted peers.
I grew up in India where the rich, the well-connected, or the lucky received a quality education, mostly in private schools. Although the Indian government made a constitutional commitment to provide primary education for all children, the reality falls far short of the goal. Only 44 percent of Indian children read at the fifth grade level, and girls are less likely to receive an education than boys. There are more than 62 million girls in the world who are not in school. For this reason the Obamas have launched an initiative to fund girls' education projects through Let Girls Learn. Such a project will benefit all girls including those with disabilities.
Children with disabilities face challenges entering and staying in school. In Latin America only about 20 to 30 percent of children with disabilities attend school. In other developing countries the lack of information on children with disabilities makes it difficult to determine how many can attend or complete school.
The concept of including children with disabilities in the general education system was alien to Indians, even those, who like me, were studying to be special education teachers.
On visits home from the U.S. I would listen to friends tell me why it was not appropriate for children with disabilities to be around their "normal" sons and daughters. They pityingly explained that including children with disabilities in U.S. public schools explained why American educational standards were low.
It may be true that students in other countries who go to elite schools outperform the average student who attends American public schools. However, Americans should be celebrating the achievement not only of individuals like Haben, but also of an inclusive educational system, that aims to give all children, rich and poor, with and without disabilities a public education.
This has to become a global priority.
It was not always so even in the United States.
Haben's achievement is due to the Individual with Disabilities Education Act (IDEA) which was passed in 1975, the 40th anniversary of which we celebrated this year.
IDEA mandated that all children with disabilities would receive an appropriate education in the least restrictive environment. Prior to the passage of IDEA children could be refused admission to their local public school because they couldn't climb the stairs to the classroom, could not speak, did not have a mental age of five, or, like Haben, could not see or hear. These children needed instructional modifications and adaptations that personnel in public schools insisted they could not and should not provide.
As a result of IDEA, 96 percent of U.S. children with disabilities presently attend public schools and are educated in regular classes for some or all of their school day.
Children who are deaf can attend regular classrooms with access to sign language interpreters and children who are blind can get materials in Braille so they can access the same curriculum as their sighted peers. Children who have learning disabilities or attention deficits get help and instructional modifications within the regular classroom instead of being relegated to the special education room. This allows them to access the same educational curriculum and opportunities as their non-disabled peers.
The right of children with disabilities to access public education shouldn't just be something we protect in the U.S. It should be a global right.
Calling all HuffPost superfans!
Sign up for membership to become a founding member and help shape HuffPost's next chapter