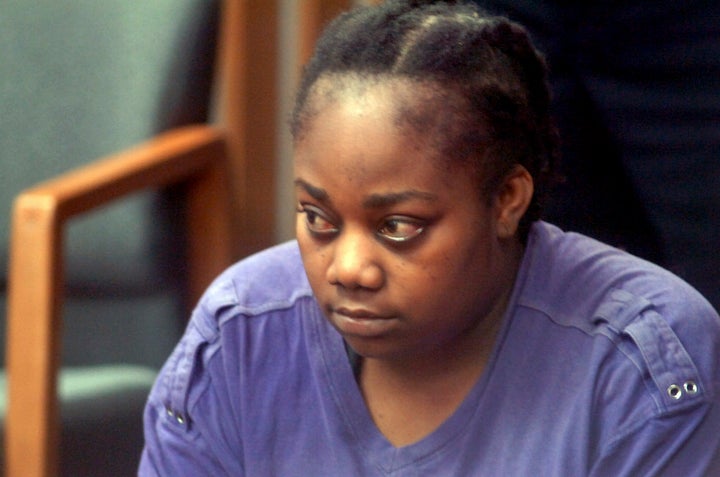 Tanya McDowell, a Connecticut mother, made headlines last year when she was accused of stealing -- specifically, of stealing an education for her son.
McDowell, who was homeless, was accused of felony larceny by authorities who said she sent her child to a stronger school in Norwalk, instead of the one she was zoned to in Bridgeport, her last permanent address.
"Who would have thought that wanting a good education for my son would put me in this predicament?" McDowell said in court last month, according to The Connecticut Post. Her eyes downcast, McDowell pleaded guilty to fraudulently enrolling her son in the wrong school district and selling drugs. She was sentenced to five years in prison.
A new Brookings Institution's Metropolitan Policy Program report released Thursday lists which metropolitan areas' housing policies most severely impede low-income students from attending high-performing schools, and found that zoning laws preventing the construction of affordable housing in wealthier neighborhoods are still widespread.
The report, "Housing Costs, Zoning, and Access to High-Scoring Schools," concludes that restrictive zoning laws create "economic segregation that prevents millions of American children from getting the quality education they need." The paper, written by Brookings senior research analyst Jonathan Rothwell, notes that in some cities, paying for private school is actually cheaper than moving to enroll in a better public school.
"I'd like people to think about the fact that it costs a lot of money to live near a high-scoring school," Rothwell said in an interview. "Instead of moving toward opportunity, we're magnifying inequality because of the way we assign students [to schools] based on where they live."
While policies that affect teachers, such as tenure and evaluations based on student test scores, have garnered recent attention and traction among state legislators, the Brookings paper makes the case for using zoning laws to change education. Rothwell said while there was movement toward changing zoning laws in the 1970s, a Supreme Court case that upheld the constitutionality of exclusionary zoning quashed momentum.
"We don't hear it so much because it's hard politically," said Dianne Piche, a former U.S. Education Department official, who now leads education efforts for the Leadership Conference on Civil and Human Rights. "Efforts like this have been really, really scaled back. There's been very little interest on the part of this administration ... but it would be sensible to coordinate housing policy and school policy."
The disparities are clear. On average, low-income students attend schools whose state test scores are in the 42nd percentile, but their more affluent peers attend schools with scores in the 61st percentile, Rothwell found. He also uncovered a connection between less restrictive zoning policies and smaller score gaps. According to the report, housing near a high-scoring public school costs 2.4 times more per year than housing near low-performing schools.
"We think of public education as free and open to all, but the quality of public education that the family has access to is largely determined by their income," Rothwell said.
And while the school-choice movement touting charter schools and vouchers aims to broaden parents' educational options, Rothwell said those offerings are limited. "Families have a strong preference for schools that are closest to them," he said. "Even if they have two or three other options, those options might not be any better."
Charter schools in the same district as low-performing schools in concentrated poverty don't offer the benefits of integration -- found to boost performance -- that schools located in inclusionary zoning can bring.
The Brookings paper represents the first effort to tie zoning policy to educational quality on a city-by-city basis. Rothwell analyzed data from 84,000 schools, and ranked metropolitan areas in accordance with the test-score gap between middle/high- and low-income students, as well as the housing cost gap between high- and low-scoring schools.
The Bridgeport-Stamford-Norwalk, Conn.-area had the largest test score gap between poor and affluent students, Rothwell found. Hartford, Conn., Milwaukee, Wis. and New Haven, Conn., also had significant gaps. The Bridgeport-area had the largest housing cost gap. Connecticut's performance gap has been well-documented, and is in fact the central argument of a controversial campaign led by Gov. Dannel Malloy (D-Conn.) to alter teacher tenure and increase preschool access.
But his proposals don't touch on housing. "If you look at the income-related segregation and the housing price differentials by metro area … Connecticut has extreme economic segregation," said Bruce Baker, an education professor at New Jersey's Rutgers University. "One of the things that makes northeastern cities so much worse is the extreme differences in wealth."
The Washington, D.C.,-area, on the other hand, had the 68th-largest score gap and the 80th-largest housing cost gap. Its ranking might stem from the fact that the area encompasses the Montgomery County Public Schools district in Maryland, a school district that has deliberately crafted housing policies that accommodate low-income tenants.
According to a 2010 study by RAND Corp.'s Heather Schwartz, Montgomery County's poorest students performed better in affluent schools.
The Brookings paper proposes the elimination of exclusionary zoning policies altogether, saying such a move could "produce large educational gains and economic benefits for low-income and minority children and families, and the U.S. economy as a whole." Since such sweeping policy is likely unfeasible, Rothwell suggests generous housing vouchers for neighborhoods with top-performing schools, and mandating that future construction include a certain amount of affordable units.
"This isn't just an outcome of free-market forces," Rothwell said. "There are laws and regulations imposed on markets by local governments in affluent neighborhoods that restrict the density and affordability of housing. This exacerbates inequality, economic segregation and makes it all the more difficult for low-income families to move from those places."
Related
Popular in the Community