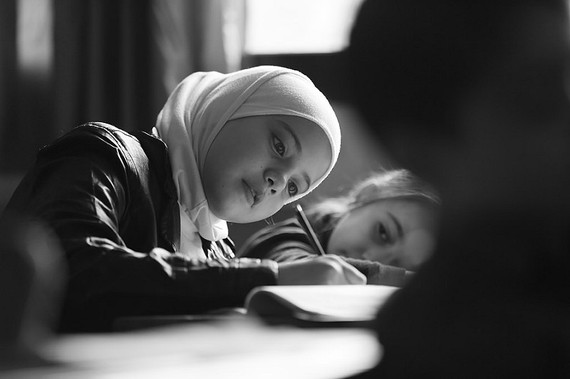 By Tariq Al Gurg, Chief Executive Officer, Dubai Cares
The month of Ramadan is a very special month to all Muslims around the world, me included. Whenever the month of Ramadan starts approaching I am filled with eagerness, the same eagerness I felt when I was a young boy and decided to fast for the first time.
I particularly look forward to the holy month of Ramadan because it gives me inner peace and a chance to spend the extra time I have with my children and the rest of my family, especially with my parents on a daily basis. I deeply value how we all come together to share the breaking of the fast and stay up late at night catching up with family, friends and neighbours. I often think of how fortunate I am to be able to share these special moments with them, all of us together - safe, happy, at peace.
This is not, however, the case for the over 59 million people around the world who have been forced from their homes, 20 million of whom as refugees in another country. In the world we live in today, every minute, 29 people leave everything behind to escape war, persecution or terror, 40% of whom originate from the Middle East. There are more than five million Palestinian refugees and four million Syrians who have been displaced outside their country. Another 7.5 million are displaced internally. An additional three million displaced in Iraq brings the total to 19.5 million There are more than five million Palestinian refugees and four million Syrians who have been displaced outside their country. Another 7.5 million are displaced internally. An additional three million displaced in Iraq brings the total to 19.5 million
Today, on World Refugee Day, we highlight the plight of those who have had to flee their country in search of safety, 10 million of whom are under the age of 18. In order for these refugee children and youth to one day be able to return to their countries and contribute to shaping and leading their nation as doctors, teachers, engineers, lawyers and parents, or to be able to remain as active contributing members of their host societies, they need to have access to quality education. However, according to the UN High Commissioner for Refugees (UNHCR), only 50% of refugee children are enrolled in primary education and a mere 25% are estimated to be in secondary school. Just 1% of refugees have access to tertiary education. What then is the fate of the majority of these children and youth if they remain uneducated? There are many potential answers, most of which no parent wants to consider - increased risk of trafficking, child labour, being drafted into extremist groups and child marriage.
When I travel to visit our programs, parents who have been forcibly displaced consistently highlight the importance of education and their desire to have their children return to school. The children themselves also share this sentiment. However, teachers and principals in the host communities who have to accommodate for the large number of refugee children, have to make limited resources go even further. Their testimonies regarding the shortage of books and learning materials for the newcomers has made me even prouder to be one of the leading partners in the 'Reading Nation' Ramadan Campaign launched by His Highness Sheikh Mohammed Bin Rashid Al Maktoum, Vice-President, Prime Minister of the UAE and Ruler of Dubai, which aims to print and distribute 5 million books benefitting children in the developing world. These books will populate resource-scarce libraries and classrooms with age-appropriate reading material that will both help learning and provide a welcomed escape from the reality of daily life.
At Dubai Cares, together with our partners, we hope to turn the tide on refugee children and youth who miss out on quality education because of displacement. Education gives them hope. It makes them more resilient. It makes them stronger. Yet education accounts for a small fraction of humanitarian aid, receiving only 2% of total funds from humanitarian appeals. Because of this Dubai Cares has committed to increasing the share of our programs that reach refugee and internally displaced children and youth to 33% of our financial portfolio over the next two years. In addition, at the World Humanitarian Summit in Istanbul in May, we also committed to supporting the newly established Education Cannot Wait fund which aims to address this shortage of funding for education in emergencies, as well as bring together all the concerned actors. By actively and collectively supporting both access and quality of education in emergencies and protracted crises, I believe a difference can be made.
On this World Refugee Day, as I break my fast together with my family, I will think of all of those not able to share a meal surrounded by their loved ones, forced out of their homes, their towns, their country, and I promise not to forget their plight or that of all refugee children.
Dubai Cares, part of Mohammed bin Rashid Al Maktoum Global Initiatives, is a UAE-based global philanthropic organisation working towards providing children in developing countries with access to quality education through the design and funding of programs that aim to be integrated, impactful, sustainable and scalable. Our mission to increase children's access to quality education is guided by a common principle: children ready for schools, schools ready for children, parents and community ready to play their role.
Calling all HuffPost superfans!
Sign up for membership to become a founding member and help shape HuffPost's next chapter