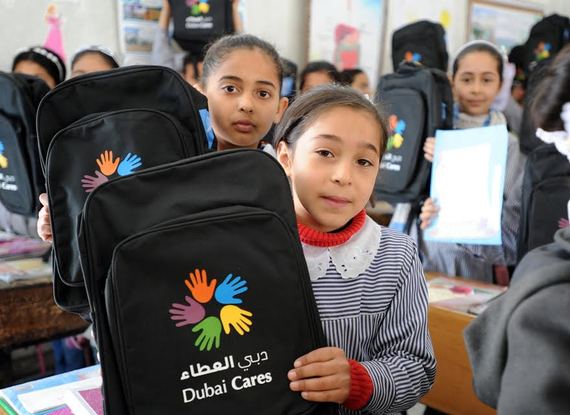 As the global community makes another push towards upholding the promise of universal education through the Sustainable Development Goals, I return from the Oslo Summit on Education for Development with a renewed sense of hope for children affected by conflict and crisis. At the meeting I attended, convened by UNICEF Executive Director Anthony Lake, UN Special Envoy for Global Education Gordon Brown and Global Partnership for Education Chair, Julia Gillard, the group of ministers and leaders around the table agreed to move forward to develop a desperately needed global platform and fund for education in emergencies.
At Dubai Cares, we believe education is not only an essential right of every child, but also an irrevocable asset. As we are based in the gulf region -- where approximately 4 million have been displaced from prolonged conflict in Syria alone. I deeply understand the critical importance of bridging the emergency response.
With the average length of displacement for refugees now approaching 20 years -- and over 70 percent of those children out of school -- we know that these emergencies are no longer brief blips in the life of a child. Thus, we need a new platform and funding model that enables an immediate and sustained response. Immediate, because in the absence of the provision of education at the onset, children will have to wait years for funding and planning to trickle down -- if at all. And sustained because we need predictable and reliable financing so that children can continue their education. Otherwise, we will remain passing around a begging bowl to donors -- crisis after crisis, year after year.
Our programs, reaching 14 million children across 39 developing countries, are developed to provide both immediate relief and comprehensive long-term support with the understanding that the return on the initial investment during an emergency is only beneficial to society if there is follow-through support during difficult, extended transition periods.
In Gaza this means providing Palestinian children with psychosocial support helping them develop coping mechanisms while at the same time ensuring they have access to basic education services, rebuilding the destroyed schools that serve as their long-term lifeline.
In the Ivory Coast, this means providing children, who had to drop out of school because of conflict and displacement, with accelerated learning classes to help them reincorporate into formal schools.
The transformative power of these long-term commitments is unparalleled. As we look towards the United Nations General Assembly Week in September 2015, Dubai Cares will continue to support efforts like the development of the new humanitarian fund so that this power is amplified.
Public support for these efforts is overwhelming -- over 8 million individuals have endorsed the #UpForSchool campaign, demanding the right of every child to go to school safely, whether in or out of an emergency. And Dubai Cares has joined more than 40 organizations calling for the development of the humanitarian fund and platform for education. The momentum is here. The need is dire. The political will to act is building. 2015 must be the year we find the solution to education in crises.
Photo credit: Dubai Cares
REAL LIFE. REAL NEWS. REAL VOICES.
Help us tell more of the stories that matter from voices that too often remain unheard.