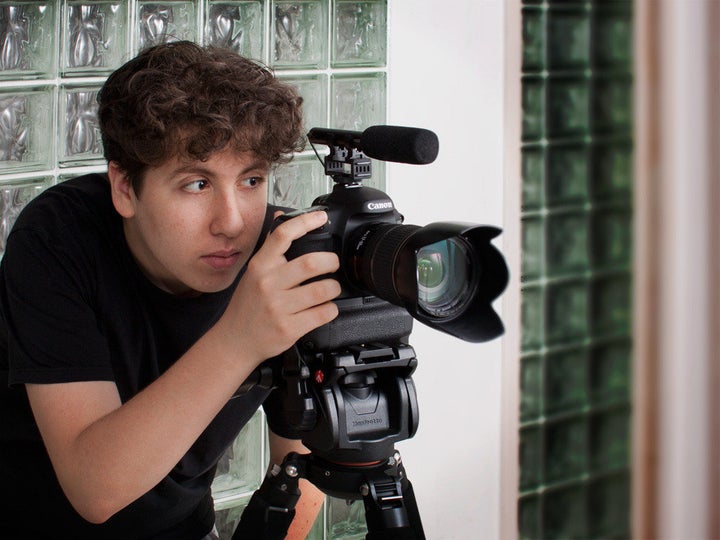 This is part of our new series "Gen: Change," in partnership with Youth Service America, featuring stories from the 25 most influential and powerful young people in the world. Click here to read more about Alec and his amazing story.
Almost one billion people on this planet are illiterate. Of those, 232 million are children... And this is a conservative estimate. The good news? We, as thoughtfully engaged and inventive young leaders, have the power to change these numbers.
There are no heroics involved in making creative, consistent social change. It is my belief that to create a more peaceful, humane society, we must first have an educated and intellectually hungry society -- and we begin by empowering children. After meeting clergy from Ghana at a benefit concert for international healthcare, and watching footage reporting the unacceptably dire state of healthcare and education in Ghana's poorest villages, I wanted to use my talents to help. At first I thought, "There is no way I can fix this. There's just too much suffering; too much disease; too much illiteracy." I wasn't sure how my talents or skills could benefit the lives of millions of disenfranchised kids. After all, I was here in America, safe and healthy. All I had was my passion and my ideals. Then a light went on. I remembered a quote by Elie Wiesel: "Silence encourages the tormentor, never the tormented." I wouldn't be silent. I would use my voice as a storyteller and filmmaker. I would create a paradigm shift in "developing nation education" through film.
So I founded Giving from the Ground Up (GFGU) to produce cartoon-animated science, math and hygiene film curricula for elementary school children. These films help overcome the literacy divide in developing nations by teaching visually. Being a bit of an artistic rebel, I prefer breaking down obstacles rather than being deterred by them, and so my organization uses vibrant, colorful, loveable and funny cartoon-animated creatures, combined with melodic learning songs for each of our math and science film lessons to reach across the learning divide. Presenting mathematics and the scientific method via film, even in the absence of literacy, can teach kids to innovate industry -- from building windmills to testing the most drought-resistant crops. Difficult concepts in science and math can be clarified by a simplifying animated film lesson. Put the printed word in front of children who do not have strong language skills and they may have a hard time with it, but film breaks down the concepts and teaches us without us really feeling the medicine go down.
The key to success, as I see it, is to spread relevancy throughout society, and what makes us relevant is having the education to innovate and inspire new generations. Few forms of media spread relevancy and education more enjoyably than film. Film presents a narrative and unfolds a story that can inspire -- and we are all hardwired to love a good story. With academic training that accentuates the visual (as film does), targets the very youngest (as cartoon-animation does), and adds learning songs that promote investigative thinking for every unit of math and science (engaging auditory skills for language development in an approachable way), the most vulnerable of vulnerable children in developing nations who are caught in the illiteracy web can now be armed with relevant math, science and hygiene education to bring their villages and nations into a new, empowered and proactive future. Having served 240,000 children to date in Ghana and expanding into Central and South America, GFGU is putting its faith in the youngest children because building their inquisitiveness and love of discovery and learning will inspire a generation of teens who say 'no' to the unending cycle of poverty and 'yes' to higher learning and healing. These little ones will become the teachers, social entrepreneurs, nurses and physicians who will carry their villages into a brighter future.
Ernest Istook once said, "America's strength is not our diversity; our strength is our ability to unite people of different backgrounds around common principles." In other words, it is not the mere existence of each distinct community present in our world that makes society diverse, but how these communities unite to work towards healing the world and making it a more peaceful and extraordinary place. Those of us working as filmmakers and storytellers can engage in a meaningful way as citizens of the world by creating new avenues for education in developing nations. Imagine if we all connected to produce new and exciting weapons against illiteracy for the children of our world; imagine how different their journey could be. Imagine how different ours could be.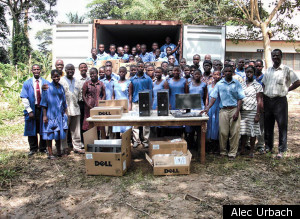 A school in Ghana receives new computers.
Support HuffPost
The Stakes Have Never Been Higher
Related
Popular in the Community