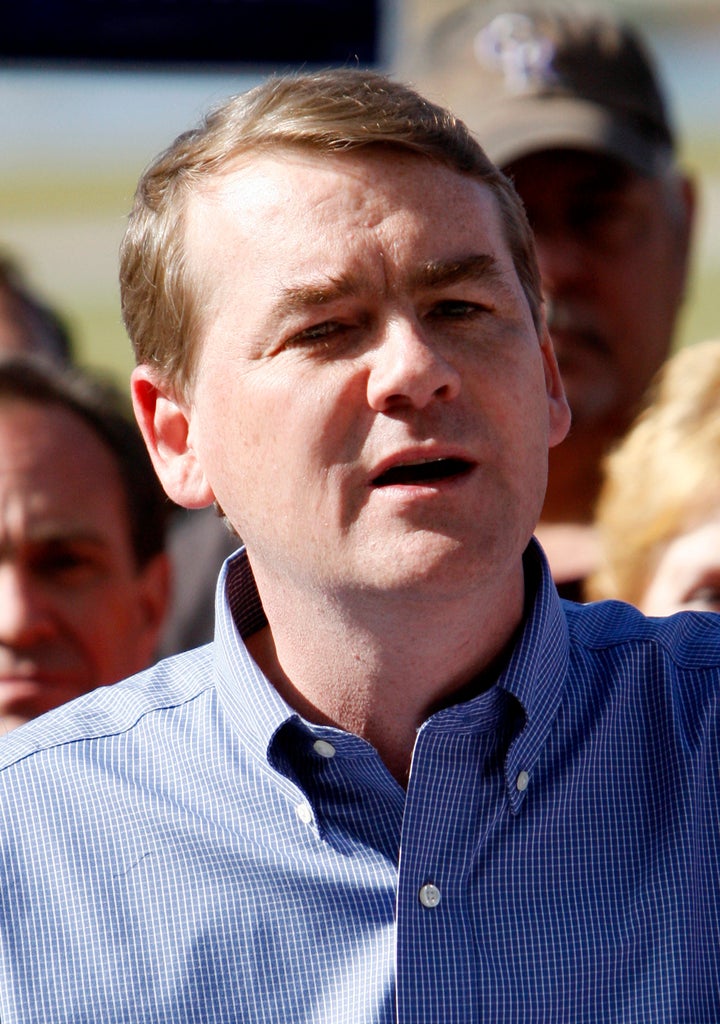 WASHINGTON -- As Sen. Michael Bennet (D-Colo.) sees it, the holdup on overhauling the nation's sweeping education law, No Child Left Behind, has little to do with education, and everything to do with politics.
"I've learned more about how schools work than how the United States Senate works," Bennet, a former superintendent of Denver's public schools, told The Huffington Post in an interview on Monday. "For the life of me, it's hard to see why we can't make progress on this."
No Child Left Behind, a federal education law introduced by George W. Bush in 2001, sets grades and standards, giving the federal government power to intervene in schools that rank poorly. The law set 2014 as a deadline for schools to achieve 100 percent proficiency in math and reading -- a goal universally described as utopian at best. Under the definition set forth by the law, 82 percent of schools are set to be classified as failing by next year, U.S. Secretary of Education Arne Duncan said in March. Schools deemed to be failing face escalating consequences.
Bennet, a member of the Health, Education, Labor & Pensions Committee, said he saw the law's problems first hand in Denver. "We spent a lot of time thinking about how to comply with the rules and regulations around things like Title I and Title II, which took away from the time we could have spent thinking about how do we want our kids to achieve at high levels," he said.
President Barack Obama called on Congress to pass a new law by the end of the summer, but as of late July -- four years after the law was first up for reauthorization -- the House and Senate have progressed minimally: the House wants to reform the law in piecemeal bills, including one sponsored by John Kline (R-Minn.) that recently passed through committee. The measure, which would allow school districts to take money devoted to serving underprivileged groups and allocate it for any other purpose, aroused the ire of the Department of Education as well as House Democrats.
"This complete betrayal of education equality is a knife in the back to the bipartisan process we've been working toward to fix our nation's education law," Rep. George Miller (D-Calif.), a senior Democrat on the Education and the Workforce Committee, said in a statement at the time.
Meanwhile, Bennet said he expects the Senate to have a markup plan ready for consideration by fall. When asked how closely the plan would mirror the Obama administration's blueprint, which stresses specific turnaround models to triage failing schools, he said it was too soon to tell.
Because of the congressional holdup, Duncan has proposed providing states with regulatory relief by exchanging waivers for NCLB's most painful provisions with promises for specific reforms.
"I think [the holdup] has a lot less to do with NCLB and with education than it does with politics and Washington at this moment," Bennet said. "The reason I say this is that, if you had a rally tomorrow on the Capitol to keep No Child Left Behind the same, there's not a single person that would show up for that rally."
Bennet has three children enrolled in Denver public schools. "There's a lot about the current system that doesn't make a lot of sense in their lives," Bennet said. "It'd be nice as a parent to see these rules change. I think that the prospects are compromised largely because of the broader dysfunctionality of this town than they are about anything to do with these issues."
As someone who has run public schools, Bennet said he was "on the receiving end of the law." As he sees it, teacher recruiting needs major change. "We've got to get to a place where we're able to attract people to a profession that's going to lose roughly a million people over the next eight or ten years or retain the people that are now leaving."
A hearing on teacher quality is scheduled for Wednesday morning.
According to Bennet, NCLB's weak point is the way it interacts with state laws. "The law, as a general matter, in combination with the state rules, is highly prescriptive in terms of inputs and isn't measuring the right outcomes -- which is a recipe for disaster," he said. For example, school districts base funding levels partially on teacher salary averages, not actual salaries -- but because lower-paid teachers often teach in poorer schools and vice versa, "there's this massive subsidy that is flowing from poor children to wealthier children because of the way our law is written," Bennet said.
Bennet said he supports Duncan's waivers as a last resort. "I wish that we'd get our work done here and in the House and get the bill passed," he told HuffPost. "That's a better way to go. But I also know that there's going to be a lot of demand from states and from districts to get Washington off their backs and allow them to do the work that they really want to do. We'll have to see what comes."
Related
Popular in the Community