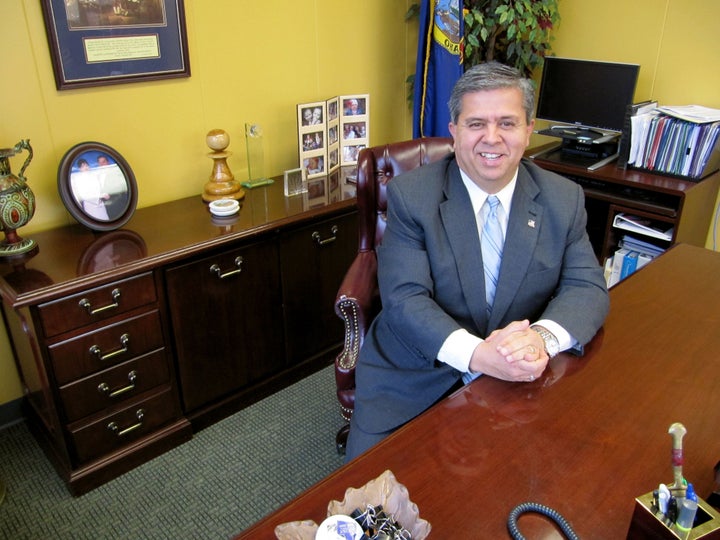 Two states are pushing back against new education reforms by putting recently passed laws up for popular vote.
We Are Ohio, a volunteer group of public workers that shares a building with the Ohio Education Association, announced Friday that it had surpassed its goal in receiving enough signatures to put up to popular vote a law passed in March that strips public employees of most collective-bargaining rights and mandates merit pay for teachers.
Calling the law an "unfair attack on employee rights," spokesperson Melissa Fazekas told reporters on a conference call that the group had reached 714,137 signatures, three times the requirement of the 231,139 validated signatures necessary to put a measure on the state's ballot.
"Senate bill five is what makes people now tell me, I'm the enemy and it's my turn to help balance this budget," said Erin Doran Salzer, a teacher in Pickerington, Ohio. "They tell me I'm greedy for fighting for my students. The one thing I will always do ... is fight for my students."
As a result of budget cuts, she said, her district has already increased class size, decreased budgets and laid off teachers. "SB5 will take away our ability to fight for more manageable class sizes and force some of my colleagues to choose a different profession," she said.
In Idaho, similar laws have tended to become political footballs.
After a group of disaffected Idaho parents and teachers gathered enough signatures to place three new education-reform laws on the 2012 election ballot for a potential repeal, the superintendent who introduced them, Tom Luna, is defending and discussing the implementation of measures, which mirror laws passed in many states this legislative session: They limit the collective-bargaining rights of teachers and their unions, make teachers at-will employees and mandate a merit-pay plan for teachers.
One of the new laws passed by the Idaho legislature earlier this year calls for increased use of technology in the classroom, a measure that has caused concerns of outsourcing for some educators.
"My wife and I have kids who just finished fourth and second grade, and Luna's proposals were a big surprise to everybody," Michael Lanza, the freelance writer behind the Idaho repeal campaign, said. "We were alarmed by it. We thought it sounded terrible. The more we spoke with other parents about it, the more we realized we were far from alone in that feeling."
So he joined with another local parent and held a rally that attracted a crowd of about 1,000. That's "a lot for Boise, Idaho," Lanza said.
His group, which affiliated with the Idaho Education Association, collected enough signatures to put the measures -- dubbed the "Luna laws" after the education superintendent -- on the 2012 general election ballot. On Monday, Idaho's Secretary of State made it official by certifying the referendums.
Luna is not surprised. "I anticipated with the size of the teachers union in Idaho that it wouldn't be that high of the bar [to a referendum]," Luna told The Huffington Post. "Having said that, I've told people that I've signed petitions for referendums in the past because I was engaged in wanting something changed in state law or state statute. I understand the process and support it."
According to the Coeur d' Alene Press, Luna and Gov. Butch Otter have been stumping for the laws since Monday.
Luna stressed that these engagements are not campaign speeches. "As superintendent, you give a number of speeches every week," he said. "We go out and we explain the laws to people because they're new laws. We do that every year."
But that's not how Lanza sees it. "We're switching gears into campaign mode," he said, adding that his group might try raising money for the first time.
Luna said he was going to focus his time on putting the new laws into practice. "We're going to fully implement these laws, do them effectively and let the results speak for themselves," he said. "They'll see that the doomsday scenario the teachers union is expecting will not have happened."
Meanwhile, Luna himself is also subject to a separate recall campaign that is still collecting the needed signatures.
"The same people that elected me last November, they're going to exercise the same wisdom as to whether I should be recalled," Luna said. "I don't lose any sleep over it at all."

Related
Popular in the Community