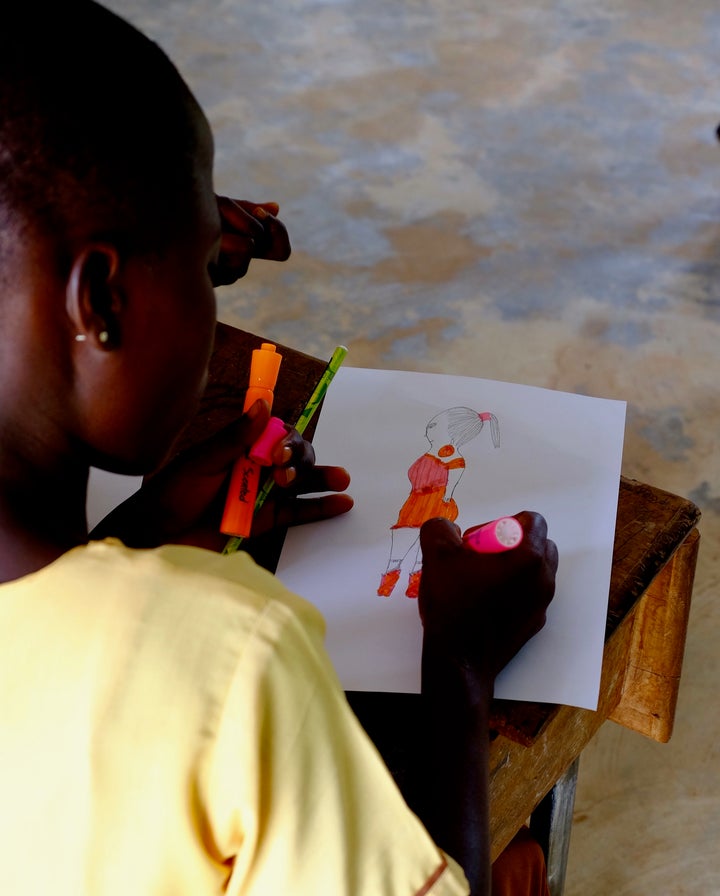 Education matters. A girl deprived of her education is a violation of her fundamental rights.
The Government of Ghana has long been aware of the challenge. Years ago, the Ghana Ministry of Education and Education Service deputized Girl Child Coordinators to every school district. But these offices are unstaffed and minimally equipped to investigate the reasons why so many girls remain out of school; determine what it will take to bring them back; and do what it takes to enable each girl to finish her education and know she can succeed.
In Ghana's Ashanti region, WomenStrong International and our local Consortium Member, the non-profit Women's Health to Wealth (WHW), have seen an increasing number of out-of-school girls in the communities surrounding Kumasi, where we operate Mobile Women's Health Clinics and Girls' Clubs programs. All were pregnant or new moms, most were anemic, and none – even those in their last trimester -- had attended a prenatal clinic. None had received any financial support from the men responsible for their pregnancies, increasing the already severe economic pressure on the families of these girls.
A group of local women leaders decided to do something. Collaborating with WHW, they established a mentoring system whereby an adult female would help each pregnant girl eat right and take care of herself, accompany her to prenatal visits and to the hospital for her delivery, and coach her once the baby was born, in breast-feeding, family hygiene, infant care, and the importance for the new mother of returning to school.
Little by little, women leaders in four other local communities heard about the initiative and decided to create their own mentoring programs. Emboldened by their successes with individual girls, the mentors got backing from local law enforcement to demand that the "runaway fathers" cough up some child support for the mother and baby. This modest support, together with the babysitting during class times provided by the mentors and mothers, made it easier for the girls to return to school.
Once back in school, the girls can benefit from WomenStrong's and WHW's supportive supplementary Girls' Clubs curriculum, facilitated by female public school teachers trained by WHW. Rejoining a sisterhood of girls can be crucial for that formerly isolated pregnant teen, as she navigates reentry to an entire school community, and the girls have told us how much they have appreciated being wrapped in this support, from their mentors, their families, teachers, principals, and peers.
After about a year, the remarkable efforts of the five mentoring groups prompted more community leaders to form a single oversight structure that could support the mentors as they sought to ensure safe pregnancies and deliveries for the girls and their babies. With WHW, the new Community Management Group sponsored a series of stakeholder meetings to sensitive their communities to the growing numbers of pregnant out-of-school girls in their midst, and the need to act.
During these frank discussions, community members were asked what was fueling this crisis. Many issues were raised, including longstanding concerns about young men and boys beating girls who refuse their sexual advances, and older men forcing themselves upon women, in exchange for a favor or as the price of her job.
Community members said that local men seize their wives' income, rejecting their preferences for how to spend their hard-earned cash, whether for taking a sick child to the clinic or for family planning. In any case, they said, men prioritize their sons' education over their daughters, and refuse to pay their daughters' school fees, and men and boys are reluctant to care for the girls they had impregnated and their offspring. Broken marriages and polygamous relationships exacerbate this neglect by men, especially of their girl children.
The situation had reached crisis proportions, everyone agreed, and community members agreed on a four-pronged plan to:
Help educate teens, community members, and local church and mosque groups about gender-based violence;
Create a monthly forum for the adjudication of child support issues;
Work with men on domestic conflict resolution and child support;
Double down on their mentoring program, to get every out-of-school girl back in school.
Local government officials and religious leaders -- male and female, teachers and principals, Girl Child Coordinators, District Supervisors, sheriffs, municipal assemblymen, pastors and imams -- are all fully on board. Alarmed at the looming waste of human capital, and impressed by the communities' strength and initiative in rallying behind their girls, the Girl Child Coordinators and District Supervisors now hope to train teachers in more districts to use our Girls' Clubs curriculum.
This model of bottom-up, women-led community development – linking girls and their mothers and fathers to local government, pointing the way toward inclusion, empathy, and education for all -- is what we do at WomenStrong International. It's what Women's Health to Wealth does, in each and every community around Kumasi. Short of the world coming through on the financing needed to assure every girl and boy the education they deserve and need in order to thrive, it's a hopeful, proven way forward.