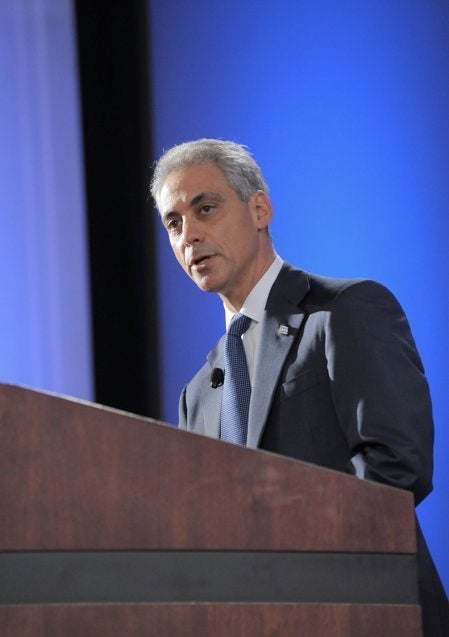 Reiterating many of the themes that won over voters in February, Mayor-elect Rahm Emanuel spoke before a group of educators, politicians and business leaders Thursday night, pledging to fix Chicago's ailing school system.
"There is nothing wrong with the Chicago school system that cannot be fixed by what's right with the Chicago school system," Emanuel told a packed auditorium at the Field Museum.
Attendees, which included everyone from teachers to Lt. Gov. Sheila Simon, Department of Education Assistant Secretary Peter Cunningham and new Chicago Public Schools CEO Jean-Claude Brizard, were gathered for Education Nation, a panel discussion on how to fix our nation's schools.
The statistics are dire. Panelist Cheryl Hyman, chancellor of the City Colleges of Chicago said 90 percent of her incoming students are not college-ready. Half of those students, she said, need remedial classes in all three categories – math, reading and writing.
The panel's focus was on creative alternatives to educational problems, with Hyman the only educator on the five-person panel. The rest were Chicago business and civic leaders such as philanthropist Penny Pritzker and Groupon co-founder Brad Keywell.
Unlike Emanuel, Groupon co-founder Keywell said many of the solutions to problems like high drop-out rates and underfunded classrooms must come from outside CPS. But it's a hard sell, he said.
"The system has built barriers … bizarre walls I can only attribute to bureaucracy and historical tradition," Keywell said, relating a story of how his company's plans to "adopt" a nearby school were killed by red tape.
In his opening remarks, Mayor Richard Daley praised contentious charter schools as a way to help prepare children for college and the working world.
"A monopoly does not work. It never works at all. And finally we realized we need competition and those charter schools are public schools. Those contract schools are public schools," Daley said. "It isn't them versus us. It's all of us together, how well we prepare our children."
Emanuel is focusing many of his hopes on Senate Bill 7, a union-endorsed measure which would strengthen the role of the Chicago school board.
"What happened here in Illinois with Senate Bill 7 could be a game-changer for the country," Cunningham said.
Cunningham attended the event in lieu of Education Secretary Arne Duncan, who was scheduled to speak.
Chicago schools have been under mayoral control since Daley won a legislative battle in 1995. SB 7 would increase the power of the board Emanuel picked, including the power to lengthen the class day, an Emanuel campaign promise.
Currently, the average school day is from 9 a.m. to 2:45 p.m., although some schools run from 8 a.m., letting children out at 1:45 p.m. Emanuel said this is putting Chicago behind major cities like Houston, which has about an hour more of school a day.
"That will end as soon as the Legislature passes that bill because the governor's ready to sign it," Emanuel said. The bill passed the state Senate unanimously in April, with 54 voting yes and five members not voting. It's waiting first reading in the state House.
Education Nation is an NBC initiative setting similar discussions across the country. It next goes to Los Angeles. The "Education Nation Experience" installation on the plaza in front of NBC 5 Chicago Studios is open to the public through Saturday, May 7.
Calling all HuffPost superfans!
Sign up for membership to become a founding member and help shape HuffPost's next chapter