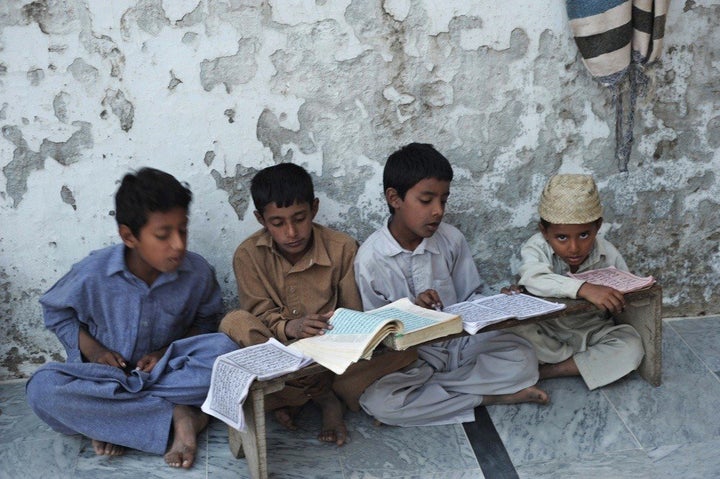 I recently interviewed Mr. Abdul Kader Jaffer, former Pakistan High Commissioner to the United Kingdom, who formed the Ahmed E.H. Jaffer Foundation in 1996 in memory of his late father. The Foundation has initiated a not for profit School of Excellence -- The Hub School -- a boarding school for 800 boys which will surpass existing standards of education in Pakistan. This will be followed by a boarding school for girls and finally a University of national importance in the outskirts of Karachi on 240 acres of valuable land donated by his family.
Education is a Jaffer Family legacy to Pakistan. The Islamia School in Pune was founded in 1907 by Ahmed E.H Jaffer's great grand Father Khan Bahadur Haroon Jaffer. His grandfather Sir Ebrahim Haroon Jaffer organised the first Muslim Educational Conference in 1920. His late-father Ahmed E.H. Jaffer introduced reforms as a member of the Indian Legislative Assembly in 1940 and later after partition in the Pakistan Legislative Assembly he raised several bills and motions for improvement and increase in the allocation for education.
Rahim Kanani: How would you characterize the main challenges and opportunities facing Pakistan's education system today?
Abdul Kader Jaffer: As you are aware Pakistan is a very important country in the South Asian region. Regretfully our past governments have not given the promotion of education the priority it deserves. It simply means that there was a lack of political will to invest in education to the extent that one wonders if Pakistanis ever understood the true importance of education since Pakistan's inception in 1947.
The overall challenge and opportunity in Pakistan's education system today, is creating what the Friends of the Hub School Board likes to call, 'Intellectual Infrastructure' of Pakistan. Our present leaders and economist talk of the importance of the physical infrastructure, however few realize that the 'Intellectual Infrastructure' is at least as important as the physical infrastructure if not more. The biggest piece of this infrastructure is to create quality educational opportunities within Pakistan, rather than having wealthy Pakistanis sending their children overseas.
The widening socio economical gap is another challenge. Approximately 55 percent of our population is food insecure. Factors such as natural disasters, the earth quake in 2005 and floods in 2010, the worse in Pakistan's history if I may add the internal mismanagement by the government and poor infrastructure in the rural districts has created a situation where education becomes less of a priority for the poor who are struggling to make both ends meet. This has also left a vacuum for rampant extremism, which is directly related to poverty and lack of broad based education. Therefore it is now supremely important for people like us in the private sector to actively get engaged in filling the gap which exists so evidently.
Rahim Kanani: What inspired you to create The Hub School and what makes this endeavor distinct from other educational ventures?
Abdul Kader Jaffer: Having come from India at the time of Partition and having grown up in this beautiful country with so much potential and having had the best in life I could have ever wished for I felt my duty as a citizen of this country to pay back something significant which could contribute greatly to the creation of good leadership in all fields for a prosperous and enlightened Pakistan. I also found that quality human resources were not matching those found in our region and Pakistan's economy and development were being hampered by lack of good human resources, which can only be created with broad based quality education.
This feeling was not only innate but binding upon me as a follower of a century old commitment of my family to Education. My great grandfather Khan Bahadur Jaffer established a school for Muslim girls in 1907, in Pune, India. My grandfather Sir Ebrahim Haroon Jaffer organized the first Muslim Educational Conference in 1920. My late father Ahmed E.H. Jaffer introduced reforms as a member of the Indian Legislative Assembly in 1940 and later after partition in the Pakistan Legislative assembly raised several bills and motions for improvement and increase of the allocation for Education. Thus after completing my tenure as Pakistan's High Commissioner to UK in 2003, with the help of the then President Musharraf and my friends we laid the foundation and started construction in 2007 for a Not-for Profit boarding school of excellence for 800 boys which will produce leaders of tomorrow.
What makes the school unique from other educational institutions in Pakistan is twofold. Firstly, the schools mission statement not only provides for education of the highest contemporary standards but also its execution. Our facilities are no match for other educational institutions in Pakistan. For example, a few characteristics of the Hub School are:
Cambridge International Examination curriculum to be followed by International Baccalaureate immediately after approval is received
Mix of international and local faculty
Optional languages in Urdu, Arabic, French, Chinese and Spanish
International exchange programs
5km running track and cricket field
Horticulture
Olympic size swimming pool
Equestrian centre
An innovation suggested by our British headmaster was to have an art and technology block, which we have established to create in our students an interest to explore their preferences earlier in life. This block contains an art gallery, metalwork and carpentry workshops, which will provide vocational exercises. These features make The Hub School a boarding school of excellence that offers the benefits of international boarding schools at a fraction of their cost. It is an excellent option for Pakistani expatriates seeking to provide early years of education to their kids in Pakistan.
Secondly we strive to provide quality education to all deserving students irrespective of the status quo or financial condition on merit and aptitude. Our approach is based on the widely accepted model of successful educational institutions in the world where a small percentage of the students pays in full while majority is on a need based financial aid. The 'Robin Hood model' as I like to call it. We plan to provide full scholarship on merit to 15 percent of the students. My aim is to increase this to at least 50 percent deserving students as soon as it becomes economically feasible.
Rahim Kanani: How has your past experiences in government, business and otherwise informed both your passion and decision to embark on this venture?
Abdul Kader Jaffer: A time comes in a person's life where he realize that he must stop chasing after money and pay back to the country that has given them so much. I realized this in the three years that I was in London where I went through government's letters and saw the situation first hand. For my part, I am paying back by embarking on this noble project with a vision to make it the best in the region. It is heart wrenching to see the brain drain taking place in my country. Already the strains of the brain drain can be noticed when there is a serious lack of quality research coming from our institutions. Only when there exist schools that nurture youth with leadership skills and ambition will parents here stop sending kids to study abroad.
Rahim Kanani: What challenges do you face in particular with the launch of this project?
Abdul Kader Jaffer: However modest I may try to sound I can't say that embarking on this project was an ordinary task. Our people suffer from pessimistic thinking which is very contagious. By the grace of Allah I have been fortunate in not only having a strong determination to move ahead with this project but also having implicit Faith in Almighty and having very good friends, who have given their time, money, guidance and above all encouragement in the launch and construction of the school. The biggest challenge in this project is funding. Only international donors like USAID and others can truly assist promoters like us to build educational institutions similar to those available in U.K. and U.S. It is therefore most regrettable that my effort with USAID has not created interest in USAID of supporting this pioneering project that would be a centre of excellence and will become a model for others to follow.
USAID has been instrumental in providing funds for flood relief as well as other sectors. Its Fulbright Scholarship program is very popular among the 1 percent higher education seeking youth of Pakistan. At present however it is committed only to public sector education. It is a well-known fact that public sector education has to come a long way before it can be treated at par with what the private sector offers. Private not-for-profit institutions have highly qualified faculty and professional management with years of experience in their respective fields, and a board that comprises of businessmen and philanthropists genuinely interested in education and is fully supportive of the institution. Therefore USAID needs to give priority to Not-For-Profit Private School/Universities as they could provide much better return to Pakistan in the long run.
As the breed of ultra-radical Taliban have destroyed hundreds of schools in the country. It is thus obligatory on part of the U.S. government to ensure that AID that comes to Pakistan is placed in sincere hands so that our younger generation acquires quality education through those who manage these funds honestly and with commitment. There will be no need to fund a war on terror from American taxpayers in the future if Pakistan's younger generation is peaceful, tolerant and educated.
Rahim Kanani: If you were to name three policy reforms that Pakistan's Ministry of Education should consider enacting in order to better the national education system, what would they be?
Abdul Kader Jaffer: 'The lapse in providing quality education' I say is an incomplete statement, I would like to add the phrase, 'and a will to strive for quality education' for I believe that the low 50 percent literacy rate of the country is the failure of not only the government but the Pakistani people.
This year has been titled the year of Education by our Prime Minister Mr. Yousuf Raza Gilani and rightly so because a large part of our population needs to have improved the basic education. Quality education is the best gift parents can provide their children and they should make sacrifices to do so. This is one of the reason why there has been such poor political will to follow through with educational reforms in the past. Countries poorer then Pakistan manage to send more kids to primary schools which is disturbing. Thus no matter what educational policies are enacted they need to be firmly backed and owned by the leadership of the country.
Once there is a will to achieve and provide broad based education the policies will take effect.
The first thing that the government should do is to develop a clear-cut policy on Education with priority and parameter which focuses on creating better human resources for the future. This will mean in the short term increasing the funds and grants to existing institutes of higher learning and in the long term allocating funds for establishing more institutes of higher, secondary and primary learning respectively. The policy should strongly engage the Not-for-Profit private sector to be a part of this overall national effort.
Secondly revision of the entire curriculum being taught in public schools to bring it at par with international standards and specially to remove radical elements from primary and secondary texts books so that children at a tender age are not exposed to these ideas.
Thirdly, to devise a system of implementation to ensure that the policy measures and resources available are utilized to the best advantage.
Rahim Kanani: What are some ways in which Pakistan can move towards the advancement of women and girls in order to allow them better access to educational opportunities?
Abdul Kader Jaffer: I believe women in Pakistan are empowered a lot more than they were here a decade ago. There is already realization that women and girls especially in the metropolitan cities should get education. This however needs to be expanded to such a degree as is available to men and boys. Education for women and girls must be strongly advocated and encouraged to overcome religious and social inhibitions. Again, this will require a change in mindset where traditionally a woman's role is confined to her house and it is taboo to consider otherwise in many households. The Hub School will initially educate approximately 270 boys in the first year with the number going up to 800 boys in five years. In the second phase the project will be expanded to include a girl's boarding school of equal size and a co-educational national university in 5 -7 years.
Another situation our society faces and this is common among many urban households is that young girls get married off as soon as they complete their basic education. People do not realize that restricting the ambitions of young girls renders them disadvantaged economically and is only a step above not letting them study at all. Government and specially institutes of higher learning should make it binding for the graduating girls to practice the skills they have acquired in class out in the field for sometime so that they learn how to make it in life on their own and become positive contributors to the family and economy.
Rahim Kanani: What are you most worried about with regard to Pakistan's educational future?
Abdul Kader Jaffer: By far the biggest problem faced by Pakistan holistically is high population growth. We have a growth of about 1.573 percent, which has been reduced from 2.1 percent but is still a cause for great concern. According to Pew Research Center based in Washington, Pakistan's population is expected to reach to a staggering 256 million by 2030. These people will need to be clothed, fed, housed and educated when already we are far behind the millennium development goals.
I get shocked when I hear educated people having large families on religious grounds. A concerted effort needs to be made by the government in collaboration with the private sector and religious scholars of the country to control the population growth and to some extent this can be done by widespread education.
Rahim Kanani: At the same time what are you most optimistic about?
Abdul Kader Jaffer: My friends in the army, education ministry and other government departments and the private sector have all pledged their assistance by showing great confidence in my vision by providing consultation in the form of business development, marketing, horticulture, ambassadorship and many other areas. Also my friends in U.S., U.K. and other countries have also lent a helping hand. My family and specially my wife have been with me since day one of this journey and I would here like to thank her for endearment and support throughout my professional and personal endeavors. The parents who have enrolled their kids for admissions truly believe in my vision and are very involved with the management.
It is in such moments that I think that this project does not belong to the Ahmed E.H Jaffer Foundation alone but to the Pakistanis all over the world. I hope that when I leave this world one day the vision of this boarding school of excellence for all on merit will not only remain forever but will be followed by others in similar position and duplicated in other cities of Pakistan.
REAL LIFE. REAL NEWS. REAL VOICES.
Help us tell more of the stories that matter from voices that too often remain unheard.