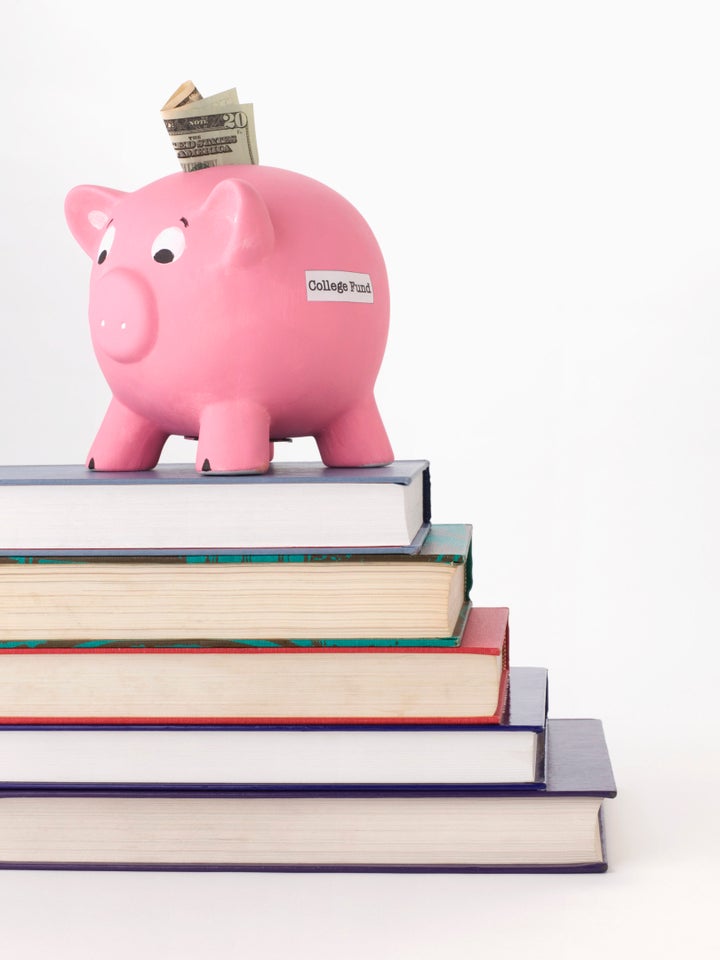 Include this life line in your divorce settlement.
On June 29-30, 2011, President Bill Clinton brought together over 750 CEOs, NGOs, Nobel Prize winners and young entrepreneurs to figure out how to put America back to work. Why? There are three million jobs that are unfilled today. Filling those existing positions would go a long way to putting America back to work. So what's the hold-up? The biggest reason for so many unfilled jobs is that too many unemployed Americans lack the skills and education needed to fill the available positions. Which is why setting up a college fund (not just the "promise to save" but an actual fund) for the kids is gold in your divorce settlement--as much as custody and alimony.
Today, Americans without an education are seven times more likely to be without a job. There is 15% unemployment among Americans without a high school diploma. Meanwhile, almost everyone with a doctorate is working -- with only 1.9% unemployment among PhDs. As you can see in the graph below, education pays in dollars, too. PhDs earn almost four times as much as someone without a high school diploma.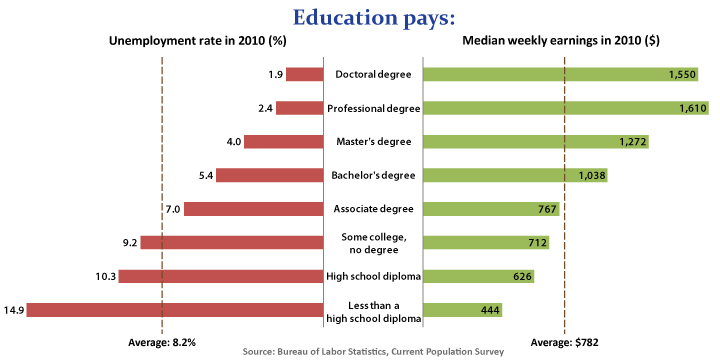 While not all jobs require a degree, new jobs quite often require acquiring new skills. Of the 3 million jobs that remain unfilled at this time, lower-skilled work, like construction and manufacturing, remain the weakest areas of the American labor market.
There are some initiatives that are helping to solve the skills and education gap. Georgia Works allows employers to recruit, train and then hire staff. As Michael L. Thurman, Georgia's former labor commissioner, explains, with this initiative, the employer gets to "audition" the employee. The Bay Area Medical Academy takes welfare recipients and others on the fringe of society and teaches them to become medical assistants in the San Francisco area. The Green City Force trains and hires young workers to paint rooftops white in New York City. This simple strategy reduces the temperature on the roof by up to 40 degrees and can cut the energy bill in the building by up to 18%. However, far too many of the uneducated labor force in the U.S. are slipping into unemployable status.
The Honor System
I've spoken to many divorcees who had divorce settlements that mandated money aside for college, only to discover when it came time to pay tuition that no funds had actually been saved. Or the college fund had been drained to pay other bills. It's difficult, expensive, time-consuming and simply too late to try and go back to court for a judgment in time to keep your kid in college. (College admission is very competitive these days.) That is why setting up a 529 college fund that both parents are able to monitor annually (at minimum) is a safeguard against this disaster. But which brokerage and which fund are best?
529 College Savings Plans
529 College Savings Plans vary dramatically, so much so that FINRA.org, the Financial Industry Regulatory Authority, has issued an Investor Alert, warning Americans that "investors may be shortchanging themselves by investing in 529 college savings plans with high fees [and] plans that currently do not offer them state tax benefits." The FINRA.org Investor Alert offers "8 easy lessons that, if followed, will help you make smart college savings plan choices."
Once you set up the right fund, the great news is that if the winds of Wall Street fall in your favor, over time, your monthly investment and gains can compound - providing your college student with far more for that Ivy League (or Junior College League) education than you could have ever saved.
Careers of the Future
Creating the college ethos (in both homes) is just as important as setting up the funds. So be sure that both you and your ex are reinforcing the value of STEM (science, technology, engineering and math) to your tweens. STEM underlies almost every job today. Even car mechanics are working on computers.
Biotechnology, technology, smart phones, cloud computing, health services and engineering companies are hiring at a rapid pace, and some of these professions - especially in computer technology -- have more jobs than applicants. But other emerging industries are on the horizon as well. If Secretary of Energy Dr. Steven Chu and President Obama have their way, clean energy will become a major driver of American industry going forward. And not just to reduce global warming. This focus on clean energy is intended to put the U.S. in the forefront of one of the strongest new global growth industries.
According to Secretary Chu, "The world will demand clean energy and high energy products. This is an international competition. We still generate the best ideas in the world." Currently, clean energy companies in the U.S., like Applied Materials, KLA Tencor and Veeco Instruments, are leading Wall Street in revenue growth, having more than doubled sales over the past two years, with 80% of the revenue coming from Asia.
As President Clinton pointed out at the CGI America Conference, "We're spending too much money on today and yesterday and not enough on tomorrow." When that is the case in a divorce, it could end up costing you a ton of extra money and sleepless nights down the road. You don't want to end up with an unemployed 26-year old sleeping on your couch.
About Natalie Pace:
Natalie Pace is the author of You Vs. Wall Street and the founder and CEO of the Women's Investment Network, LLC. She is a blogger on HuffingtonPost.com and a repeat guest on national television and radio shows such as Good Morning America, Fox News, CNBC, ABC-TV, Forbes.com, NPR and more. As a philanthropist, she has helped to raise more than two million for Los Angeles public schools and financial literacy. Follow her on Facebook.com/NWPace. For more information please visit NataliePace.com.

Related