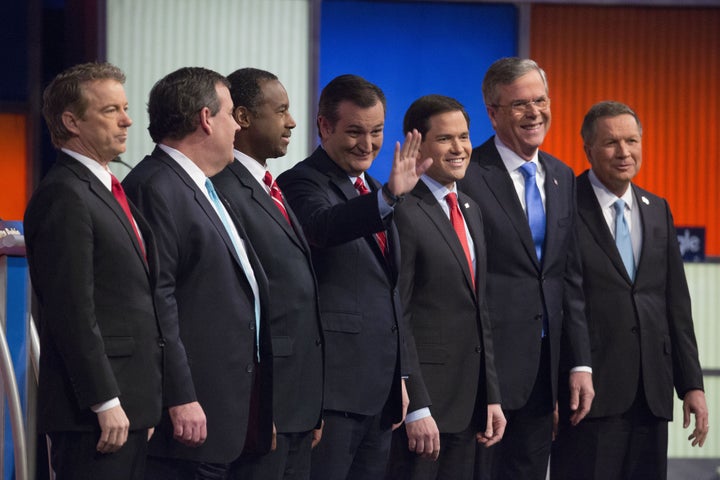 If a voter wants to learn about which presidential candidate will be best on education policies, they'll likely hear some ideas at the Democratic debate on Thursday. At Saturday's Republican debate, however, don't hold your breath.
GOP candidates have discussed education just 11 times in 14 debates, compared to more than three dozen mentions by Democrats in only four debates, analysis shows.
Most of the mentions have focused on Democratic proposals to provide either free college tuition or debt-free higher education, which has become a major issue on the blue side of the aisle. However, only a few Republicans still in the race -- Sen. Marco Rubio (R-Fla.), Former Florida Gov. Jeb Bush and Ohio Gov. John Kasich (R) -- have actually discussed education policy beyond a passing reference.
Sen. Bernie Sanders (I-Vt.) has attracted significant support from voters under 30, dominating this week's Iowa caucus among the youth vote, in part thanks to his tuition-free college proposal, expected to cost $750 billion over a decade. A debt-free college plan from Hillary Clinton is among her most expensive policy proposals, tagged at $350 billion over 10 years. Both candidates often bring them up at rallies.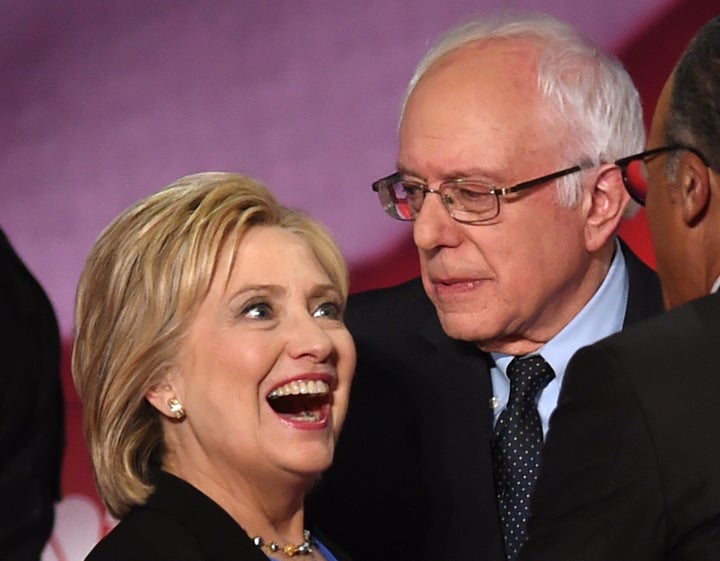 The Huffington Post's analysis of transcripts from each of the 14 Republican presidential debates, which includes both undercard and the main debates, shows the candidates only discussed education in earnest 11 times.
In 12 of the GOP debates, no candidate even uttered the word "teacher." In the other two debates where the word was used, it was in the context of the taxes that a teacher married to a cop would pay, and about governors who sparred with teacher's unions.
Looking at the first four official Democratic debates, not including the extra forums, the candidates have talked about education policies at least 38 times. (Because Democrats have talked about college affordability extensively, it's somewhat more difficult to count.)
Some Republican candidates mentioned college or education a handful of other times that we did not include in our count because they were just references in passing:
Former Arkansas Gov. Mike Huckabee and Neurosurgeon Ben Carson both mocked Sanders' free college plan.

Ex-HP executive Carly Fiorina briefly stated that the federal government was responsible for the student debt problem, but didn't say anything else about it and instead pivoted to talk about the Federal Communications Commission.

Former Pennsylvania Sen. Rick Santorum talked about helping people who did not go to college find jobs in five debates before he bowed out of the race.

Sen. Ted Cruz (R-Texas) mentioned graduates being in student debt "up to their eyeballs," but didn't discuss the issue further.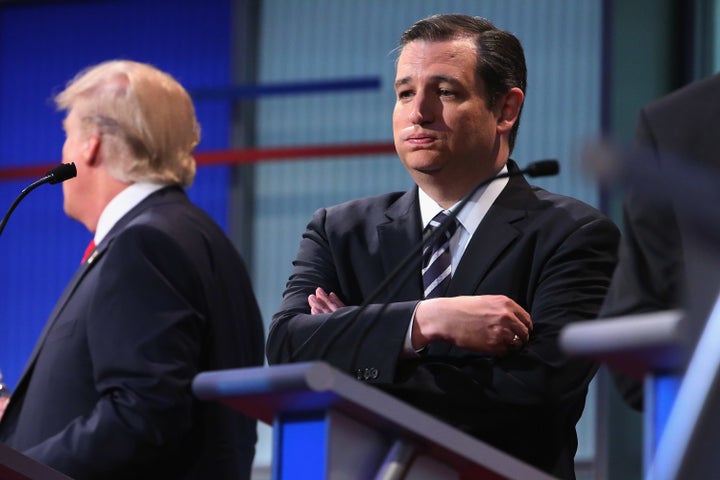 Among the more substantive discussions in debates about education, Louisiana Gov. Bobby Jindal and Wisconsin Gov. Scott Walker talked about policies in their state during their terms, but they've both dropped out.
Bush and Kasich, who are both still in the race, also talked about education policy during in each candidate's time leading their states. Bush talked about Common Core and tuition rates in Florida. Kasich discussed having Ohio State University privatize parts of their campus as a way to bring costs under control, and his plan to consolidate programs in the federal Department of Education.
Rubio has talked about higher education more than any other presidential candidate on the Republican side. He called higher education in the U.S. "too expensive, too hard to access," and insisted it isn't teaching "21st century skills," nor making vocational training easy to access.
"For the life of me, I don't know why we have stigmatized vocational education, Rubio said in the fourth debate. "Welders make more money than philosophers. We need more welders and less philosophers."
Bush and Christie also talked in the very first debate about fighting teachers' unions, and Rubio touched on school choice and expressed skepticism about Common Core curricula.
Clinton has also touched on early childhood education in the debates. The former first lady and Secretary of State has the endorsement of the nation's two largest teacher's unions, the National Education Association and the American Federation of Teachers.
In addition, Sanders talked about his wife's work with after-school programs for kids, at a child care center, and how she started a youth newspaper, as reasons why he believes she'd be a strong advocate for kids.
Popular in the Community