The splashiest education reform wars in recent years have been the province of big-city mayors. New York's Michael Bloomberg (I) and Chicago's Rahm Emanuel (D), for example, regularly clash with teachers' unions and have become national spokesmen for controversial policies that include expanded charter schools and teacher evaluations based in part on student test scores.
Now there's a new group of Democratic mayors with an interest in education beyond the borders of their cities. And they're hoping to be more subtle about changing public education than their predecessors.
This week, four politically ascendent mayors from smaller cities -- Julián Castro of San Antonio; Angel Taveras of Providence, R.I.; Michael Hancock of Denver; and Kevin Johnson of Sacramento, Calif. -- kicked off a what they're calling the "Mayors for Educational Excellence Tour" in Denver. The goal, according to promotional materials, is to "learn how each city is helping spark significant turnarounds in their different regions of the country and how to scale these achievements." The group plans to visit all four of their cities by March.
That term often conjures images of Republicans, Democrats and hedge-fund donors who advance policies that promote charter schools and rigorous teacher evaluations, and has become so loaded that a school board candidate in Denver recently referred to it as the "r-word."
Even so-called reformers have recognized the shortcomings of their good-vs.-evil narrative. John White, the schools chief of Louisiana who made his name as a New York City deputy education chancellor under Joel Klein, recently gave a speech arguing reformers must adapt to survive. He said America's inherently populist tendencies will topple the movement if it doesn't move beyond the same old fights and self-righteous justifications.
White may be onto something, If New York's recent mayoral primary election is a sign. Bill de Blasio (D), the city public advocate, trounced his Democratic opponents by campaigning against Bloomberg's policies -- especially on education. He called for a moratorium on school closures, a centerpiece Bloomberg policy.
But for the touring mayors, the shift may be more marketing than substance. The tour is being underwritten by Education Reform Now, the 501c(3) group created by Democrats for Education Reform, a political group often credited with the bipartisan appeal of the reform movement.
"We must not get caught up on the reform word," said Hancock, of Denver. "Reform has connotations. it brings up a different level of opposition that is not necessary."
Castro felt similarly. "I don't care if we use the reform education reform or not," he said in an interview. "I try not to get involved in the back-and-forth about which camp we're in."
The substance of their policies differs little from their predecessors, but they speak more expansively about things like preschool. Hancock said he's aware of reform's pitfalls -- he said he's seen pushback from communities of color. Some Denver school board members face reelection, and the outcome may determine the fate of Superintendent Tom Boasberg's education policies, which include charter school growth, evaluations based on test scores, and shutdowns for failing schools. "They're the most important elections in the city," Hancock said.
Hancock said he spoke to Bloomberg recently. "He told me some of the candidates were running in opposition to his educational agenda," Hancock said. "It's one thing to run as a candidate and then be the person elected to make those tough decisions." On the tour, he said, he's looking forward to showing off a consolidated campus that goes from early education through 12th grade.
Castro made national headlines recently for a plan that sought to finance preschool by increasing the sales tax one-eighth of a cent per $1. "I want to display what we did in pre-K," Castro said. He said he hopes to expand preschool in his city to more than 22,000 4-year-olds over the next eight years. "If we can have success in a city like San Antonio, which reflects the demographic destiny of the nation, we can have success for much of the nation in the future," he said.
Taveras, of Providence, is weighing a gubernatorial campaign. He told HuffPost he'd decide whether to run by year's end. He decided to join the tour, he said, because "I have a young baby myself. … I'm the son of an immigrant, and education made all the difference." He added that he hopes the tour will help build consensus for his education policies among teachers. But the broader exposure of the tour gives him extra visibility before stepping into state politics. It also positions him to make education an election issue -- and to tap into Democrats for Education Reform's deep-pocketed donors.
In Providence, Taveras said, the biggest educational challenges concern getting third-graders reading at grade level, reducing chronic absenteeism -- and of course, teacher evaluations. "I feel there's a consensus -- we have to do it, the teachers have said we need to improve evaluations," he said. In 2011, under Taveras' leadership, the Providence school board voted to fire all of the city's teachers for budgetary reasons, but many ultimately kept their jobs. Taveras also came under fire for calling for the closure of four schools that year.
Of course, Johnson's inclusion in the group may undermine the tour's intentions of getting beyond the r-word. He is married to former Washington, D.C., schools chancellor Michelle Rhee, the reform movement's standard-bearer.
Before You Go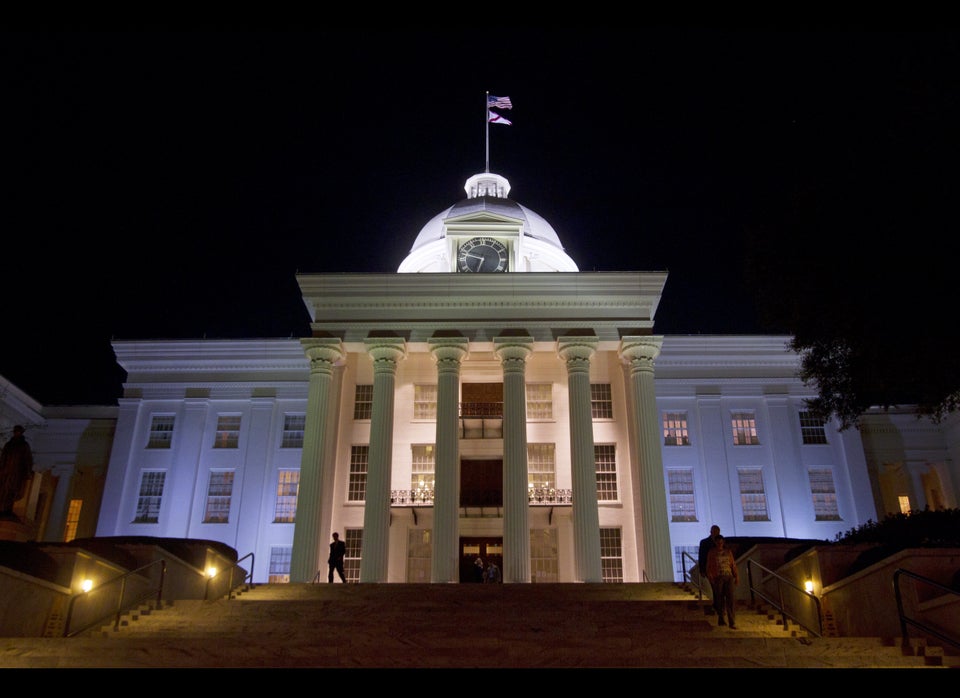 U.S. State Capitol Buildings
Popular in the Community