An August 2011 study by the Georgetown University Center on Education and the Workforce confirms what teachers, parents, and public and private sector leaders have known for years: A postsecondary education is now the gateway to the middle class. The Georgetown study indicates that the lifetime earnings for people with bachelor's degrees are 84 percent greater than those with only a high school diploma -- whose lifetime earnings translate to just over $15/hour.
For the undereducated -- those who have been left behind in the race between technology and education which has fueled global economic growth since World War II -- today's employment and earnings statistics are beyond dire. In a third-quarter 2011 study, The Milken Institute reports that "the median earnings of all men ... with less than a high school education ... have declined by 66 percent [not a misprint]," and that members of this group have experienced a "23 percentage point decline in the probability of having any labor-market earnings [emphasis added]."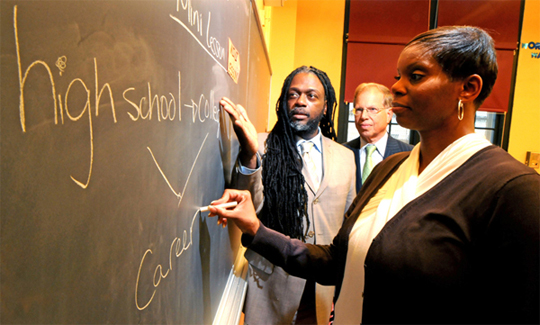 In Brooklyn, N.Y., teacher Tanya Spence (right), Principal Rashid Ferrod Davis (left) and IBM Citizenship Vice President Stanley Litow prepare for a class at Pathways in Technology Early College High School (P-TECH), a new type of school sponsored by IBM that helps students attain the skills for careers in the technology industry. (Bob Goldberg/Feature Photo Service for IBM)
Thomas L. Friedman writes in The New York Times that "globalization and the information technology revolution have gone to a whole new level," so that "to get into the middle class now, you have to study harder, work smarter and adapt quicker than ever before." Many good jobs still exist, Friedman observes, but they require "more education or technical skills." Friedman's conclusion: We have a skills problem, not a jobs problem.
By 2018, according to the Georgetown study, 63 percent of American jobs will require some form of post-secondary education or training. Today, even though more than half of U.S. companies say they can't find qualified employees, only 41 percent of all Americans hold a college degree (the U.S. ranks 10th on this measure), and a mere 30 percent of young adults finish their Bachelor's. Our young people are getting the message about the need for advanced education and training, but they're not getting the preparation and support they require.
For the overwhelming percentage of American high school graduates who seek to improve their lot by pursuing advanced learning in our community colleges, the actual graduation rates from associate's degree programs represent a stunning disappointment. In some cities, as many as 93 percent of community college students fail to graduate even after spending six years in pursuit of a two-year degree. And for students needing remedial science and math education, the dropout rate by the end of the first semester at some institutions is a mind-blowing 99 percent. Clearly, the bar has been raised. But our school systems are failing to prepare our children either for immediate employment in growth fields where they can build long-lasting careers, or for post-secondary educational success. The system is broken, and the time for a new education model isn't next year or even next week. It's now.
The only way to close the skills gap and give our children a meaningful opportunity for future prosperity is for all of us to work together and work smarter. Education is no longer just a "schools" problem, and collaboration and commitment from parents, teachers, students, and the community -- including the private sector -- is essential to turning things around.
In Crown Heights Brooklyn, an innovative new partnership among the New York City Department of Education, the City University of New York, the New York College of Technology, and IBM promises to deliver education, training, and real-world job skills to young people hungry for the chance to participate in the economy and contribute to society. It's called the Pathways in Technology School, or P-TECH for short.
P-TECH is a STEM Pathway grade 9 through 14 school that will provide its students with a seamless, rigorous and relevant six-year science and technology education leading to both a high school diploma and an Associate's degree in Applied Science (AAS) in Computer Systems Technology or Electromechanical Engineering Technology. Corporate mentors assigned to each student, teacher, and P-TECH's principal will help enrich the curriculum with real-world learning -- including the in-depth content knowledge and core employability skills that make P-TECH graduates ready for tomorrow's jobs or further education without the need for remedial work.
Many of the students in P-TECH's inaugural class of 130 ninth graders will be the first in their families to attain a post-secondary degree. In a market where the Bureau of Labor Statistics estimates the creation of 14 million new jobs over the next 10 years for holders of two-year degrees in such areas as computer science, P-TECH graduates will be first in line for entry-level careers at IBM and with other leading high-technology companies -- ready to begin and grow their careers without the burden of student loan debt.
To address the crises facing our educational system, and our lack of qualified applicants for tomorrow's good-paying technology jobs, the P-TECH model must extend beyond just one school, one neighborhood, or one city. All too often, our nation's school systems have tolerated wide-ranging mediocrity while championing a small number of successful schools. P-TECH has the potential to break that pattern of complacency and stand as a repeatable model for STEM Pathway schools anywhere that the public and private sectors are willing to collaborate to provide their children with the 21st century education to meet the world's need for skills. P-TECH has no special admissions criteria, and does not break school system budgets. And with mayors from around the country clamoring for their own STEM Pathway schools, the future of targeted education through the contributions of parents, teachers, students, and civic and corporate leadership looks bright.

Related
Popular in the Community