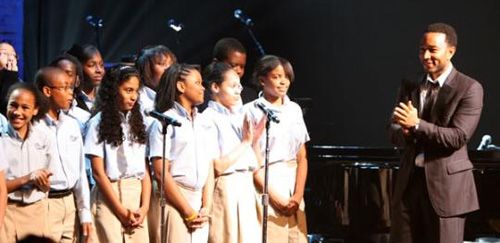 John Legend performing with students of Harlem Village Academies.
Today is a special day of reflection and renewal as we remember Dr. Martin Luther King Jr. and his fight for civil rights. While it is discouraging to recall the hate, bigotry and injustice that are inextricably tied to the civil rights movement, it also makes me hopeful. It gives me a sense of optimism because the civil rights leaders were able to take a sledgehammer to how we viewed and accepted the world around us. They shattered norms that had been around for generations. They imagined something and then peacefully forced it to happen. They made us believe in change.
We Americans know that change can happen. We have come a long way in the United States, the land of opportunity, the land of plenty, the land people risk their lives to get to. But even here, far too many people are left behind.
Historically, quality public education was one of the things Americans could always be most proud of. Even in the beginning, Thomas Jefferson said, "If the condition of man is to be progressively ameliorated, as we fondly hope and believe, education is to be the chief instrument in effecting it."
For a very long time, the United States invested in our education system. We made sure it kept up with the times and we led the world in almost every measure. But in recent years, that has changed. We used to be in first place in graduation rates. By 2006, we had slipped to 18th in high school graduation rates and 14th for college. Our high school drop-out rate is a shameful 30% and is much worse for minority and low-income students.
So are all of our schools bad? Absolutely not. Many are exceptional.
However, just 15% of our high schools are responsible for 50% of the dropout students and those schools are more likely to have a majority of students who are African American or Latino. So while Martin Luther King Jr. fought for our laws to not discriminate, our education system still helps perpetuate inequity. I think Melinda Gates put it best when she recently said, "Education is the key to opportunity, and the opportunity is not equal."
A good education is inextricably linked to our rights as American citizens. And it is appalling that a quality education is not considered a fundamental right. This is why I consider the education "achievement gap" between those students who are receiving a quality education and those who are not the civil rights issue of our time. It is fundamentally unfair that Americans' educational opportunities are so heavily influenced by the conditions outside of their control.
As a society, we have to ensure that every individual is given the opportunity to shine. We have to level the playing field. It shouldn't require a Herculean effort and great luck just to make it out of your neighborhood high school. We owe it to our kids to make sure they have the opportunity provided by a quality education.
I'm not saying it's going to be easy, but we have seen success stories around the country in schools that have done the "impossible." Now we just need to learn from these lessons. I happen to work with an amazing group of charter schools, the Harlem Village Academies. Their group of schools is only a few years old and many of their students come from challenging backgrounds that don't adequately prepare them for academic success. Yet when you walk the hallways there, you sense the dedication, discipline and hard work they and their teachers put in every day. You see the classrooms they have named after the universities that they envision themselves attending years down the road. Upon entry, their first class of 5th graders ranked in the lowest 20% of students. Three years later, they ranked #1 in math in New York. In the most recent tests, 100% of their eighth graders passed the state science test, 96% passed social studies, 92% passed reading and 100% passed math.
Now I'm hearing that some in the Legislature in this state want to make changes to New York's charter law that would make it harder to open up more schools like Harlem Village Academy. They see the progress these exceptional schools are making and, for some reason, think it best to slow them down. That is very disturbing to me.
The arc of the moral universe, as Dr. King said, is long, but it bends toward justice. An arc that stretches from Brown v. Board of Education more than half a century ago to these children here today. I sincerely hope that the legislative leadership in the New York state Assembly and Senate will step up and help bend that arc just a little more. Justice requires that the New York legislature lift the cap on charters and make more, not fewer, schools like this one possible.
Today, across the country, there will be many events to honor Dr. King. Personally, I believe the very best way to honor him and our civil rights leaders is to fight for social justice. And I believe the most important tool in the struggle for equality is to guarantee every American a quality education.
Dr. King said that, "History will have to record that the greatest tragedy of this period of social transition was not the strident clamor of the bad people, but the appalling silence of the good people." I will not be silent, and I hope you won't either.
Dr. King went to the mountaintop and he saw the Promised Land. Many of his dreams have come true, but if he were here today I believe he would say that we all need to keep going. There's still another mountain we have to climb. Let's get to work.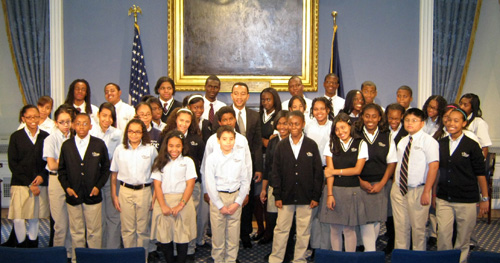 John Legend and the Harlem Village Academies kids at City Hall.
WATCH JOHN LEGEND, HUGH JACKMAN, JOSS STONE & PATTI LABELLE PERFORMING AT THE HARLEM VILLAGE ACADEMIES BENEFIT CONCERT:
WATCH JOHN LEGEND PERFORM "ARE YOU OUT THERE" WITH THE HARLEM VILLAGE ACADEMIES CHOIR:
Related
Popular in the Community