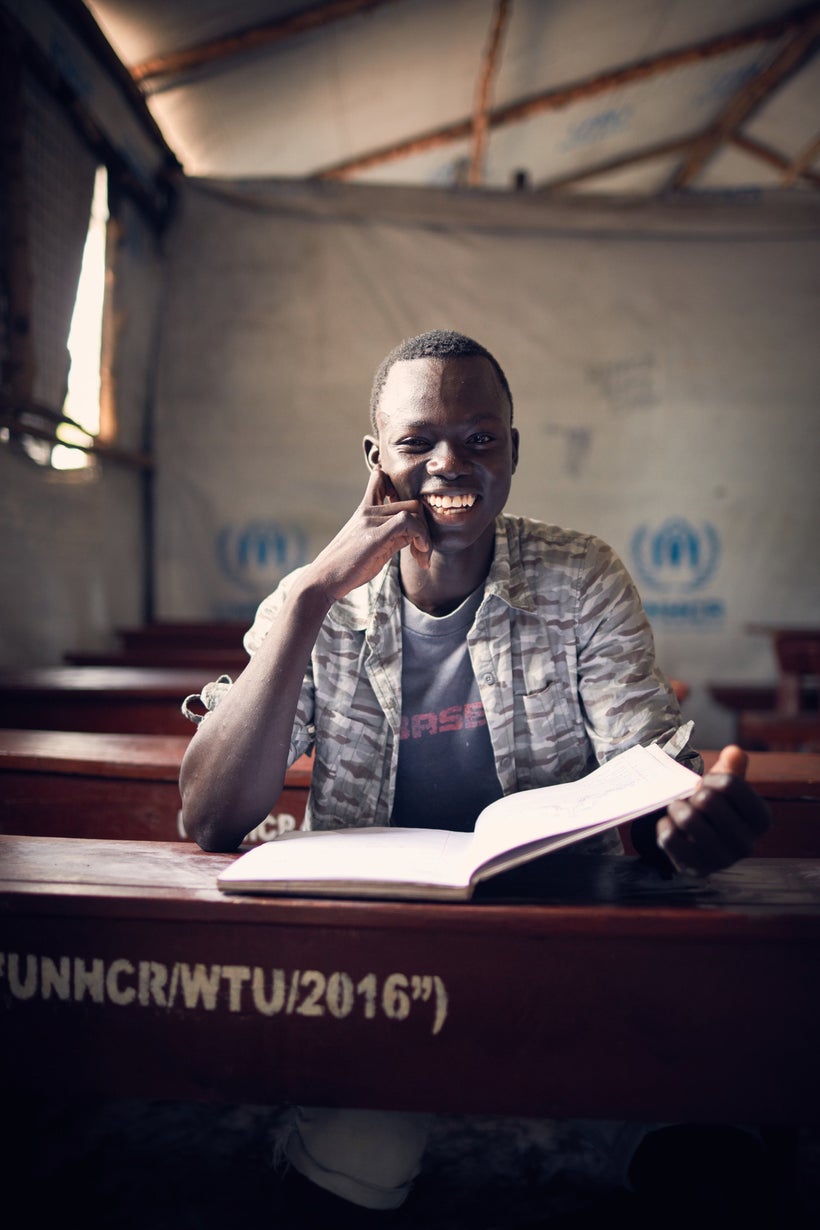 You don't have to tell Daniel, a quietly spoken but fiercely smart 14 year old, about the value of education. Six months ago an armed group went on a rampage in his village near Yei, the capital of South Sudan's Central Equatoria province, killing his father, and abducting his mother and sister. After fleeing into the bush, Daniel walked for five days to neighbouring Uganda.
He arrived with the clothes on his back, a pair of broken sandals, and his most prized possession – a science book. "I want to finish my education and become a doctor. Learning is my only hope for a better life," says Daniel.
That hope is hanging by a thread.
Today, half-a-million South Sudanese refugee children are living in refugee settlements across northern Uganda. The vast majority are out-of-school. Not that those in school are learning much. Most are packed like sardines into overcrowded tents or local schools lacking textbooks, let alone teachers who speak their language.
With one child crossing the border into northern Uganda every minute, the refugee education crisis is worsening by the day. Yet the response of aid donors has been a case study in neglect. Vulnerable kids who desperately need the stability, safety and – above all – the hope that comes with education have effectively been abandoned.
This week, UN agencies and the Ugandan government are convening a 'Solidarity Summit' on refugees. The aim is to mobilise international support for Uganda's refugee response. Agreeing a plan of action that delivers universal education for every South Sudanese refugee child should be a first order priority.
The refugee education crisis unfolding in northern Uganda is a sub-theme in South Sudan's descent into carnage. As the epidemic of killing, rape, and ethnic violence has swept across the previously stable Equatoria region bordering Uganda, a trickle of refugees has turned into a flood. Some 2000 have been arriving each day, over 80 per cent of them women and children.
Uganda has responded with breath-taking generosity to the refugee crisis. While many rich countries are putting up fences to keep refugees out and other host countries in Africa and the Middle East are tightening restrictions on movement and employment, Uganda has resolutely provided sanctuary and support. Refugees entering Uganda are provided with plots of land and tools. They can move freely, start their own businesses, and use local services. But the world's most open and compassionate refugee policy is under pressure from the sheer weight of numbers. Nine months ago Bidi Bidi was a hamlet with a few thousand farmers. Today, it is the world's largest refugee settlement. Designed to accommodate 100,000 people, it is now home to 270,000 – a population the size of Newcastle. It's the same story in other settlements.
Host communities are also feeling the pinch. The West Nile region, where most South Sudanese are settling, is desperately poor. Over 40 per cent live in poverty. Health, nutrition and education indicators are among the worst in Uganda: only one-in-five children complete primary school. Inevitably, the surge of refugees has brought with it pressures on services and resources.
The international community has lauded Uganda's refugee policy, but conspicuously failed to deliver financial support on the scale needed. Just 17 per cent of the UN's $673m appeal is funded – and education has received a pittance.
You can see the results in Bidi Bidi. One school I visited had 180 South Sudanese kids sitting in a grade 2 classroom. They were being taught in English by a Ugandan teacher. Most of the children spoke only Kakwa, their local language.
Providing access to local schools is a statement of good intent that has produced limited benefits. Schools are thin on the ground and often inaccessible. Those that are reachable are chronically over-crowded.
Refugees also face other barriers. Betty Kaji fled to South Sudan with her daughter Sarah, aged 12, and two other children last November. Sarah has enrolled in a school near the camp with 1450 pupils, two-thirds of them refugees. But she often misses classes. "We can't afford to the fees," Betty explains.
Listen to South Sudan's refugee kids and their parents, and you get an overwhelming sense of the drive, ambition and sheer bloody-minded determination to get back into school. They need an education system financed to deal with what will be a protracted crisis. What the international community has provided is a derisory drip-feed of unpredictable short-term humanitarian funding.
There is an alternative. Save the Children is today launching a plan of action for delivering universal education to all South Sudanese refugees in Uganda. The cost: around $132m a year for three years. Just under one-third of this amount would be invested in strengthening the local education system.
This is an emergency plan for an emergency situation. It would finance the construction of over 500 decent quality classrooms, salaries for some 5000 teachers, and the employment of South Sudanese refugee teachers. None of this will deliver world class education. But it will create improved learning opportunities for over 1 million refugee and host community children spanning early childhood, primary and secondary school.
Our plan identifies a range of funding sources. The World Bank has created a $2bn facility to support refugees and host communities. Northern Uganda is a test case for delivery. Established funds like the Global Partnership in Education could – and should – be doing more. New mechanisms – such as the Education Cannot Wait fund created last year – could also be deployed. Bilateral donors, including the UK, could reorient their planned investments to support the development of a multi-year response which prioritises education.
The bottom line is that kids like Daniel and Sarah have suffered enough. The 'Solidarity Summit' needs to live up to its billing by demonstrating solidarity with South Sudan's refuge children. These children don't need another summit communique long on promises and short on action. They need an education – and they need it now.
Calling all HuffPost superfans!
Sign up for membership to become a founding member and help shape HuffPost's next chapter
This post was published on the now-closed HuffPost Contributor platform. Contributors control their own work and posted freely to our site. If you need to flag this entry as abusive,
send us an email
.