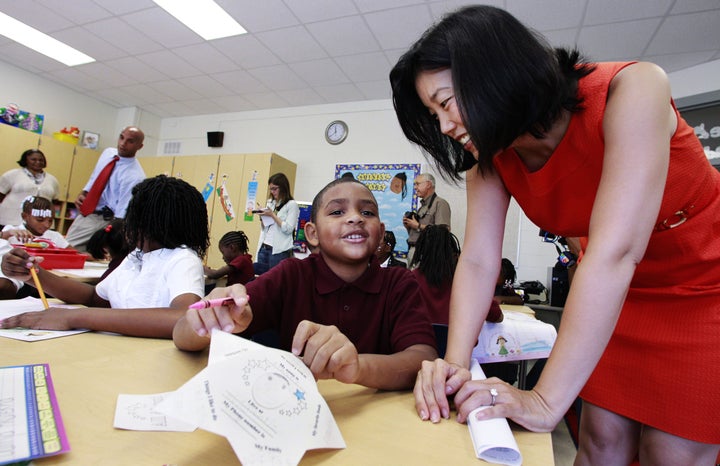 Scott said the transition team would help him "find innovative ways to create a new education system for a new economy."
What Michelle brings to public education in Florida, according to Julie Young, President and Chief Executive Officer of Orlando-based Florida Virtual School (FLVS), "is a new perspective and drive for change."
"Michelle was controversial, but she has a clear passion for what is best for kids and making sure kids have the highest quality education and the highest quality teacher," said Young.
In Washington DC, Rhee fired 241 teachers, making them accountable for student performance and championed weakening the teachers union and closing low-performing schools. Some of Rhee's methods are being considered outside the District as the nation's education system undergoes change.
In October, she stepped down from her post as schools chancellor after Mayor Adrian Fenty failed to win the democratic primary for re-election.
Rhee gave no hint of her intentions to join Scott's transition team when she appeared Wednesday on Comedy Central's Colbert Report. Asked by Colbert, "What is next for you?" Rhee replied, "I'm trying to figure out what makes sense right now in terms of a next job."
So now we know. And we also know that Rhee's interest in public education transcends party politics. Having worked with a liberal democrat Mayor in Washington, DC, she's joining a republican and his Florida colleagues in the edTech space.
And Florida is positioning itself as a national leader as some of the state's education reforms are available outside the panhandle. Founded in 1997, Florida Virtual School was the country's first, statewide Internet-based public high school. Last month, an alliance between Florida Virtual School and Pearson Education Inc., an education, technology and distribution services company, announced a partnership. Pearson will offer more than 100 Florida Virtual School courses worldwide.
"In choosing her [Rhee], Scott's not letting that [education transformation] slide backwards," said Horn.
Popular in the Community