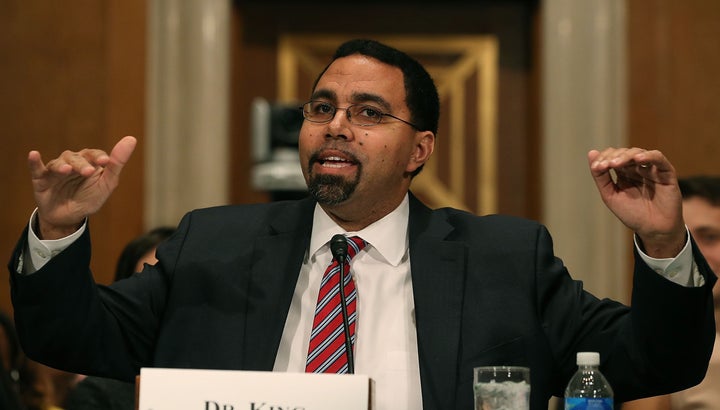 If Dr. John King Jr. is confirmed to head the Department of Education, he can expect to spend the coming year defending to Republicans the agency's handling of campus sexual assault. At least, if the past two months are any indication.
GOP members of the House and Senate have increasingly started looking into whether the Education Department's Office for Civil Rights has overstepped its bounds and bypassed regulations as it enforces the gender equity law Title IX. King, currently the acting secretary for the department, has been nominated to officially take the reins and appeared before House and Senate committees this week to discuss various Education Department initiatives.
The confirmation hearing before the Senate Health, Education, Labor and Pensions Committee on Thursday, where he answered only one question about sexual assault, was an exception.
The day before, King faced grilling from the House Education and Workforce Committee. Rep. Virginia Foxx (R-N.C.) told King she was "very concerned" that OCR was going around Congress and "legislating" through so-called Dear Colleague letters. An Education Department Dear Colleague letter is issued to every school in the country accepting federal funding and advises of current laws and regulations they must abide by.
"I'm deeply concerned about the offices' legitimacy and effectiveness on these issues and the potential negative impact on students and institutions," Foxx said.
Foxx also suggested that OCR was using these letters as a way of getting around formally changing regulations. She said the letters carry a "strong intimidation tone" and that schools see them as having the force of law.
"The letters generally try to do two things: one is to clarify how the department interprets existing law and regulation, to provide clarity, and also to provide models of best practices," King responded.
"It would be deeply inadvisable to condemn the Department's work to clarify the law, when schools have abdicated their responsibility to ensure educational equity for so long, with such devastating consequences for student survivors," the groups wrote.
Yet some senators have questioned whether the Education Department has overstepped its role in how it enforces Title IX on sexual violence cases.
One of the main concerns expressed by critics is that OCR has not allowed a "notice and comment" period before issuing consequential guidance -- the term for telling schools how to comply with existing regulations.
Catherine Lhamon, the head of OCR, told Lankford in a letter last week that such a period wasn't necessary because the Dear Colleague letters don't carry the force of law, as the Supreme Court affirmed in a case last year. The letters, Lhamon said, merely advise the public and institutions of regulations OCR is already tasked with enforcing, and explain how it interprets existing law.
OCR's 2010 Dear Colleague letter on bullying and harassment, Lhamon said, was based on previous guidance letters that did go through notice and comment periods. The 2011 letter on sexual assault built on precedent from letters of findings that came from Title IX investigations of schools under previous administrations, she added.
Dissatisfied with Lhamon's response, Lankford's office told HuffPost it is considering next steps but hasn't yet determined what they are.
Popular in the Community