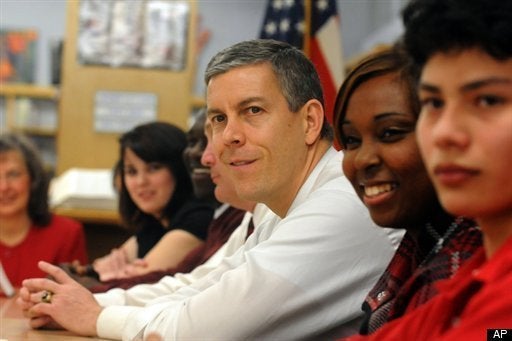 Two decades ago, about 40 percent of U.S. adults aged 18 to 30 graduated from college. Today, the rate remains the same here while increasing in countries around the world. America, once the global leader in higher education, seems to be stuck in neutral.
On Tuesday, President Barack Obama pledged to jump-start the country's lethargic educational progress and achieve his stated goal of having America boast the world's highest proportion of college graduates by 2020. Surrounded by students at Northern Virginia Community College, the president took what administration officials describe as a major step in that direction by signing into law the Student Aid and Financial Reconciliation Act.
"This is a $60 billion investment to make higher ed more accessible and more affordable," Secretary of Education Arne Duncan told the Huffington Post in an interview shortly after the signing ceremony. "This is an unprecedented investment."
The law is one of the major pieces of the administration's increasingly broad array of education policies. More than $40 billion of the total sum that Duncan discussed will be directly dedicated to funding students' educations through federal Pell grants. By 2017, the bill projects a $425 increase to the maximum Pell Grant alongside an allotment of 800,000 additional awards. More than $2.55 billion will be focused on bolstering the resources of community colleges, historically black colleges and universities and minority-serving institutions, while $2 billion will go to community colleges.
"By supporting these colleges we're ensuring that we're working to support these schools' goals," Director of Domestic Policy Melody Barnes told the Huffington Post. "These schools are doing a lot with less."
"With this bill, community colleges will basically be free," Duncan added. "Folks who don't contain costs are going to lose market share, competitive advantage."
For those struggling with student loans, the law will drastically change the way America's loan program functions. Students currently enrolled in college will procure their loans through direct lending programs controlled by the government and already used by thousands of universities. Loan repayments for graduates will be capped at 10 percent, down from 15 percent. And those who pursue careers in public service will see their loans forgiven completely after 10 years.
Applying for aid will become less of a task as well. The Free Application for Federal Student Aid will undergo a makeover, so you "don't need a PhD to fill out the form," as Barnes put it. The amendments will include questions that conform to the student, instead of the other way around, and make it easier to upload tax information.
As part of the plan's overall objective, Duncan said, Obama is aiming for a 20 percent increase in college graduates over the next decade. But the first step to moving forward is making sure that students across the country know that they can go to college if they want to -- and not worry about going into debt.
"The bottom line," Barnes said. "is that it's critical that we make sure that every student has access to a college education."
Vice President Joe Biden's wife, Jill, explains the new law in a video released by the White House:
Popular in the Community